Tuskys throws Nakumatt lifeline in proposed merger deal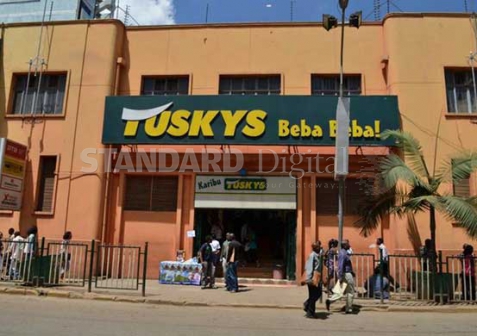 Troubled Nakumatt Supermarket has turned to its rival Tuskys for a merger deal in a bid to contain its cash flow crisis and rescue it from imminent collapse.
The deal, expected to give the giant retailer a lifeline by restocking its empty shelves, is being described as a "homegrown solution" to its financial woes.
Tuskys is expected to lead a caretaker management team that will comprise executives drawn from the two firms. Audit firm KPMG is providing transaction advisory services for the proposed merger.
In exchange, Tuskys, which still enjoys some goodwill from most of its suppliers, will offer Nakumatt access to stock from its retail value chain and help reverse its cash flow problems that are threatening to shut it down completely.
"This is a home-grown solution. It is a merger and not a takeover. The deal will allow Nakumatt to access stock immediately and once it has stock then it can get the cash flows to remain afloat," said a source familiar with the deal.
The new development came as Nakumatt on Monday closed its Thika Road Mall (TRM) outlet for 'stock-taking' although it is understood that this is one of the malls its rival has been eyeing given its strategic location.
The retailer's current position is a far cry from its former stature, when its 'You Need It, We've Got It' tagline promised shoppers a vast variety of goods. It had 66 branches in the region before it began closing them, weighed down by piling suppliers' debt and unpaid rent.
According to a recent report released by the Ministry of Industry and Trade, Nakumatt led in debts to suppliers, owing Sh278.9 million by December last year.
The deal with Tuskys confirms the failure of the struggling retailer's earlier attempt to bring on board a strategic investor after talks stalled.
Majority shares
It is understood that the Atul Shah family, which owns majority shares in the retail chain, has also agreed to pledge its shares to financiers over the next six years in a bid to calm their nerves.
The business merger is also said to have received support 'in principle' from key financiers, business partners and major suppliers.
Nakumatt, which has retail stores in Kenya's major towns, has had a long relationship with Tuskys, which began four decades ago when they shared a roof in Nakuru.
The two families have often turned to one another for help but remained fierce rivals, pursuing different strategies.
The deal is now akin to one brother turning to another for help in difficult times.
Troubles at the firm had been blamed on poor management and strategic decisions, tax problems and internal employee fraud.
It is not yet clear how the deal will be received in the face of the current court action in Kenya and abroad, as a number of creditors seek its winding up. It is estimated that Nakumatt currently owes suppliers and creditors more than Sh35 billion.
Under the deal, Tuskys and Nakumatt will retain their respective brands, but Tuskys will provide managers to offer leadership.
It is however not a done deal yet because it needs the approval of the Competition Authority of Kenya, which said it is yet to receive any formal request to that effect.
"The deal has not been tabled with us. If it is a merger or an acquisition, then it must come through us. I believe they have competent lawyers who will advise them accordingly," said Director General Francis Wang'ombe.