SGR train is safe for travel after Kibwezi scare, says Kenya Railways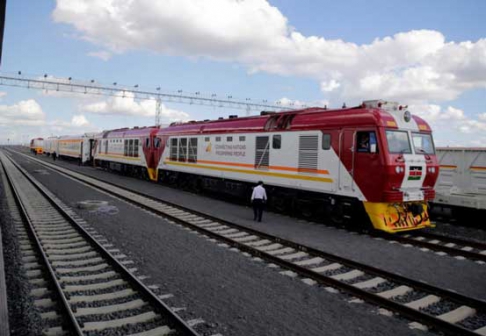 MOMBASA, KENYA: The Kenya Railways has said engineers are working to establish the cause of a malfunction of the Madaraka Express at Kibwezi on Wednesday but assured passengers that the new Standard Gauge Railway is safe.
KR Managing director, Mr Atanas Maina said that operations of the Madaraka Express train E1 from Mombasa to Nairobi continue seamlessly, following an earlier unscheduled stoppage at Kibwezi area.
The train, which had left Mombasa Terminus at 09:00 am was scheduled to arrive in Nairobi at 1:42 pm.
''A technical fault alert was issued from the system, which caused the crew to stop the train in line with operating safety procedures. A rescue operation was undertaken and the journey continued after a 1:15hrs delay, with the train safely arriving at its final destination in Nairobi at 3:30 pm.,'' Maina said.
Maina reiterated that the corporation is confident of the functionality of the Madaraka Express and safety of passengers remains paramount.
''We are working on continuous improvement of our services in order to improve on our customers' experience and in this regard, we will have a full inspection tomorrow, July 13, as part of our continuous monitoring mechanisms since we commenced operations around 42 days ago. Further analysis by the engineering team to establish the cause of the malfunction is ongoing," Mr. Maina said.
The social media was awash with the stalling of the passenger train service which has gained popularity especially by players in the tourism industry who have welcomed the introduction of the service.
'' We are hoping that no ugly incidents will occur. The safety of train users is paramount and it is our hope that KR and the Chinese operators will adhere to safety issues,'' Elly Kombo, a Mombasa based tour operator said.
Since the launch of the Madaraka Express service in May, the trains have been departing daily from both directions, offering a four-and-a-half-hour non-stop connection between Nairobi and the coastal city of Mombasa.
In June ,2017 alone, the Madaraka Express trains moved 75,000 passengers which translated to Sh 52,500,000,considering the fact that single ticket goes for Sh 700.