Bungoma County distributes free fertiliser to peasant farmers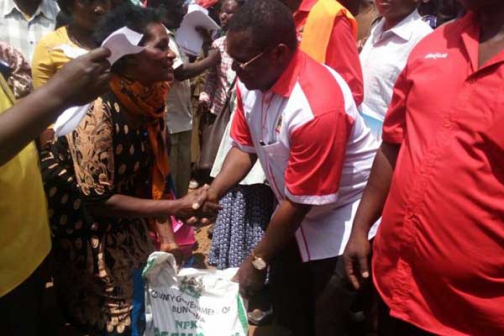 Bungoma County Government is distributing fertiliser to each of its 45 wards in a plan that seeks to make its 1.6 million residents food secure.
The project will see more than 32,000 bags of Minjingu fertilisers distributed to vulnerable farmers this year. Speaking to the press in Bungoma on Thursday, Governor Ken Lusaka said the county began to distribute fertilisers in 2013, and at the time, 200 farmers from each ward were offered fertilisers. Later this figure was increased 400. "The identification of beneficiaries is public-led to cut on the free-rider problem, diversion and corruption," Lusaka said.
The impact on the fertiliser subsidy has yielded results, say experts. "Application of Nafaka Plus planting and top dressing fertiliser both correct PH and add nutrients, which significantly improve soil fertility for maize yield. Phosphate in Minjingu fertiliser is of organic origin and therefore not prone to fixation," observes Dr David Mbakaya, a soil scientist.
Governor Lusaka said the county was determined to reduce poverty. "We are not just confining ourselves to distributing free fertilisers; we are also assisting vulnerable farmers by ploughing their pieces of land and carrying out free soil testing to determine the right variety of fertiliser to apply," he said.
Felistus Nakhumicha, a widow from Tongaren in Bungoma, said she has been a beneficiary of the initiative since 2013. She noted that production in her one-acre parcel of land rose from 13 bags in 2012 to 18 in 2014 and 23 last year.
Lawrence Munene, Minjingu's head of operations in Kenya, said they have a production capacity of 150,000 tonnes a year. He said the company has been contracted by various firms and governments for the distribution of fertilisers. However, the firm was recently rocked by a row with Tanzanian authorities where one of the bags had a Kenyan subsidiary address with the words: "manufactured by' instead of "manufactured for". "It was an overlook from the side of the printer of the fertiliser bags. We are a firm that strictly adheres to the laws of the land and different authorities," said the firm.