SRC warns of bloated public service ahead of release of job evaluation audit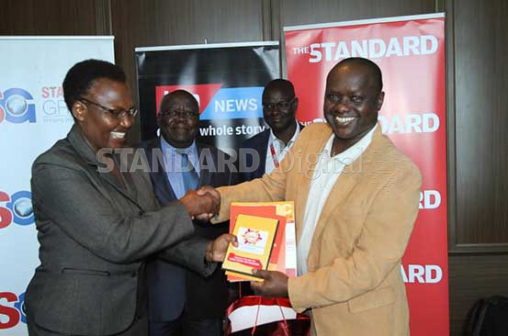 Salaries and Remuneration Commission (SRC) has sounded an alarm on the bloated number of government workers. It now wants caution to be exercised before hiring.
According to SRC chairperson Sarah Serem, there is a lot of duplication of roles in government, which could have huge impact on the direction the economy takes.
"We need to be extremely cautious of the number of people we employ in the public sector...We noted in the job evaluation that there are jobs that have been split to several positions whereas it could be handled by one individual," Ms Serem said.
She said the government has to exercise caution in expanding workforce unless it can show that additional workers are going to strategically contribute to the efficiency. Speaking at Standard Group headquarters when she paid a courtesy call on the group's CEO Sam Shollei, Ms Serem said that despite efforts by SRC to come up with modest pay in government, the growth in workforce at both county and national levels is worrying.
She revealed that before mid-next month, the commission will have released the report on public sector job evaluation exercise that begun 18 months ago. This, she hopes, would help bring order to public wage bill.
"We are coming to the close of the exercise. In two weeks' time, we promise to release the entire findings of the work we have undertaken in the last one and half years," she said. Shollei commended the commission for the job evaluation exercise saying it will help bring stability in public service.
He said the recent signing of Collective Bargaining Agreement between teachers unions and Teachers Service Commission without industrial action was a demonstration of the first fruits of the evaluation exercise. "We believe SRC is bringing order in an area that has had disorder and disharmony. There has been major disagreements between various unions within public sector and their employment bodies," he said.
Through the job evaluation, he said, it will be possible to bring harmony in public sector so that it creates a disciplined workforce to spur economic growth.
In what could lead to a reduction in the perks that have been synonymous with working in government, Ms Serem revealed that the evaluation will remove some of the allowances that are currently included in compensation package.
"If we have given you the value of the job, then certainly, the allowances will be eliminated," she said adding that correction of the salary disparities should see revenue to wage bill ratio start increasing in the next three to five years.
The SRC boss hopes that since the evaluation is a product of rigorous exercise that is scientific-based as opposed to arbitrary award of salaries, each government worker's effort will now be properly paid.
An environment with no labour unrests, she said, will attract more investors as well as help address the productivity ratios. According to her, measuring productivity will help eliminate the problem of free riders by ensuring that any occupant of public office adds value.
"Part of the recommendations we are making is establishment of effective performance management system. This should hold each individual accountable to the amount of salary they are paid," Ms Serem said.
As the public awaits what could finally help address unrests that have rocked various key sectors including health and education, recurrent expenditure continues to eat the lion's share of exchequer releases.
According to the National Treasury update for the first two months of the current financial year (up to end August), most key state departments such as Agriculture, Devolution, Tourism and Trade were yet to get any development funds from the exchequer.
Only Sh2.64 billion had been disbursed for development in two months despite all ministries having received Sh102.3 billion (97 per cent of total exchequer releases) to cater for their recurrent expenditures.
In the current budget, 38 per cent of the budget (Sh850 billion) will be used on recurrent expenditure, operations and maintenance in the ministries and departments as well as paying salaries and wages.
How Kenya can reduce economic inequality
A recent United Nations Economic Commission for Africa (ECA) research report should be receiving more attention from the Government and its development partners than it seems to be getting.