Low-cost medical cover Linda Jamii hits dead end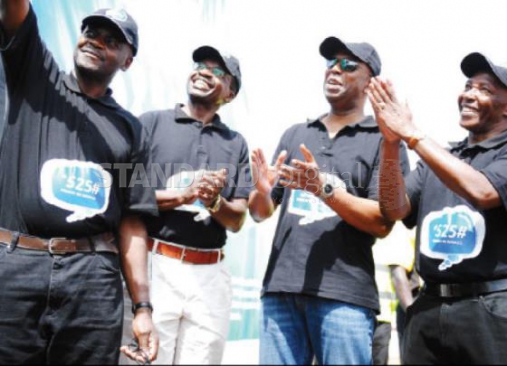 The much hyped low-cost medical cover Linda Jamii has folded less than two years into the market, signaling failure to gain traction in the market. Linda Jamii, a service in partnership with telecommunications firm Safaricom, Changamka Micro Insurance and investment firm Britam was from September 30, 2015 discontinued, sending about 80,000 users of the product into confusion.
Changamka Micro-insurance Limited, which owns the technology, Thursday evening told Weekend Business that the three partners had agreed to pull the product out of the market without giving reasons. "The Linda Jamii consortium partners (Britam, Safaricom and Changamka) have decided to withdraw the product from the market effective September 30, 2015. Consequently, there will be no new or renewals for customers on the service," said Mr Sam Agutu, principal officer at Changamka Micro-insurance Ltd.
However, he said the 80,000 users already on the service will be covered by their policies until their expiry date.
Safaricom who provided the connectivity platform for the cover confirmed that the product had hit a dead-end. "Safaricom was happy to provide the service as a connectivity partner but due to reasons beyond our control and following intensive discussions with our partners, unfortunately the service will be discontinued," said Stephen Chege, Director – Corporate Affairs, Safaricom.
Mr Chege said Safaricom will continue to use the transformative power of mobile phone to deepen access to health and insurance services. "We shall continue to work with industry partners to enable us provide services to our customers in coming months," he said.
The folding up of the product, which during launch early last year was hyped to be a game changer in the insurance sector, is sad news for 38 million Kenyans who do not have health insurance. Only a partly 3 per cent of Kenyan population has health insurance—mainly employer based policy. The three firms had projected to recruit over a million users in under a year. However official figures show that the product had attracted only 80,000 subscribers, a far-cry from its target.
In a letter dated September 21, Changamka informed users and agents of the decision to discontinue the product. "The product underwriter, Britam has made the decision to discontinue offering the product with effect from September 30, 2015. After this date, Britam will take no new or renewal business, but will service all existing policies till expiry," Agutu wrote in the letter.
"This letter, therefore, serves as formal notification of the discontinuance of Linda Jamii ... To best serve you with respect to the existing business, all inquiries and requests should be directed through the normal call centre channel or you can contact Britam regarding any underwriting and provider issues."
Go after groups
Linda Jamii was a micro-health product which covered hospitalisation, outpatient benefit, daily hospital cash benefit and a funeral assistance benefit to a group of family at a cost of Sh12,000 a year for a medical cover worth Sh290,000. It also covered maternity. Policies were renewable annually but had no expiration. Linda Jamii adopted a micro-saving model which used M-Pesa as the premium collection platform. Through M-Pesa, one could pay premiums in installments and access partial benefits after accumulating Sh6,000 in contributions.
The firms declined to provide further details on why the product was folded. But it is the change of strategy in June this year that could hint at low business, when Britam stopped offering the cover to individual customers. Instead, the underwriter said it would go after groups such as chamaas (investment clubs), small and mid-size enterprises (SMEs) as opposed to individuals to raise efficiency.
By the time of going to press, the General Manager (Bancassurance and Micro-insurance) at Britam Mr Charles Muyodi had not responded to our questions as promised.
Linda Jamii, just as many other micro-health products-was supposed to extend health coverage to the huge number of Kenyans in the informal sector who have no medical cover. "One of the major problems that we have in Kenya is that many people cannot afford quality healthcare... we have evaluated this and developed a product that reaches out to ordinary people," said Safaricom CEO Bob Collymore during the launch of Linda Jamii in Nairobi.
There were high expectations then, with Collymore saying that "Linda Jamii is to medical insurance what M-Pesa is to financial services. They both promote inclusion."
On his part, Britam CEO Benson Wairegi said during the launch that the product had the potential to significantly increase its revenues and likely give the industry Sh30 billion worth of premiums within the next five years. It is not yet clear whether Britam's model of going after people in a group will continue.
Most insurance analysts agree that micro insurance is better offered through groups. According to the Insurance Regulatory Authority (IRA), "micro insurance works better with groups than with individuals because the cost of selling micro insurance to individuals is higher than that of selling to groups."
The regulator who has since drafted micro insurance regulations pending vetting by the National Assembly adds that insurers find it cheaper to underwrite group risks compared to individual risks. "This is the reason Banks, Microfinance Institutions, Chamas, Trade Associations, Social Welfare Groups, Saccos, Large Corporations and the Government take advantage of their existing group structures to buy cheap insurance," according IRA document on Micro-insurance.
Mr Agutu intimated that they would be unveiling another product similar to Linda Jamii, but would not reveal who the partner would be or when the product would be launched. "Changamka is working with a local and an international health insurer on developing a replacement product for Linda Jamii and will communicate as soon as this is done," said Agutu.
The idea of Linda Jamii was conceived by Changamka which recognised that many Kenyans were being locked out of the medical cover bracket by the cost of the medical packages on offer.