'Dead' man's court appearance lifts lid on new ways cons use in land frauds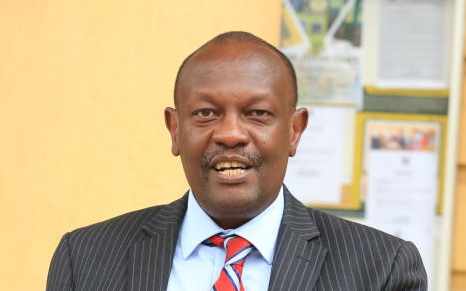 Intrigues of a 'dead' man appearing in court this week unveiled yet another syndicate in land dealings aided by loopholes in the verification of documents.
Mr Kimani Mungai, who was said to have died nine years ago, showed up in-person to a dispute that points to a grave and deep underlying problem in land transactions.
Fraudsters, it emerges, target a particular land then hatch a scam on how to acquire it without breaking a sweat. The end game of deceit is sanctioned by courts which simply make judgments based on documents produced before them.
How Ruth Wambui Kimani, a woman claiming to be a Kimani's widow managed to get the Sh40 million land transfer papers points to a major loophole in the Lands ministry which is utilised by fraudsters to steal land.
Sh40 million
There are now two land transfer documents, one which Wambui filed and detailing that the land was sold at Sh10 million and a new one by her 'dead' husband, Francis Kimani Mungai, which says the same land was sold for Sh40 million.
Everything in Wambui's and Kimani''s transfer documents is identical, save for the cost of the land, which means someone who had access to the LR No 209/4843/10 forged a copy of the crucial documents, and in hope that they would sail through the courts undetected.
Kimani showed up in court and asserted that he does not know Wambui. He said he was notified by one Agnes Kagure Kariuki, a buyer of his land, that there was a court case and that he had died nine years ago.
How a genuine death certificate -- number 030649 -- was obtained from the registrar of deaths registry in Limuru while the person in question is still alive points to another scandal; either by collusion or sheer lack of proper verification that a person is dead.
Chief's letter
The death certificate, which was produced by Wambui in court, has an entry number 0661100203 and the officer who registered the same is indicated as JW Maina. It was issued on May 12, 2011, three months after it was registered.
In order for the court to allow Wambui to administer the contested land, she required to produce in court the death certificate and a letter from her chief which indicates the beneficiaries to the deceased.
Her court documents included a letter from a chief's office in Muguga, Kiambu County, which reads that she had 11 children. Wambui, whose scanned ID indicates she was born in 1950, claimed she married Kimani in 1968.
While disputing that there was marriage, Kimani says that in 1968, he was a child aged eight.
Kimani in his papers says he is married to another woman and they have only three children. Wambui is said to have used the death certificate and the letter from the chief to file a succession case in 2011. She was granted right to administer the estate on December 28, 2011 by Kiambu Senior Principal Magistrate DA Nyakundi.
Seven years after being issued with administration rights, in 2018, Wambui then moved to the High Court saying she had discovered that her late husband's land had been illegally transferred.
According to the woman, it was strange for her late husband to have transferred his land, five years after his death.
"It was shocking to learn that the said transfer had been effected on October 7, 2015, five years after my husband had died and could not, therefore, have effected the said transfer," her court papers filed by Gacheri Nyagah and associates read.
The case will be heard on October 10.
Kimani's story is not the first. In March last year, Appeals Court Justices Roselyn Nambuye, Patrick Kiage, and Kathurima M'inoti were puzzled as to how a dead person could sell her land from the grave.
"This is yet another of those cases involving shameless and egregious fraud at the Ministry of Lands. A total stranger obtains false duplicate documents of the title to a property while the genuine owner has his documents of title ensconced in a safe or in some financial institution's strong room," the judges observed.
"The stranger, mostly in collusion with Ministry of Land officials, surreptitiously and fraudulently transfers the property to another person who may not be a party to the fraud. Along the chain, an innocent party ends up suffering losses."
This is how one of the bizarre cases started.
Sometime in 1958, Mary Wanjiku Njau bought 0.23 acres of land in Dagoretti where she lived until April 9, 1998 when she died.
According to her identity card, Wanjiku was born in 1924.
She had no children and her sister Elizabeth Njoroge and niece Lilian Wairimu were appointed as joint administrators of her estate.
But to their shock, the land had been sold off by a person who claimed to be Wanjiku Njau to Noel Mukhulo for Sh470,000.
New owner
The seller, according to court records, allegedly transferred the property using an identity card number 74203314/70, four years before Mary died.
The deceased had put a caution on the land in 1995, making it impossible for anyone to transact any business with it after learning that someone was trying to grab it. Three months after Wanjiku was buried, on July 16, 1998 Mukhulo moved to the High Court to lift the caution.
Njau's siblings were not served or notified that there was a suit and the Registrar of Land who had been sued did not defend the suit.
The High Court issued orders lifting the caution four months from the date the suit was filed, on November 23, 1998.
Three months later, the land had a new owner by the name Patrick Obonyo who bought it from Mukhulo at Sh650,000.
In 2002, Mary's sister filed a case against the two and the AG arguing that the land was transferred fraudulently.
In reply, Mukhulo told the court that he lawfully bought the land from a Wanjiku Njau and not Mary Wanjiku Njau, hence her sisters had no claim or interest to the land.
Obonyo said he bought the property after seeing a sale advert in the dailies on August 13, 2003.
The court found that there was a fraud but held that Obonyo would not lose his rights to the land and that the family should be compensated by the government for the loss.