Online forex: The hidden dangers if you have no training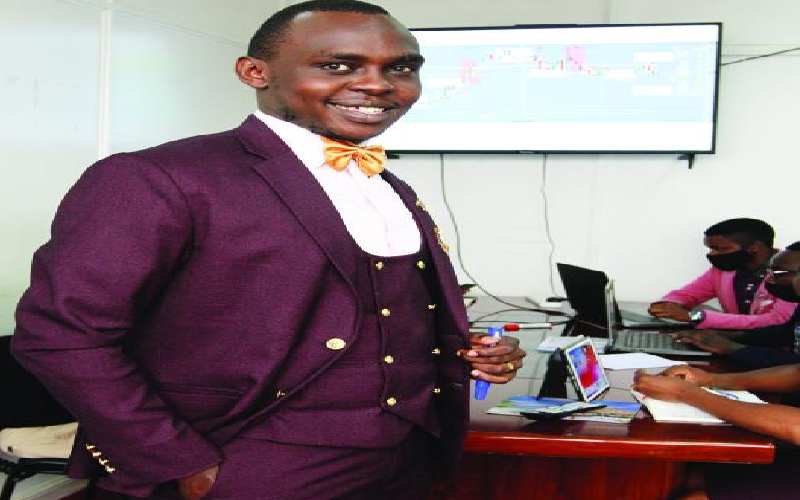 You must have heard of forex trading. Trading national currencies in foreign exchange (also known as FX or forex) market. Forex markets tend to be the largest and most liquid asset markets in the world. They have a daily turnover of $6.3 trillion (Sh686 trillion). Those who have ventured into these markets professionally have made millions. Yet a larger population, common people like you and I with little information about how the markets work, are locked out. When Collins Kiplimo, 26, started an online forex trading training school, he sought to demystify forex markets and show ordinary folk that they can venture into these markets and earn a profit while keeping scammers at bay.
Let us first demystify online forex trading. What is it, and how can ordinary people venture into this field and make money without being conned?
First, you need a laptop and an internet connection. Then you can open an account and fund it. You can fund it with as little as $10 (Sh100). Download a forex trading platform and then start trading. It is usually possible to rake in 20 to 30 per cent of your initial seed capital. It is much like how people undertake online writing and earn from it. It is flexible. You don't need to be attached to some organisation to trade. Whereas the entire process looks quite simple, you can easily lose money if you are not professionally trained to do it. You can also fall prey to scammers who create pyramid schemes that offer huge returns -monthly earnings of up to 80 per cent of your seed capital. That is where training schools such as Mzitoh Forex Schools come in.
Tell us about Mzitoh Forex Schools.
It's a long story. First, I must admit I did not study finance. I was a BA Education (CRE) student at Kenyatta University. I dropped out in the second year due to financial challenges and found myself struggling in the village. I tried running a hotel there and some other small businesses that could barely make me Sh200 a day. So I decided to come back to Nairobi.
What happened after you came to Nairobi?
I came to live with a cousin. I have always had a passion for business. I have tried my hand at many small businesses. A village hotel that failed, selling charcoal... a lot of things. Then I heard about online forex trading and I decided to venture into it. I was warned though; don't try trading without being trained first. In 2018, I approached a gentleman called Denis Babu who had a training school in Nairobi's Central Business District (CBD). Babu charged me Sh100,000 for the entire training. I did not have the money so he turned me away. I was persistent and he lowered the fee to Sh40,000, provided that I helped him around the office. I was pretty good and barely two months later, I was actually assisting Babu to train and to trade. But things did not work out between us and I walked out.
Then what next?
Somehow word was already out that I had trained and worked with Babu. One day I received a call from a businessman called Wilfred Manyi. Manyi was eager to work with me. He proposed that I join him in starting a forex trading training school. But just when we were about to prepare the paperwork to open the school, Manyi left for some business trip that was to take a considerable amount of time. So I was alone again. A business friend Manyi had connected me to introduced me to four other gentlemen who were eager we continue with the school idea. We opened the school at the beginning of 2019 and called it Forex pod at the Windsor building in Nairobi.
Everything was working alright until sometimes in November last year when the Capital Markets Authority (the forex trade regulator) cracked down on some rogue traders and the industry sank into some tensions. Business went down and we closed shop. A month later, I decided to open a training school on my own. My wife too joined me. And that is how Mzitoh Forex Schools was born.
So, now you train and also trade at the same time?
Yes. Despite the corona headwinds, the school has grown quite fast. We have over 60 students in the three classrooms that we have opened at Ambank House, Nairobi. We have also opened another branch in Mombasa. We have two trainers in Nairobi and two in Mombasa.
Let's now talk about the regulatory environment…
I must admit that is where the greatest challenge lies. The Capital Markets Authority is yet to come up with proper guidelines to regulate online forex trading. To them, this is a new concept that they are still grappling with. If people can trade under proper guidelines, then it is easy to weed out scammers. Online trading is capable of creating self-employment - and given joblessness is a serious problem in this country that would be a big plus. A word of caution... at least 90 per cent of people who venture into online forex trading without training lose their money. Forex trading is not gambling. It is an actual business. If CMA can moot proper guidelines to regulate it, it can drop its elite status, controlled by a handful of top brokerage firms, and be opened to mwananchi.
So what is the future of Mzitoh…
We are planning to open another branch in Nakuru. We would also like to expand in the region; Rwanda and Tanzania come to mind. I also want to establish a brokerage firm as the industry grows.
Parting shot…
In today's world, self-employment is the way to go. I dropped out of university in the second year and here I am earning a living in the forex market just because I was determined to go that route. I would like to tell parents not to give up on their children who were not particularly successful in formal classrooms. The world today is a global market. One can make a living from many diverse fronts.