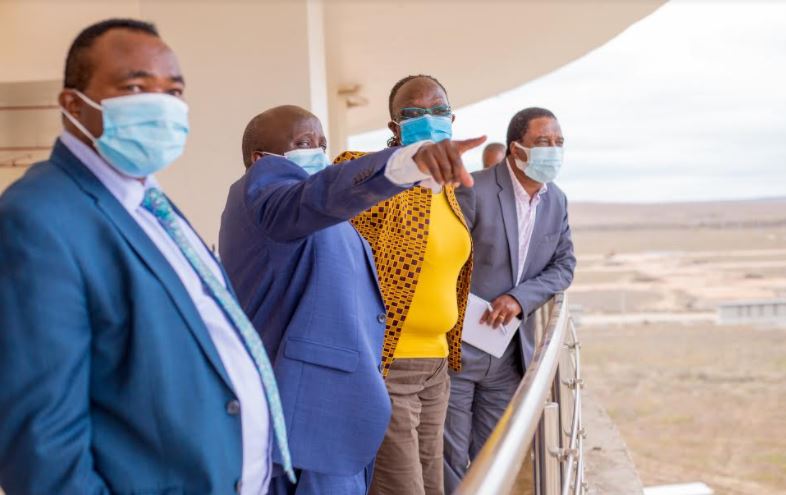 Konza Technopolis Development Authority, the agency implementing the Konza Technopolis project, has set aside space for the establishment of a smart and sustainable SME Park and Light Manufacturing Centre.
"The SME Park and Light Manufacturing Centre here at Konza will enhance value at several touch points through reduction of supply chains, mechanization, consolidation, co-location and common use facilities among others, that will promote upscaling and standardization of products. It will also serve as an incubation centre for enterprises," said CS Betty Maina during a tour of the Konza Technopolis.
The delegation from the Ministry of Industrialization, Trade and Enterprise Development, which included Dr Moses Ikiara, Managing Director KenInvest and Acting Special Economic Zone Chief Executive Officer, Dr Meshack Kimeu, was received by Eng. John Tanui, Chief Executive Officer Konza Technopolis Development Authority (KoTDA) and taken through key establishments including the authority's headquarters, the ongoing water re-use facility and the concluded Phase 1 National Data Center.
"The idea of Konza has been abstract for many, including myself, so it is great to see the level of infrastructural development achieved so far. I am confident that any interested investors would be excited to note the great strides made in providing service sites." said CS Betty.
"This Technopolis is meant to drive the country's economic growth and central to it, is light industrial manufacturing. I am glad that Konza has set aside areas for light industrial developments that have already attracted some investors. There will be a lot of continued collaboration between the Ministry of ICT and other stakeholders to see the success of this Smart Technopolis."
Read More
Eng. Tanui lauded the continued cooperation between the various arms of government.
"This visit is yet another step in the continued cooperation between the various arms of government, we have enjoyed great support from the Ministry of Education, Infrastructure and now Industrialization has come in a strong way. This is a clear testament that the government is committed to delivering this project to the people of Kenya." Eng. Tanui added.