Prestigious FIFA World Cup trophy lands in Kenya for the third time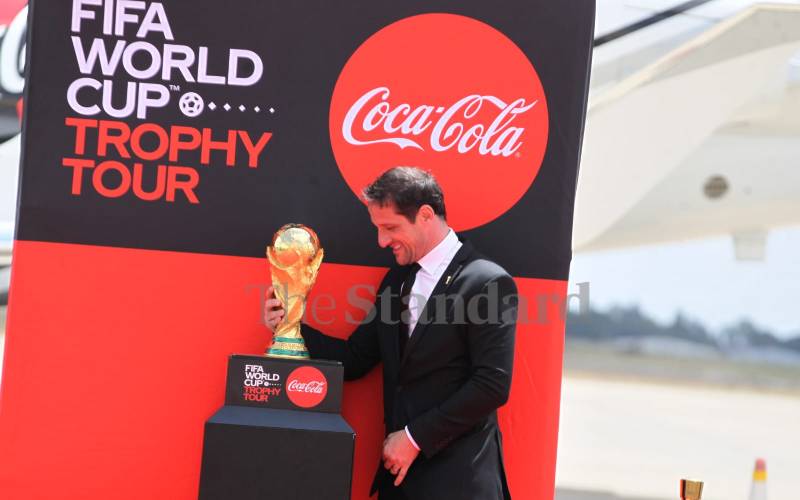 Songs and dances welcomed the FIFA World Cup trophy that landed in Nairobi, Kenya on Thursday.
The 18-karat gold diadem was received by Sports CS Amina Mohamed, Sports PS Joe Okudo and Tourism CS Najib Balala at the Jomo Kenyatta International Airport (JKIA) under tight security.
The Coca Cola branded plane that carried the cup touched down at the venue at noon.
Accompanying the famous trophy was Brazillian legend Juliano Belletti who stepped out smiling and waving at the capacity crowd that clocked the JKIA airwing side.
Belletti placed the trophy on a specially made red-carpet stand near the plane doorstep for a brief viewing by the crowd.
Amina, Okudo and Balala were among the Government dignitaries allowed to take photos with the trophy before it left the venue for State House where it was received by His Excellency President Uhuru Kenyatta.
"We are hopeful that Kenya will one day qualify for the World Cup," Amina said.
Balala stated Kenya is among the lucky 22 countries, that the trophy tour will visit.
"We are known as an athletics nation, so Fifa World Cup visiting Kenya is a great part of our sports tourism.
"We need to clean our house so that we can return our football to the international arena.
"Our football administration is to be blamed for the current woes in the sport in the country.
"I'm hopeful Amina will do the clean up so that we can start our game on a clean slate," said Balala.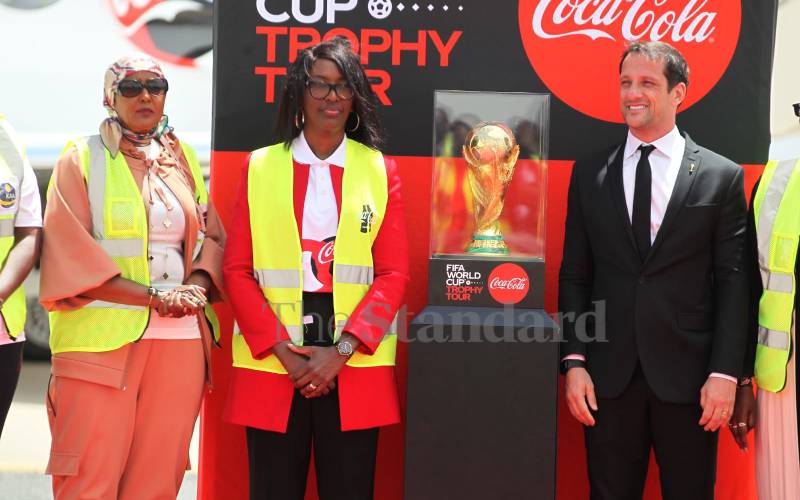 Beletti said he was happy to visit Kenya for the first time, especially with the revered trophy.
"It's really a great honour to be here, I hope Kenyan people will enjoy the trophy and its stay in the country," said Belletti.
The soccer legend won the trophy with the star-studded Brazil squad in the 2002 World Cup finals co-hosted by Korea and Japan.
The trophy will be paraded on Friday at the Kenyatta International Convention Centre, Nairobi where invited guests and the public will get a chance to view and take a photo with it.
After Kenya, the trophy will leave for South Africa where it will stay between May 28-30 before heading to Tanzania on May 31- June 1.
The trophy started the tour in Dubai, Qatar the host nation of this year's finals, followed by France and Ethiopia.