Gerald Gikonyo: City tycoon, 106, who built empire from hawking veges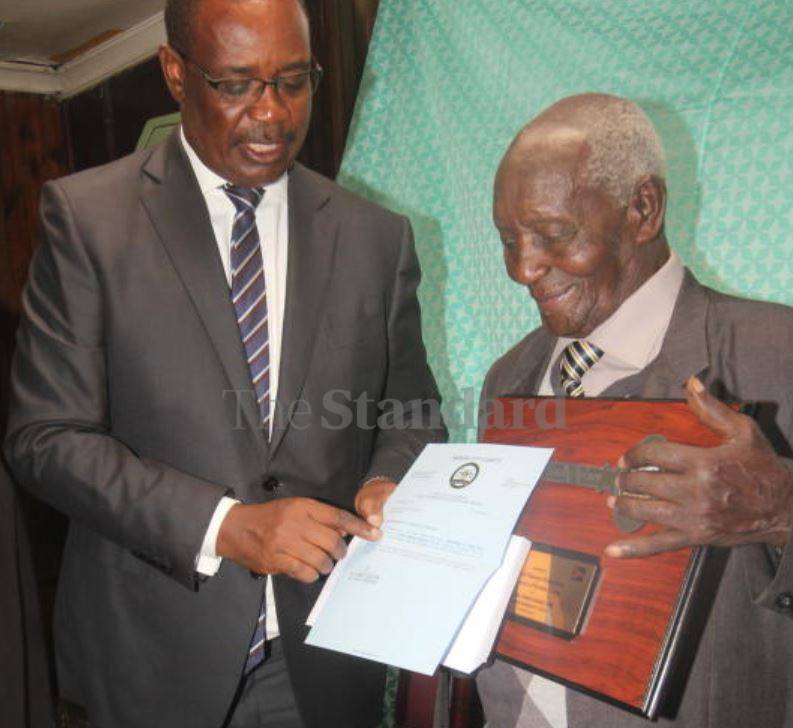 Gerald Gikonyo is, by any measure, a business genius.
But unlike many sauve businessmen, he has not been to any business school. Even the much he can read and the little math he does is mostly self-taught. But judging from his sprawling enterprises and staying power over the decades, it is easy to deduce that he can beat MBA graduates hands down, any day.
Gikonyo's association with the legendary Rwathia Group – which he co-founded – and numerous other ventures have earned him recognition from the Head of State.
He is among a select few to have received the Key to the City of Nairobi in recognition of his business acumen that over the decades contributed to the building of the city as well as employing hundreds of people.
Others who have received the ceremonial key include former Tanzanian President Jakaya Kikwete, the late Maurice Cardinal Otunga and the late Nobel Laureate Wangari Maathai.
Gikonyo's life has been characterised by problem-solving, the hallmark of any good entrepreneur, as well as years of hard work and perseverance. He had foresight early in life to venture into businesses, which in his words, he could run well past his retirement age.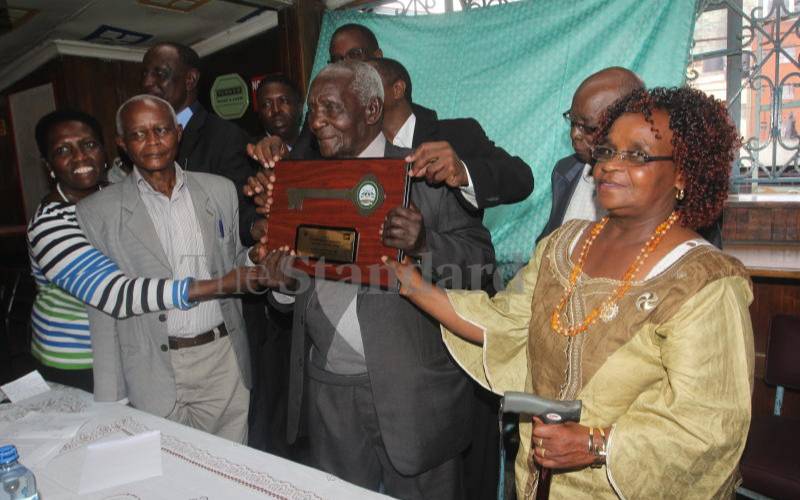 The mark of a good entrepreneur is also measured by how quickly he can craft solutions to problems.
Take a quick survey and help us improve our website!
Take a survey
During the early years when Gikonyo was juggling business in Nairobi and farming in his Murang'a backyard, he was part of a group of farmers who grappled with the theft of tea seedlings. On several occasions, he lost a whole nursery of painstakingly nurtured seedlings just when he was ready to transfer them to the open fields.
He suspected his immediate neighbour of being behind the disappearance but had no way of proving that the seedlings were his. He had to find a way to protect his plants.
"When planting tea, we had problems with thieves and had to employ someone to look after them in the nursery. It was the same case when we transplanted to the open field. They would be stolen unless you were vigilant. It is something that bothered me a lot," said Gikonyo.
Humble beginning
"I sat down and thought hard for some time. I would ask myself what do I need? And God gave me the idea to buy paint and mark the seedlings at sensitive points.
"This way, if the thief tried to remove the mark, it would dry up. If the thief planted it on their land, it would be easy to argue that the seedling was mine. If something pesters you and you think hard about it, you will find a solution."
That was way back in the 1950s, and he still farms tea to this day.
Gikonyo came from a humble beginning. Poverty was one of the factors that pushed him to venture out of the lush Rwathia into the then fledgling concrete jungle of Nairobi. He started out as a worker at a coffee farm and would later join the Kenya Planters Co-operative Union's coffee mill when he came to the city in the late 1920s.
In the ensuing years, Gikonyo decided that employment was not his cup of tea and ventured into business. He started by buying assorted vegetables at Marikiti Market and hawking them door-to-door to the city's mainly Indian residents.
He remembers how he would hang two large baskets, one on each shoulder, and criss-cross the city, selling the fresh produce. He could not afford to be late as sales depended on getting to his customers before they settled on the meal for the day.
"Selling vegetables was tough because if it was raining, you would have to work in the rain. And you had to rush so that you did not find the families had already cooked."
Gikonyo also realised that he could only do the running around and heavy lifting in his youth.
"In the late 1940s, I sat down and said a prayer. I talked to God and told him I was grateful for the job I had worked at diligently. But it was not one I could do in my old age. So I asked for his help to get another job."
His prayer was answered when five friends invited him to jointly invest in a hotel. Gikonyo and one partner were charged with running the hotel at Pangani, a few kilometres from the central business district. This venture allowed him to save and gave him the experience he needed when the time came to go it alone.
But even when he started his own businesses, he would sometimes partner with his friends or invite other people to take advantage of new opportunities.
Gikonyo and his friends lived by the famous saying that "if you want to go fast, go alone. If you want to go far, go together" as they brought dozens of investors together to buy a single building in town. When the city council called on Africans to bid for properties that were for sale in Bahati, Gikonyo clinched the deal and set up a hotel and wholesale shop.
In the early 1960s as the country geared up for independence, Gikonyo started snapping up buildings in the city centre. This gave rise to the famous Magomano and New Kinangop hotels on Tom Mboya Street.
Today, at 106 years, he is still firmly in charge of Alfa Hotel on Ronald Ngala Street, while his children manage Magomano, New Kinangop, and Timboroa hotels as well as Rwathia Distributors. Gikonyo also has interests in real estate.
Watching him at work gives you the impression of a man who is aware of what is going on around him despite his advanced years. He will be heard asking a member of staff why a customer has been sitting for a minute or two without being served or whether the water pump has been turned on or off.
On the day we visited him seeking for an interview, we found him haggling for some plumbing equipment with a supplier. He said he enjoys the full rigour of business.
Gikonyo has had his fair share of success and failure in business over the years. While reluctant to dwell on his failures, he conceded that his foray into the public transport sector did not go according to plan.
"There are some things and some businesses that did not go as planned. But we were able to recover and carry on."
Among the things that Gikonyo cherishes is freedom. He is among a handful of entrepreneurs who experienced colonialism and Kenya attaining self-rule.
"Freedom is a beautiful thing. There were times when all we could do when we came to town was to either work for someone or be a hawker. Today, we have buildings owned by Africans," he said in reference to Alfa Hotel that he bought from Indians.
The building is still known as India House, having housed the Indian High Commission back in the day.
"Today, we have our people owning banks or do major surgeries in hospitals," said Gikonyo.
But the freedom did not come easy. He recalled how he was arrested and taken to Manyani detention camp in 1957 after being accused of funding freedom fighters. He is still pained by the torture and humiliation that detainees endured at the hands of colonial administrators.
"They would take away our clothes and leave us in our underwear. They physically tortured us. At times, we would go without food. If one of us made a mistake, they would deny us food for even up to seven days as punishment."
But despite the horrible experiences, Gikonyo does not regret his involvement. If anything, he believes that other than a few loyalists such as the home guards, everybody else was against colonial rule and did whatever they could to help the freedom fighters.