Coffee mills to roar as KPCU boss gets nod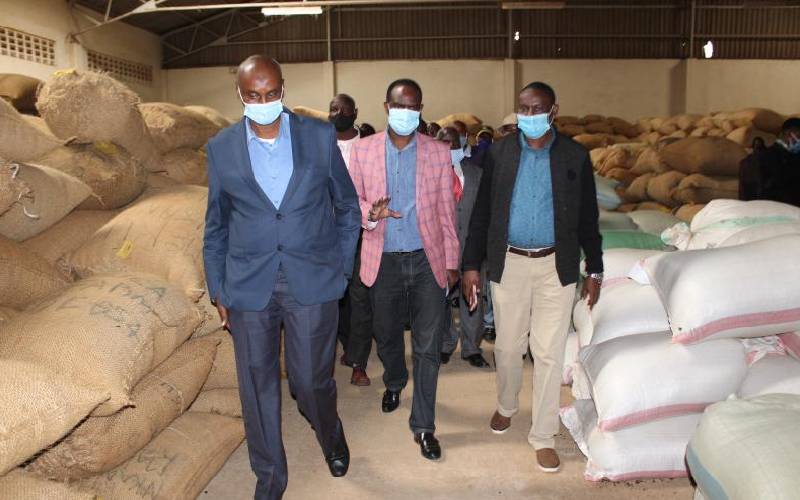 The New Kenya Planters Cooperative Union (KPCU) mills in Meru, Sagana and Dandora have accumulated large volumes of coffee and may get into full-scale milling next month.
Officials of the union, which took over from its liquidated predecessor, said it was overwhelmed by the resurgent goodwill after receiving large deliveries of the commodity from farmers.
By last Friday, farmers had already delivered over 320 tonnes of parchment in 6,400 bags of coffee at the Meru mills. Additional 10,000 are expected to be delivered. Sagana has received several bags of coffee.
The Dandora mill, which was already milling before the liquidation of the old KPCU in May, had received 2,500 bags of parchment, according to New KPCU chairman Henry Kinyua. Mr Kinyua said they were expecting more coffee at Dandora and Sagana mills as the main coffee season peaks in Central region.
Kinyua spoke at the New KPCU mill in Meru as it emerged that Joel Imitira, who had been picked by Agriculture Cabinet Secretary Peter Munya to head the union as the general manager, had left and Angeline Ndambuki appointed to replace him.
Kinyua, who was accompanied by Ms Ndambuki, said the farmers signing up to New KPCU would be assisted to boost productivity, and they qualified to receive up to 40 per cent of the value of coffee delivered under the government revolving fund run by the union.
"The Sh3 billion cherry advance kitty is now available and farmers are free to apply," he said.
Kinyua, in response to farmers' concerns that they lacked a reliable source of seedlings, said the agency would facilitate the provision of nurseries and various inputs to farmers.
Ndambuki said the mill would be run transparently and serve farmers better.