Officials arrest 'to cripple Treasury'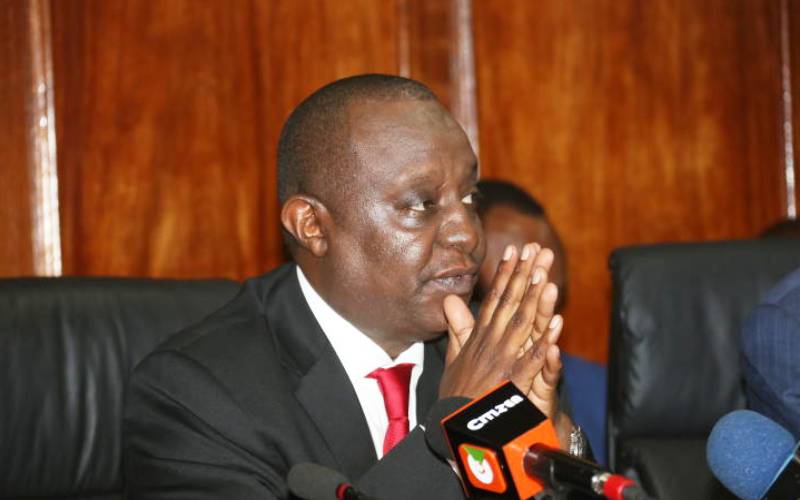 Operations at the National Treasury could grind to a halt following yesterday's arrest of two senior officials - CS Henry Rotich (pictured) and Principal Secretary Kamau Thugge.
A planned visit this morning by French Finance Minister Bruno Le Maire to Mr Rotich's office was cancelled, in the first of many events that will not involve Rotich in the coming days.
An official at the ministry who did no want to be named confirmed that the meeting had been called off.
Mr Maire was in Addis Ababa as part of an official tour to check on the progress of projects initiated during the March visit by French President Emmanuel Macron.
French is a big development partner to Kenya and a key market for local produce. This highlights how important Maire's meeting with Rotich was.
County funds
Among the other functions that could be disrupted with Rotich and Thugge out of office, would be the release of funds to various arms of government which the two personally handle.
Nelson Gaichuhie, the Chief Administrative Secretary at Treasury, remains the top officer until the President replaces Rotich and Thugge.
There were no indications when the two vital offices would be filled by last evening.
The timing of Rotich and Thugge's arrest come's at a critical point when a decision has to be made on how much the counties should receive from the Exchequer.
Preparing the Revenue Allocation Bill and the County Allocation Bill are among the key roles of the minister and the Principal Secretary, according to the National Treasury's summary of functions.
Legislators are yet to strike an agreement on the counties allocation, with the National Assembly sticking to Sh316.5 billion, according to the National Assembly's Budget Committee chairman Kimani Ichung'wah.
Speaking yesterday, Mr Kimani said the absence of the top two officers at the Treasury would have huge implications, especially at this time of the month when State salaries are being processed.
Disbursement for salaries is made once every month after Treasury receives requests from different organs that are funded by the exchequer.