Jubilee CEO: Why I want to insure the hawker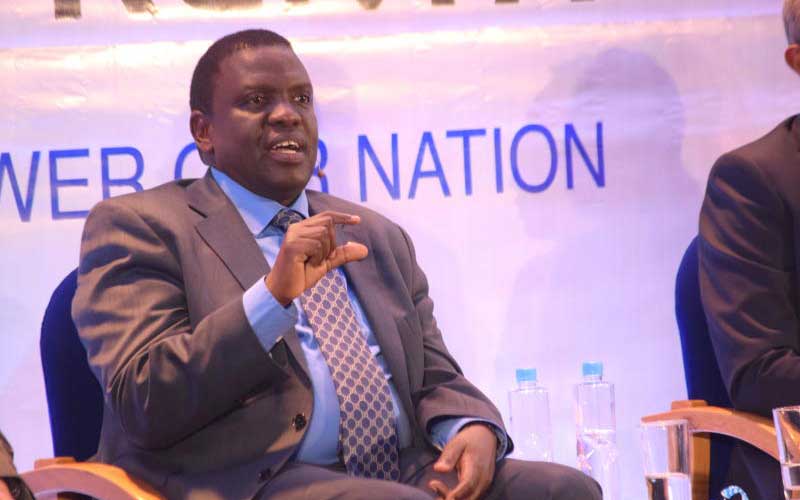 When Julius Kipngetich, the regional group chief executive officer of Jubilee Holdings says: "small and medium enterprises (SME) form the future of insurance," don't roll your eyes. Give him the benefit of doubt.
He has been there and probably done that. Although Kipngetich had a short stint at Equity Group Holdings as the chief operating officer, he spearheaded regional growth, new product development and the mobile virtual network operator (MVNO) – Equitel's development.
But, even more salient is that he was around when Equity bank's micro-credit initiative swept the banking landscape like a whirlwind.
Suddenly, bankers realised that their ornate and airy banking halls would not implode upon entry of disheveled mama mbogas. Instead, their exit from the hall would leave them richer.
Today, the surest way to drop out of the race to the pinnacle of the banking sector is by refusing to bank the not-so-rich customers from the informal sector.
Yet, by and large, in Mr Kipngetich's view, the poor and SMEs are still shunned - with explanations that they are too risky to be insured. The insurance sector is where banking was a few years ago - elitist and snobbish.
But the former Uchumi Supermarkets boss now at the helm of the Nairobi Securities Exchange-listed insurance firm beams with the magic wand that transformed Equity and Safaricom into profitable entities.
A year into the C-suite of East Africa's largest insurance company, the former Kenya Wildlife Service boss has grand plans of fashioning Jubilee Insurance as the Equity of the insurance sector or the Safaricom of the telecom industry by successfully rolling out micro-insurance products - just as Equity and the region's most profitable telco conquered new markets with micro-credit.
"Insurance companies, when I look at them, they have stayed too traditional for a very long time," says Kipngetich.
"You see, banking is way ahead of insurance," he says, and for emphasis, gestures: "Banks are here, insurance is there. So we need to catch up with our cousins in terms of financial inclusion."
He explains that banks have been able to draw most of the cash that was initially hidden under the mattresses - the same way Safaricom rose to stardom by launching products tailored for the low-end market.
"Of all the things that CNN business anchor and reporter Richard Quest did during his Kenyan visit, an interview with a grocer at an informal market in Ngara caught his attention. "The question he (Quest) asked him is: 'How much is your turnover in a day?' The guy said Sh30,000,"
Mr Kipngetich does a mental calculation after surmising that the guy probably pays around Sh100 or Sh200 to the County Government for licence fee for the stall and has a mark-up of 50 per cent on the remaining cash since he does not pay income tax.
He concludes that the trader is left with an enviable profit which is enough to get insurance companies tumbling over each other in the same fashion banks curtsied before Gikomba dealers.
"Now, I need to access that guy. We have discussed that guy here at Jubilee," he says.
That guy is part of the ubiquitous SME sector in Kenya that has helped banks expand their balance sheets. 90 per cent of the businesses in Kenya are small and medium enterprises (SMEs).
"All of us are fighting for a small fraction of corporates. And corporates are good bargainers," he says, adding that this explains the race to the bottom in the insurance sector.
SME is a segment which insurance players have been unable to win over (although there are also cultural issues to surmount before insurance can pick up among a majority of Kenyans).
Mr Kipngetich called for the need to urgently design a system that will enable that trader in Ngara to pay a premium depending on seasonality.
That way, he says, firms can stabilise the income of such people. But this conversation has been around for some time.
Even before he came to the limelight, the Insurance Regulatory Authority singled out micro-insurance as the silver bullet to increasing insurance penetration in the country.
For long, insurance penetration in Kenya has stagnated at around three per cent of the gross domestic product, with insurers' attempts at increasing their footprints beyond mandatory covers such as motor vehicle insurance proving a hard nut to crack.
The implementation of micro-insurance products has also not been easy.
In 2015, the much-hyped low-cost medical cover, Linda Jamii, a partnership between investment firm Britam, telecom firm Safaricom and Changamka Micro Ensure, folded less than two years into the market, sending about 80,000 users of the product into confusion.
In the same year, Micro Ensure Holdings entered into another partnership between Airtel Kenya and Pan Africa Life Assurance Ltd that was to enable Airtel subscribers to get three insurance covers for using as little as Sh250 airtime a month.
However, it looks like the service was silently discontinued. But Kipngetich believes Jubilee has what it takes to make it past the minefield of dead micro-insurance products. And the secret lies in the Jubilee's investment policy.
Jubilee, he says, has a bias for low-yielding but less risky asset classes such as Government securities and real estate. "We are thinking about the long-term of a portfolio," he said.
It is not immediately clear how Jubilee will realign its conservative investment outlook with a risky policyholder such as a trader from Gikomba, for example, who wants to take up insurance against fire. You are almost sure there will be a fire in the country's largest market for second-hand items.
The turnaround CEO does not only want to see Jubilee as the Equity of the banking sector, but he also wants it to be the ride-hailing taxi, Uber, in the taxi business.
Mr Kipngetich wants to ride roughshod over the competition, leveraging technology as he seeks to disrupt a sector that has been a laggard when it comes to embracing digitisation.
Its new Chatbox, Jubilee Insurance Live Intelligent Expert (Julie), employs Artificial Intelligence to perform such simple tasks as updating a policy or getting a quote, has already won the insurer a continental award on innovation.
"We want to disrupt the way insurance companies and customers interact. Today's insurance customer wants a quick, easy and personal service.
A chatbot automates simple tasks such as updating a policy or getting a quote and it'll take pressure off our customer service team and give them more time to handle complex inquiries," said Kipngetich when the first bot chat assistant was launched.
"Julie is a step one to a long journey to the full implementation of Artificial Intelligence," he says.
And with Julie, Jubilee thinks it will rope in millennials, a new generation of consumers who grew up knowing that almost everything can be done with the click of a button.
Artificial intelligence
Just as the Internet has disrupted so many intermediaries, some analysts observe that apps such as Julie might elbow out insurance agents and brokers by enabling clients to link up directly with underwriters.
But Kipngetich insists there is still a place for the traditional intermediary. Besides Artificial Intelligence, they are also looking into blockchain and cloud computing.
He is super-excited by the Government's new task force on blockchain whose mandate is to establish a single source of truth.
With a single source of truth, any transaction is witnessed by so many computers and encrypted. The Bitcoin technology abhors double-spending, a feature that will end double claim which has bled insurance companies.
He also can't hide his excitement over the Government's plan to undertake geo-location in the upcoming census.
"Within the next three to four years, Jubilee Insurance will be fully compliant with cloud computing," he says.
Jubilee, which is 81 this year, is working on the solid foundation for the next eight years.
Mr Kipngetich says they will re-engineer the products and process, review organisational culture to fit the millennials, invest heavily on technology and put a strong emphasis on governance.