With focus shifting to healing broken past, can TransCentury thrive again?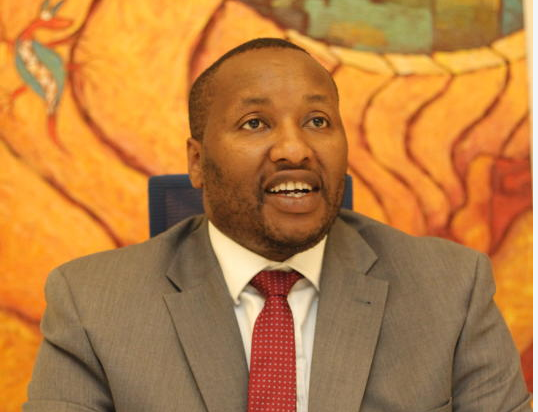 NAIROBI, KENYA: TransCentury has an order book of Sh26 billion, and that is good news as attested by the CEO Nganga Njiinu in an interview with Financial Standard.
But this is just one side of the coin for a company that rose from humble beginnings in 1997 to owning three operating divisions spread across 14 countries in East, Central and Southern Africa. The other side of the coin is a story of courage, fame and profits culminating into losses, debts and negative working capital, which threatens its survival.
Its recovery now largely depends on activation of billions of money locked in the order book.
"We have come a long way. There were some mistakes but TransCentury is now a business that knows how not to do some things," explained Mr Njiinu, while summing up the history of the 20 years of the infrastructure development firm.
"Sometimes when a business grows so fast, there could be some things that may not have been foreseen."
Part of the mistakes, now clearly reflecting in the financial statements, was an accumulation of short-term debt that could not match the thinning cash inflows.
For the year ended December 31, 2017, the company's losses widened five times to Sh4.3 billion, partly due to a one-off cost of Sh1.5 billion that its engineering subsidiary paid out after losing a lawsuit.
Revenues slowed down by 31 per cent, with the CEO attributing this to delays in structuring the firm's financial transactions. This is even as the group's liabilities falling due in the next 12 months are outstripping the available resources for the same period by Sh8.5 billion.
Against this performance, KPMG auditors issued an unqualified audit opinion but noted that the current financial position of the firm may translate to a "material uncertainty that may cast significant doubt on TransCentury's ability to continue as a going concern."
But Njiinu is not giving up and hopes to slay the dragon of debt and return to the glory days that saw the firm post a profit of Sh740 million in 2012. He has been re-structuring debts into the long-term profile to relieve some pressure on the cash flows.
How did the mess happen? TransCentury now faces a different kind of challenge - a nightmare cash crunch that could take years to recover from. It dipped in turmoil following years of debatable deal-making and needless complexity.
The greed to take up so much and the many acquisitions have contributed to exacerbate the cash crunch. The company now no longer generates enough money to pay for investments in the business and dividends for shareholders.
The crunch has been years in the making, but only recently has the group come to grips with how bad it is. Njiinu told Financial Standard that the company entered into a complicated debt profile, with a short maturity period that exposed it to high finance costs.
"The debt profile was not optimal for the business. It is not good business to fund-raise to pay the debt," he explained.
For instance, in early 2016, TransCentury had a Sh8 billion bond that was maturing and there was a view in the market that the firm would struggle to honour it.
The perception of possible default dimmed its confidence in the market, further constraining access to new credit. "We eventually resolved it but during that period, we lost a significant chunk of our credit lines for working capital. That slowed down our execution and so was our cash flow and revenues," he said.
That time, the group was just at the tail end of investing in an expansion of plants. This made it uncomfortable for the limited cash inflows to service short-term liabilities.
With the negative publicity and the general conclusion that the company was struggling, the CEO says that it was very difficult to convince lenders to allow for the restructuring of its debts at that point.
On March 14, 2016, the company reached an agreement with Kuramo Capital Management, an African-focused investment manager, to inject Sh2 billion fresh equity into the business.
This was completed on April 3, 2017, resulting in Kuramo Africa Opportunity Kenyan Vehicle Ltd acquiring a 24.99 per cent shareholding in TransCentury by allotment of 93.77 million new ordinary shares of the company and preference shares in TransCentury Mauritius.
But this also led to the appointment of three new non-executive directors; Shaka Kariuki, Wale Adeosun and Kamal Pallan to oversee their stake.
"The experience was a very clear warning that perception can actually put you on your knees. Our Sh5 billion credit lines were closed during this period," explained Njiinu.
According to the CEO, the order book has surged from Sh16 billion in 2016 to Sh26 billion in 2017 thanks to contracted business orders. Historically, this forms about half of the company's revenues when honoured.
Njiinu is counting on this order book to drive immediate revenues but that will only be possible if fresh capital is raised. He wants to avoid the previous mistake by fundraising from this unlock order book and use the proceeds to repay debt.
"We are looking at doing the fundraising at some point this year. We have some of the debts that still need to be re-tenured. We have had a bit of success by restructuring some of them," he noted.
"We feel we have put together the right structures and we have the right people in the group. Part of the challenges has been on perception as well as the trading macro-environment."
The final structure, he said, will be approved by Capital Markets Authority even though the board favours a fundraising that will allow both existing and potential investors to participate.
In its good days, the talk of losses or desperation for capital was nowhere in the picture.
Growing from capital injection of Sh29 million to Sh19 billion, the management was seen as a group of geniuses making the right calls and turning everything they touched into gold. But having expanded so fast into diverse sectors within a short period, TransCentury found the going very tough.
"When a business grows that way, it means you can see opportunities and make the right calls. But sometimes a mix of micro-environment and perception catches you the wrong way," says Njiinu.
The glory days faded, ushering in a moment of free fall as some of the critical investment decision proved costly and resulted to the burning of fingers.
It's a mistake that the current board wants to avoid past mistakes as it implements a new strategic plan aimed at restructuring debts, cutting costs and bouncing back into profitability. The group has reorganised its management structure to ensure decisions on capital allocations are participatory and well thought out.
"We want to have an optimal allocation of resources so that we know what we are funding within the group and what the return is," he said.
"For example, we cannot build a factory here while on the other end we are supposed to pay debts. This has been learnt now."
TransCentury's first key decision was buying a minority stake in Castle Brewery Kenya Limited, a local subsidiary of South African Breweries that wanted to break seven decades of monopoly by Tusker beer.
But when Tusker proved unmoved by the Castle brand, the subsidiary had to be shut down in 2002.
Undeterred by this experience, TransCentury picked up the pieces and decided to buy a 64 per cent stake in East African Cables. Its owner, Naushad Merali, wanted to hive it off from the tyre-making firm, Sameer Africa.
This would be followed by 94 per cent stake in Avery East Africa Ltd (AEA) in 2005. The following year, the board saw another opportunity- Rift Valley Railways (RVR).
It went for a 20 per cent stake the same year and increased this investment to 34 per cent as Roy Puffet, a South African, was handed the running of the railway.
But when boardroom wars hit a boiling point and sent out Mr Puffet to welcome a new dawn under Citadel Capital, TransCentury's stay was cut short. It had already sunk in about Sh1.1 billion even as Puffet put on a life jacket and walked out of the troubled waters.
Later, TransCentury borrowed a leaf from Puffet and sold its stake to Citadel. "RVR experience taught us that it is good to have control because even with a deeper understanding of the local market, there were some crucial things we could not do," the CEO says of the moment TransCentury had to get out of the investment.
"At that time, the business was so bad but we exited with all our money."
Meanwhile, the idea of buying into East African Cables looked good at the beginning as the cable maker kept making money for its parent company. In 2009, it posted a net profit of Sh670 million, its record high, and stayed in profits up to 2014.
Since then, it has sunk into losses. For the year ended December 2017, its losses widened by 13.8 per cent to Sh662.8 million as revenue fell by more than a third (36 per cent) to Sh2.35 billion.
According to KPMG auditors, the loss and the fact that the company's current liabilities exceed current assets by Sh1.59 billion casts a "material uncertainty related to going concern" of this once money maker.
A big chunk of the company's current liabilities is short-term bank loan of Sh3.055 billion. Like its parent, it is stuck with an order book of about Sh7 billion and requires capital to unlock it.
Critics have been quick to point out that the success years of the TransCentury and its subsidiaries had direct links with goodwill enjoyed from the government given that the former President Mwai Kibaki was in the picture when the idea to form the company was mooted.
But it is a school of thought Mr Njiinu says does not hold waters and insists that the company was always in the right place at the right time, thanks to a dedicated team of experienced management.
"Government had no impact on our historical success. Revenue from the government was about five per cent. I know it may be hard to believe because it has been mentioned a lot," he said.
As the group gears for capital raising, its share on the Nairobi Securities Exchange is trading at Sh4.10 way below the highs of Sh57 enjoyed when it was basking in the glory days.
The outcome of the fund-raising is crucial in steadying the company as it enters its 21st year and the CEO knows it is not that easy.
"We had a rocky moment. Getting out of it is not a one-night thing. It is painful but we can show something for it," he says.
KQ pays dearly for idle employees
Kenya Airways (KQ) might pay more than Sh200 million to some of its employees while deriving no value from them by the end of this year.