Ngunze: Being Kenya Airways boss was a tough job, only prayers worked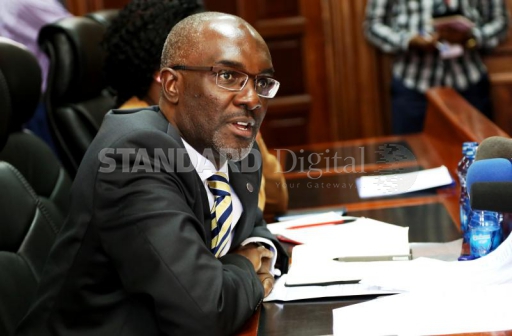 ?For about three years, he was the man at the helm of one of the most scrutinised companies in the country.
Yet sometimes, former Kenya Airways (KQ) boss Mbuvi Ngunze had to draw the energy to keep going from prayer even on days he had no clue where the money to fuel the airline's fleet would come from.
The Harvard University-trained graduate, whose first public assignment at Kenya Airways was to announce a loss of Sh11.9 billion on November 12, 2014, says that no matter what everybody else thinks, he walks away with a genuine conviction that he gave the airline everything he could.
"It is definitely the toughest assignment I have ever done but a very powerful experience because what doesn't kill you makes you stronger," Ngunze sums up his stay at KQ.
Even with a board, he says that when he took up the job, he knew that people's focus and newspapers' headlines were going to be about him, to follow the do or die story he was authoring at KQ.
On the fifth floor of ICEA Lion Centre, Westlands, away from Pride Centre that has been his work station for the last three years, Mr Ngunze ushered in the writer.
Unlike the many other occasions he had appeared in public, he was not in a suit. He had no tie but his watch was intact. In just a matter of days he will be completely out of KQ.
Corporate world
He adjusted his seat and told Financial Standard that his assignment at KQ was the toughest he has had in the corporate world.
So tough that he needs three months to unwind. "I am taking three months off for me. I want to be selfish. You know for two years, I worked hard with no leave. It was a 24-hour job. I need to also rest a bit and re-energise, reconnect and decide what next," Ngunze told Financial Standard.
He took up the KQ challenge with a resolute mind.
On entry at KQ, he first assembled his board to a meeting and identified what needed to be done first. They set out to reduce the number of assets and restructure the airline's network.
Then they set out for structural restructuring, followed by capital restructuring. He says that he took up the job knowing that the airline was going to make losses.
He also knew the competitive space was changing and that KQ had too much capacity. But he admits that the job turned out to be more challenging than he had initially thought.
For a moment, he thought he had identified the true North of the business, then on another moment, he couldn't see it again.
"What I didn't anticipate was the impact of external factors such as Ebola, fire at the airport, the Kenya Defence Forces entering Somalia and the Westgate attack that saw passenger numbers drop. I had to do more emergency work than the plan I had envisaged with the board," Ngunze said.
Two years, ago, he announced 'Operation Pride' programme, an effort meant to sort out the mess that came from 'Operation Mawingu' which his predecessor, Titus Naikuni, initiated. Mr Ngunze wanted to optimise the business and get the right partnership on board.
But did he stumble upon something he probably didn't know of before picking up the job?
"You could see, but you don't see it fully the same way. When you are thrown into the deep end, you have to learn to swim. It is either you say you can't do it and drown or do the best you can," he posed, then responded when the writer posed this question.
Operational restructuring alone, he discovered, was not going to succeed. In July last year, he embarked on capital restructuring.
He had three objectives: to reduce debt, improve liquidity and ease the implementation of the strategy.
His board had to go to all the stakeholders on the KQ's balance sheet and negotiate with them. This saw three lenders take the battle to court before a deal was eventually struck for them to convert their debts into equity.
"It has been a big task. It is probably the most complex financial restructuring ever done in Kenya. First in terms of its size and secondly, the number of stakeholders involved," Ngunze said.
Social media
At one point, he had scary Ebola, unhappy passengers, threatening pilots and dangerous debts to deal with.
Then he had sensational social media to calm down.
And pressing questions from the National Assembly too. He was the man in the "sea". But he soldiered on.
"I knew I had a job to do. I knew that KQ would not go down under my watch. If I woke up one day and wore my suit or jacket and then I went to people with my shoulders broken, just imagine the impact it could have had on the productivity of employees," Ngunze posed to Financial Standard.
But with some light appearing at the end of the tunnel for an airline, Ngunze says was once being "buried" from left, right and centre, he opted out.
He took most of the time clearing the mess from his predecessor, but he refuses to carry the blame.
"I don't like to look back and say he should have done this or not. I believe decisions were not being done in a vacuum," he says after a long pause.
According to Ngunze, there is never a perfect time to leave an organisation. However, he is convinced that he gave his best alongside the entire team he collaborated with.
He says he is not worried that someone else may take credit when the debt restructuring programme starts to pay off.
"You could ask me, will somebody else get all the glory of my hard work? It is not a problem. You can't take away the fact that I have helped to steer the process. My pride is that I have done a contribution for Kenya," said Ngunze.
When he announced that he was on his way out, the board requested him to remain and finish dealing with the giant that was threatening the airline's existence - debts. He accepted and stayed on.
Financial consultant
During the period, a new CEO, Sebastian Mikosz, a Polish, was scouted and recruited. In an unprecedented move in Kenya's corporate scene, Ngunze agreed to become a financial consultant - a move that meant taking instructions from the new boss. "It was never a problem. At the end of the day, we had mutual respect. He understood what my role was and I kept to it. That gave him the opportunity to focus on the operational side of the business," said former boss of the nation carrier.
Mr Ngunze says the new boss told him it was a "fantastic arrangement" so that he didn't have to start to learn about getting things done yet he could rely on him.
As he finally bows out, he found friendship with the new boss, together with the Michael Joseph, the airline's chairman.They have enjoyed a cordial relationship - always briefing each other on the progress of the restructuring programme.
In fact, on the day Financial Standard interviewed him, he interrupted the start of the interview to pick up a call from Mr Joseph to update him on preparations of his last brief to the board.
The accountant, who previously served in Bamburi, Lafarge and Pricewaterhouse Coopers, says he has had to content with negative sentiments on social media and unforgiving coverage in the mainstream media.
He took it all smiling and praying and continued to make landings and take-offs.
"Sometimes, I would open newspapers or go online and wonder if I am running an airline that is buried or if there's something I don't see. A lot of staff in KQ really used to feel discouraged. They could ask me: 'Boss, are we closing?" he said.
And for as long as the press kept KQ in the headlines, the former CEO had to content with pressing phone calls from international financiers inquiring if the airline was hiding some dangerous cards.
He also had to deal with passengers. Ngunze explained that there were times that before they could make any booking, passengers could call to ask if the airline really had money to fly the following day.
The prayerful man, always punctuating his speech with a smile and firm look throughout the interview, opened up to this writer on how sometimes he had to sell hope to disgruntled creditors even when he had no idea where money could come from.
Too worse were some days that he could see customers making bookings for KQ even when he had no idea where fuel for the next day could come from.
"There were days when I could go to bed not knowing where to get fuel for the next day. But by God's grace we could find money in the account," says Ngunze.
Repayment plan
Sometimes, he said, he could negotiate with creditors and even promise to clear debts within a week even when he was struggling to figure out a repayment plan. That needed prayers.
But the power of conviction, he says, has helped him keep his head up, even when the airline was flying into dangerous clouds of debts, strikes and sackings. By the time crisis was its peak at KQ, Ngunze said that spiritual wave had swept most of the workers.
"There is now a very big praying community at KQ. Some of these things, it is not just by luck. Without divine intervention along the way, I don't know what could have happened," he emphasizes.
Looking back at his tenure at KQ, the former boss' self-assessment is that of hits and some misses. So, are there decisions Ngunze regrets about?
"Yes. Probably I should have moved faster in changing the commercial organisation. I think at the beginning, it did not respond as aggressively to the market dynamics as it should. I saw the benefits in my last year as CEO," he observed.
He says that KQ was like a classroom to learn how to face challenges head-on with eyes wide open. He said he continued flying even when many people did not see a business case for KQ and silenced the dissenting voices of stakeholders.
Even when pilots downed their tools, he kept his head up knowing that they also couldn't strike for long to risk their jobs should the airline go down.
"All of us have to fight for our own positions. When you are in an organisation, never take it personally. I knew they were fighting for their position. As the CEO, you must always find the middle ground. It is a very fine dance," he said.
Anybody opening KQ financials will say he left a loss and that it was during his tenure the airline made the largest loss in Kenya's corporate history. But this won't haunt him as he takes time off.
"Milestones are more important than just a single number," he argues.
As he takes his rest, he jokes that he also wants to do "the things you do." He wants to read. Ngunze will also be mentoring businesses as he shares his corporate experience with them.
With a joke, he adds that he is ready to try his hand at journalism. But what if another airline job comes calling"
"I don't know," he responds.
And with that, the interview marked by smiles, laughter and hard talk comes to an end.
Firm reaps big from bagasse charcoal
• New source of fuel is friendly to the environment and cost-effective, says official • Company has commercialised the use of sugarcane waste to produce renewable source of energy.