Investment: Poor policy slowing Kenya's ICT sector as neighbours take lead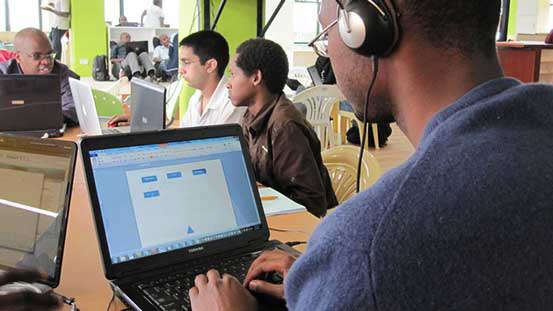 NAIROBI, KENYA: Ten years ago Kenya was on the cusp of a digital revolution.
Safaricom, the leading mobile subscriber, had just completed a successful Initial Public Offering that was over-subscribed by more than 500 per cent and coming just a few months after the 2007/08 post-election violence.
The message that Kenya was ripe for a tech revolution was loud and clear.
In the year that followed, M-Pesa became another runaway success and later on Ushahidi, which came on board confirmed Kenya's rich technology exports.
Soon, innovation hubs such as the iHub and Nailab sprouted across Nairobi as developers and tech companies such as Google and Nokia built an ecosystem to nurture more new and productive ideas that would justify Kenya's new-found distinction as Africa's Silicon Savannah.
Today, much of the traction witnessed in the last seven years has slowed to a crawl. Growth in Kenya's ICT sector has petered out and the country is now struggling to attract fresh technology financing and prove its competitiveness amidst competition from new emerging markets such as Rwanda and Ethiopia. A recent report looking into startup financing in the region found that local e-health startups barely managed to take two per cent of Sh1.9 billion in funding that went to the sector in the last three years.
At face value, the numbers paint the picture of an industry that is doing well. Data from the Kenya National Bureau of Statistics (KNBS) indicates that the value of ICT output increased by 11.1 per cent from Sh280 million in 2015 to Sh311.1 million in 2016.
In 2016, the penetration rate for mobile subscriptions improved to 85.9 per cent from 85.4 per cent recorded in 2015, while the number of internet users is reported to have increased by 10.7 per cent from 35.6 million in 2015 to 39.4 million users in 2016 – an 88 per cent adoption rate according to the regulator— Communication Authority.
However, these rosy figures do not paint the complete or accurate picture of the sector. KNBS data indicates that the value of ICT exports has gone down to Sh2.2 billion in 2016 from Sh4 billion in 2012
The country's overall output from the information and communication sector has further shrunk from Sh68 billion in 2012 to Sh51 billion last year.
This has seen the ICT sector's contribution to the overall GDP shrink from 1.6 per cent in 2012 to 0.7 per cent last year. This pattern of an industry in recession becomes clearer when the sector'sgrowth is compared to previous years.
The World Bank's 2010 country economic update for Kenya states that the country's ICT sector was the main driver of economic growth— between 1999 and 2010.
Kenya's ICT sector is reported to have grown by an average of 20 per cent each year from 1999 to 2009, the same period that the country's economic backbone — agriculture, shrunk by two per cent annually.
"Since 2000, Kenya's economy grew at an average of 3.7 per cent," states the World Bank in a report. "Without ICT, growth would have been a lacklustre 2.8 per cent," indicated the report.
"ICT businesses were responsible for 0.9 of the 3.7 annual GDP growth. It accounted for roughly one-quarter of Kenya's GDP growth during the first decade of the 21st century."
Digital revolution
Today, the ICT sector contributes a paltry 0.7 per cent to the overall GDP, with much of the momentum and goodwill gained in the initial years of the digital revolution rolled back.
The government has been unable to steer the sector back to the growth path and has given up on its ambitious strategic plan for the sector.
In 2014, the then ICT Cabinet Secretary Fred Matiang'i unveiled the Kenya National ICT Masterplan 2014-2017. The plan laid out a roadmap that would see ICT contribute eight per cent of the value of Kenya's GDP by 2017 and creating 180,000 direct jobs.
The sector was also supposed to have realised 37 successfully commercialised ICT applications with at least two "transformative" and another 55 ICT companies being established, two of which would have a customer base of over five million.
The vast portion of the strategy document is yet to be actualised with just weeks to the end of the focus period.
Meanwhile, Kenya's initial competitive advantage in the areas of mobile is currently waning as her peers catch up.
A June 2017 report by the GSMA, a lobby representing the interests of mobile network operators - on Sub-Saharan Africa's mobile economy put Kenya's mobile penetration at 28 million translating to 59 per cent of the total population.
This is much lower than the figures given by the CA that has put the latest statistics of Kenya's mobile penetration at 39 million translating to 88 per cent of the total population.
In calculating the new ranking, the GSMA looked at unique mobile subscribers ignoring users who have multiple SIM cards - a common trait among mobile subscribers in Kenya and other developing countries.
This faults the CA's method of counting each individual SIM-card as a subscriber translating to one mobile user registered across three networks being counted as three mobile subscribers.
This is an inaccurate measure of mobile penetration since it does not truly capture how mobile users utilise their devices.
The new ranking puts Kenya 11th in the continent in terms of mobile connectivity behind several countries like Gambia, Mali, Ghana and Gabon, among others and seven points behind the global average of 66 per cent.
Kenya also falls behind Tanzania in the usage of mobile money despite the former pioneering the technology and having a much larger economy.
According to CA, Kenyans made 1.32 billion mobile money transactions in the nine months to April this year. This is in comparison to Tanzania's 1.44 billion mobile money transactions over a similar period, according to data from the Bank of Tanzania (BOT).
While Tanzania beats Kenya in terms of volumes, the latter made up with a higher value of transactions, transacting Sh3.4 trillion over the nine-month period ending April, compared to Tanzanian's Sh2.31 trillion, a difference that can be credited to Kenya's larger economy.
BOT attributed the growing use of mobile money to the implementation of interoperability across the four major Tanzanian mobile money operators.
Kenya has toyed with the idea of interoperability that allows users to transfer money across networks just as it happens with banks.
Despite the promise that this would be implemented starting mid this year by Government and the regulator, there has been no much progress.
ICT expert Peter Wanyonyi says the growth of ICT markets around the region might seem to be outpacing Kenya's owing to various factors.
"There is, in fact, a fairly routine explanation for Tanzania appearing to take up mobile money faster than Kenya... Tanzania is beginning from a low point, in which the vast majority of their citizens are still unbanked," he explained.
Mr Wanyonyi explains that mobile money adoption has followed the traditional 'S' Sigmoid curve; slow at the beginning then steep rise that finally plateaus.
"Kenya is at the latter point, with mobile money being virtually ubiquitous in the Kenyan economy," he explains.
With the industry at a plateau, new innovations for products and services as well as regulations need to be developed. This calls for the competitive market forces to drive research and development, while regulators provide the policy framework to guide the expanding marketplace.
Policy makers
Former ICT Permanent Secretary Bitange Ndemo has often alluded to the importance of policy makers having the foresight and intuition to develop policies that match an ever-changing ICT sector.
"Policy makers always have to be two or three steps ahead of the industry," he said in a past interview. "Some of the things we were doing in the early years of M-Pesa were made possible because of the roles played by policy-makers and that is why I always say you need activist policymakers for this sector."
This explained the relatively free hand granted to Safaricom to develop, pilot and launch M-Pesa with minimal legislative or regulatory inference from the government. Today, the industry regulator CA has been conservative in its approach, thus providing little help in reversing the dwindling fortunes of the ailing sector.
CA has been without a board chair for the better part of this year since former chairman Ngene Gituku's tenure expired in May. This has seen significant boardroom decisions delayed or summarily passed.
The CA has since been unable to publish the report on dominance in the ICT sector containing significant recommendations aimed at promoting fair competition in the sector.
The report, among other things, recommended new rules to govern M-Pesa, in order to even the playing field for the operators.
It also recommended implementation of interoperability and national roaming, which would see operators share infrastructure in areas where competitors do not have connectivity but on a commercial basis.
Despite spending more than Sh30 million on external consultants, the CA was forced to shelve the report proposing to set up an interoperability mobile money wallet under its own framework.
This has yet to happen way past the June deadline and talks between mobile operators have stalled.
Meanwhile, the CA has since taken Airtel to court demanding a Sh2 billion spectrum fee that is almost certain to cripple the struggling operator.
Figures released by the company's local unit for the first time in years indicate that Airtel Kenya is staring at a Sh48 billion debt stock.
This arrangement has put Kenya on the brink of having the telecommunications sector controlled by one major player with consumers being the biggest losers.
"When you have one big player and others are pushed to the margins then you are left at the mercy of the big player and it does not augur well for the quality of service," explained Ali Hussein, an ICTlawyer. But an allegation which Safaricom has repeatedly dismissed saying it has never abused its position to hurt others.
"At the same time there might not be a lot of incentive to remain competitive and the larger company might find it difficult to satisfy customers."
Ali, however, notes that the segmented nature of the market will ensure that other options from over the top providers such as Facebook and Google will fill in the void and maintain competition.
"As more international service providers and tech giants make it into the market the CA will soon find itself ill-equipped to chart the policy agenda," he explained.
His sentiments are echoed by John Walubengo, a lecturer at Multimedia University who observed that the regulator ought to upgrade the methods used in the past.
"Today's Telcos are essentially Internet companies and the regulatory regime must be alive to this fact and begin to adopt new approaches," he reckoned.
"Otherwise these companies will simply over-run the regulator and leave them behind in terms of their inability to catch up with the emerging Internet-driven Telco services."