How I got Beyoncé to fund my war on poverty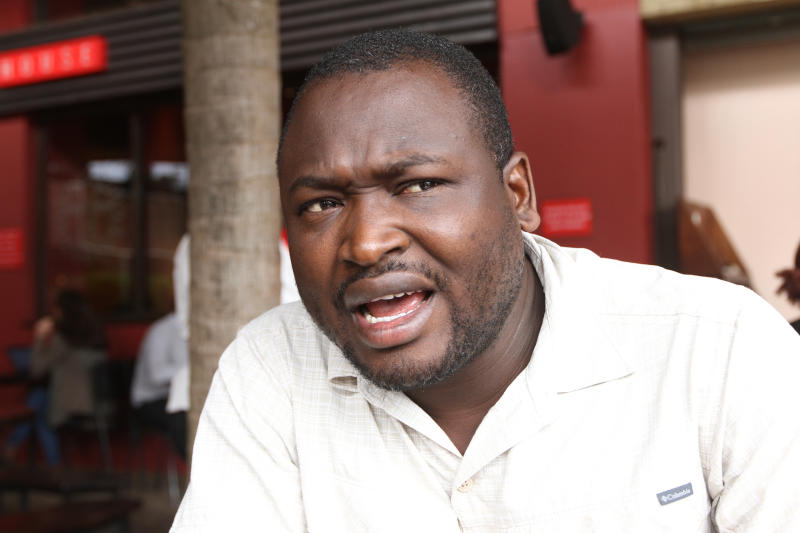 "There's a popular saying that if you want to educate a village, educate a woman. I think this is a Western concept. I'm not sure it works in the Africa setting. I believe if you want to educate a village, get the men involved as well," says Kennedy Odede.
Kennedy is a social entrepreneur and founder of the movement, Shining Hope for Communities (Shofco), which brings people from low-income areas together to transform their neighbourhoods and lifestyles by working as a unit.
He grew up in Nairobi's Kibera slum, and when he ran away from home, he ended up on the streets of Nairobi begging for food and collecting plastic bags for resale to survive.
Today, he's behind an influential transformational movement that's changed more than 250,000 lives, educating and sponsoring girls and boys from primary to university level, and providing amenities in slums around the country.
He's brushed shoulders with past and present presidents and prime ministers, including Bill Clinton and Tony Blair. At a World Economic Forum, he shared a platform with Bill Gates and Bono, giving a speech at a private dinner.
He also has a New York Times bestseller, Find Me Unafraid. The movie rights have been bought by celebrity actor, director and producer, Tony Goldwyn, who played President Fitzgerald Grant in the acclaimed US TV series, Scandal.
And last year, Kennedy won the Hilton Humanitarian Award, the biggest award of its kind in the world.
All this, and he's just 34 and amazingly down to earth, brushing off his achievements and instead choosing to focus on his driving force.
"Poverty makes you invisible, it robs you of your dignity," he says.
"I want to help people in this situation change their lives."
He shared his story with Hustle.
Tell us about Shofco. How did it start?
Growing up, there was never enough food at home, my parents couldn't educate me and my father was violent.
I didn't see a future there, so I went to the streets. The irony is that being on the streets opened my eyes to a world greater than Kibera.
Up until then, I thought the richest people were the guards who had jobs in places like Industrial Area because their children had food and went to school. When I got to the city, I saw a completely different level of wealth.
But in this world, I was even more invisible and irrelevant than I'd been in Kibera.
It hit me that being poor in Kenya was like being black in America when a black person wasn't considered human enough to vote. Poverty meant you were a secondary citizen with no voice. I wanted to change this.
How long were you on the streets?
About four years, and then in 2004, I decided to go back to Kibera.
It had become clear that no one was coming to save me or my friends from our situation. I convinced them that we could start a movement to help ourselves.
The first meeting only had four people: Mary Mutio, who eventually ran our Health and Sanitation arm, George Okewa, whom we nicknamed 'Serikal', Nicholas Masivu, whom we envied because he had a Simu ya Jamii business, and me, whom the community nicknamed 'Mayor.'
Our task was to spread the word about our movement.
In three months, we had 200 members. We ran sports, theatre and environmental activities. We went into money-making ventures like rearing chicken, selling eggs and making jewellery. We were working towards self-sustenance.
Shofco operates in eight slums around the country. How did you grow to this level?
I believe when you do the right thing the right way for long enough, people will hear about it and show up to join your cause.
I didn't think of it this way in the beginning. In fact, I was against help, especially from foreigners because I didn't think they understood our plight. I felt their help was about rich people sitting around drinking wine and champagne and talking about poor people to make themselves feel better.
In 2007, however, a woman from the United States called Jessica Posner sent me an email asking if she could come and teach us theatre.
I replied: "This is a black movement and we don't welcome Americans. Sorry."
I didn't think she'd reply, but she did, telling me she was different and felt that theatre was a great way to impact young lives.
Because of her insistence, I shared her offer with the committee. Serikal thought we should give her a chance, but we agreed she had to send a CV so we could verify her credentials.
Picture this: I only checked my emails once a month because I didn't have money for bus fare into town and had to walk all the way. I couldn't type or access my email account without help, so this guy, Njoroge, would log in for me – I didn't even know my own password.
But we had the audacity to ask this American lady to send a CV before we considered her.
Did she send it?
She did and she came to Kenya to teach us theatre. The first day she arrived in Kibera, I had to buy a soda on credit to offer her something to drink. It was money well spent though – Jessica Posner is now my wife.
On a professional level, she brought structure and systems to our organisation. Up until then, we didn't keep any books, files or data. In fact, I'd take it as an affront if someone asked me for a receipt. Why? I wasn't a thief.
Jessica made me see the error of my ways, including my 'no foreigners' policy. With structure came confidence from larger organisations and it opened us up to the rest of the world.
We have had some great partners, like the M-Pesa and Safaricom foundations and the Clinton Global Initiative (CGI).
Today, Shofco has 600 members of staff. We run Kibera School for Girls, which was visited by, among others, First Lady Margaret Kenyatta and celebrity artiste Madonna.
We have 10 students on scholarship in the US. We also get sponsorships for boys and girls to attend top-notch high schools around the country. More than 300 students have passed through this system.
Through the girls school, we run a health centre that treats more than 1,000 people a week.
We offer clean, piped water, and two years ago started a Sacco that now has 40,000 members and has loaned out Sh30 million.
What's it been like meeting some of the world's best-known leaders?
I like the fact that I've been able to speak frankly with them.
When I met former US President Bill Clinton, for instance, he started a discussion about the free education in primary schools in Kenya and how proud he was of that initiative.
I told him that the shortfall of the free education in Kenya was that it came without infrastructure and so many of those who needed it the most hadn't benefited from it. I think my boldness caught his attention and we spoke for a while.
He introduced me to former UK Prime Minister Tony Blair, whom I met with for an hour. He gave me insightful strategies and helped open many doors. Both have supported and walked with Shofco.
You seem to endear yourself to everyone you meet. Why do you think that is?
I think it's because I am myself. I'm not embarrassed by my past or my background.
During a CGI event for example, I met the head of Gucci at the time, Christopher de Pous. I had no clue who he was until he gave me his business card. Then I pronounced Gucci as 'Gussi'.
He thought that was hilarious but didn't bother to correct me. We became friends. He later invited me to an event and introduced me to Beyoncé who wrote a cheque on the spot for Shofco.
At a different event, I ended up standing next to a man I thought was simply called 'Tom' and we talked for 45 minutes.
I then asked him what he did for a living and he told me he was in entertainment. Turns out I was talking to movie star Tom Hanks.
My world as a child revolved around survival, I didn't have the luxury to learn about the finer things in life, and I don't pretend that I did. I think that makes me real and I gain trust from people.
Do you consider yourself a hero?
No. In fact sometimes when people meet me in person, they can't believe I'm Kennedy Odede because I'm not 'Kennedy Odede enough' for them. I'm too simply dressed, too relaxed.
I promised myself I'll never become an elitist and lose the thing that pushed me to start Shofco in the first place. I'm an ordinary man who built a movement out of necessity for survival. That's it.
The things that move me are the milestones we've made, and the journey always continues.