Want to start a radio station? I did it using electronic waste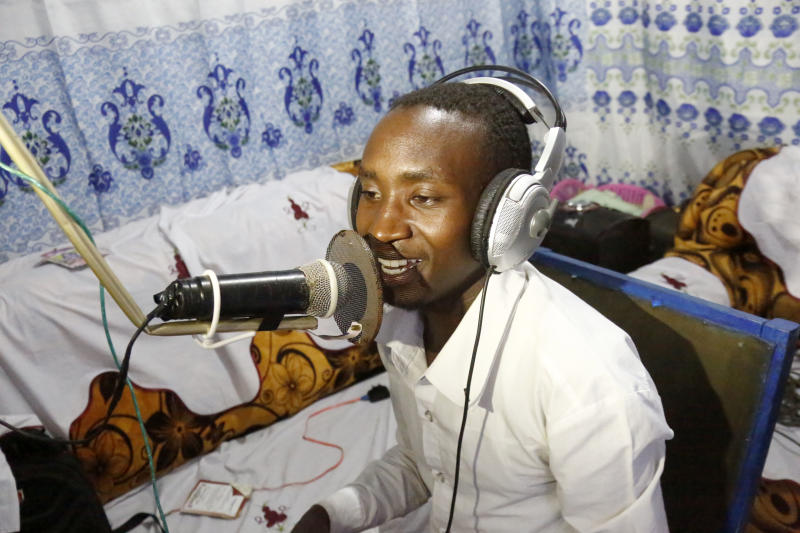 Daniel Nderitu, 24, is living proof that one person's trash can truly be another's treasure,
He used damaged electronic gadgets to come up with a radio station in Bahati, Nakuru County, that broadcasts across a 3.5-kilometre radius.
Daniel didn't do too well academically, but he's gone on to do more than the average person has.
"I don't understand how all these things work, but I find them working out the way I want," he says.
"When I was in primary school, my father would keep his radios under lock and key because if I'd find them, get curious and open them up to understand how they work."
As he got older, he became well known in his neighbourhood for radio and TV repairs. He also won awards for his school, JM Kariuki Secondary School, in science projects. His most memorable school invention was a public address system he made using old parts of a music system.
This interest in electronics eventually led Daniel to thinking about running a radio station. And six years later, he's living his dream with Mawaya FM.
"After 16 failed attempts, I've succeeded in coming up with a radio station that broadcasts like the rest. The name was inspired by my school nickname, which was a result of my always carrying around cables," says Daniel.
"I used faulty electronics that I found within the neighbourhood and started the station project in 2013. I used batteries to avoid being electrocuted since I didn't have proper equipment."
His station, which broadcasts on frequency 101.7, comprises a modified calculator that's connected to a series of diodes, capacitors and other components mounted on a carton. There are several switches, which jointly serve as a mixer.
The calculator has been modified with a USB port permanently attached to it that enables the playing of music from flash drives. It also has an audio line through which music played from other devices, such as mobile phones, gets into the system. It also injects the voices of callers who make music requests or contribute to debates.
The calculator
An improvised microphone dropping down from the roof of his house is also connected to the mixer.
"Pressing different buttons on the calculator sends different commands. For instance, pressing the addition button moves the playlist to the next track, while subtraction moves it to the previous track," says Daniel.
From the improvised mixer, the station transmits its signal through a satellite dish fitted on the roof of his house.
The entire contraption did raise eyebrows, but Daniel says his parents encouraged him to ignore the naysayers and focus on his ambitions.
And when he made his first broadcast, his friends and neighbours finally understood why he'd spend days locked in his house and had wires running all over. Now, he has a loyal fan base.
Stephen Kamau says he was surprised when the radio station first went on air.
"I was switching between stations and heard Daniel's voice. I called him and was shocked when he received my call and I could hear myself on air," he says.
During his free time, Kamau co-hosts entertainment shows with Daniel, where they "mostly talk about drugs and alcohol abuse. Parents call in and give advice to the youth".
When there are no talk shows lined up, Mawaya FM plays local music.
Daniel says his dream is to get into a polytechnic and pursue a course in electrical and electronic engineering, but his family can't afford the fees.
His father, John, broke an arm and leg after he fell off a cliff just months after Daniel got his KCSE results. The money that had been set aside for a college education went towards settling hospital bills instead.
"I'm yet to fully recover from the accident, and Daniel has no job to support himself through college, so his education is unfortunately on hold," says John.