Why I quit my job to rent out storage space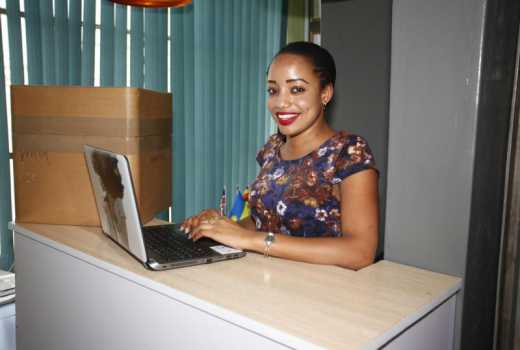 Four years ago, Njeri Wainaina found herself unhappy with the two jobs she'd held. She had worked as a marketer and as a public relations officer.
At 24, she decided to quit employment for good to venture into entrepreneurship. With only Sh5,000 in capital, in March 2015, she registered her company, Wachia Agencies, and opened for business.
She started out supplying general products to hotels and other hospitality establishments. However, she felt she wasn't doing enough to live up to her potential, and couldn't shake the feeling that the line of business she was in wasn't sustainable.
"I had realised employment wasn't for me and started my supplies business, but I still wasn't comfortable," Njeri says.
Getting started
While pursuing a degree in communication and public relations at the Technical University of Kenya in 2013, Njeri had developed a business plan for her dream business.
She didn't launch it when she decided to pursue entrepreneurship as she didn't have the capital to turn it into a reality.
But five years after she'd drafted her idea, and given how antsy she was feeling in the supplies industry, she knew she couldn't keep ignoring it. She decided to just start with what she had.
In January this year, Njeri finally knew she was living her dream after establishing a storage unit along Nairobi's Koinange Street. She rents out space to clients who want their goods stored for short periods of time.
"I had been really passionate about this business since I came up with the idea in college. It's what motivated me to think about entrepreneurship. I felt it would be an inflection point, opening up new opportunities for growth for me," she says.
When Njeri drafted the business plan back in 2013, eCommerce was only just becoming popular among Kenya's Internet users, with online businesses popping up all over social media.
For Njeri, the question this raised was where would these merchants store their products while waiting for clients to pick them up from a central place? And for those selling clothes, where would their clients try them on?
"I had friends who'd started online businesses. They were selling beauty products, clothes and shoes, and I was aware they had no place to use as a pick-up spot for their customers," Njeri says.
This year, she decided to actualise the Wachia Agency dream that was born in college. And in the space of a few months, the company has gone from employing one person to having three employees and two riders.
"I expect to keep growing my workforce as I embark on opening more outlets in Nairobi's city centre, as well as setting up in other counties."
Njeri charges an average of Sh50 per hour to store products, with the space available capable of serving 20 to 25 clients.
The challenges
But while she was sold on the relevance of her idea, she's had to jump through a couple of hoops to actualise it.
"First, it was difficult getting enough capital to rent a warehouse in town, and after opening it, I faced another challenge of explaining to people what the concept is all about before they agreed to trust me with their valuables. I've come to learn that safety is my biggest selling point. It has been key to my growth," says Njeri.
The process begins with a client being vetted to ensure the product they want stored isn't illegal.
"My clients have to sign a contract with me to abide by the terms and conditions of my business. Before you leave your products with Wachia Agencies, it's also mandatory to provide a passport or national identity card. I also have strict validation processes, which involve security scanning of products and installation of security seals on products to avoid claims of tampering," she says.
To market her services, Njeri largely uses Facebook and Instagram.
"Aside from eCommerce merchants, I also deal with people in transit who want to leave their bags somewhere while they wait for a connecting bus, as well as those looking for changing rooms."
Lessons from her journey so far?
"A good business idea starts with where someone's true passion is, and then working backwards to find a way to pursue it. However, don't quit your job because you believe you have a great idea for a business – an idea is not enough."