Investor wealth at bourse up Sh421b on vaccine rollout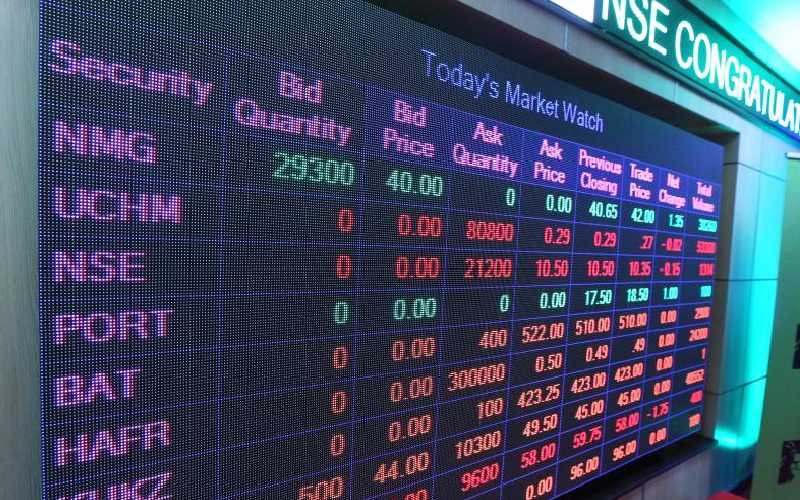 Investors at the Nairobi Securities Exchange (NSE) recorded an increase of Sh421 billion in paper value in the first quarter of this year.
This is as the market rallied on optimism over the rollout of vaccination across the globe to contain Covid-19. According to Capital Markets Authority (CMA) data, market capitalisation recorded a 21 per cent increase to Sh2.437 trillion in the first quarter of the year, up from Sh2.016 trillion recorded over a similar period last year.
"Following a challenging 2020 on both local and global financial markets at the beginning of this new year, brought renewed hope especially due to the mass vaccination and relaxed international travel measures put in place on the onset of the pandemic," said CMA Chief Executive Wyckliffe Shamiah.
Both equities and bonds recorded improved performance, with net outflows from foreign investors falling to Sh976 million for the first three months of this year, compared to Sh2.67 billion in net outflows recorded in the fourth quarter of 2020.
"The bond market turnover increased by 17.8 per cent in the first quarter of 2021, with Sh199.3 billion worth of bonds traded, compared to Sh169 billion in the fourth quarter of 2020," stated CMA in its report.
Equity turnover for the quarter under review stood at Sh31.7 billion compared to Sh27.51 billion registered in the fourth quarter of 2020 - marking a 15.3 per cent rise on the back of increased trading activity.
The results paint a mixed picture of recovery at the bourse with trading values and volumes yet to rebound to pre-pandemic levels.
Volumes of shares traded similarly recorded a 26 per cent drop from 1.36 billion recorded in the first quarter of 2020 to Sh997.7 million in the first quarter of 2021.