Munya confirms acting Kebs boss amid raging edible oils saga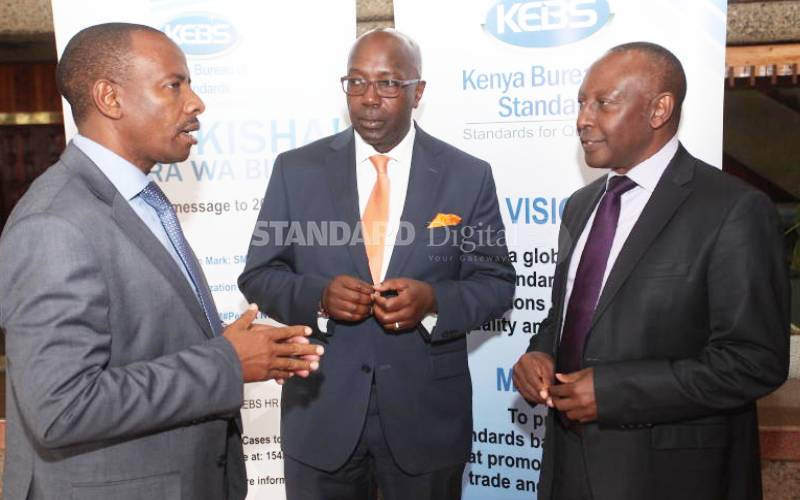 Trade and Cooperatives Cabinet Secretary Peter Munya has confirmed Bernard Njiraini as the Managing Director of the Kenya Bureau of Standards (Kebs) for a three-year term.
Njiraini (pictured, left) was appointed as KEBS acting managing director in May this year after serving less than six months as the managing director of the Numerical Machining Complex.
Currently, the authority and the trade CS are under scrutiny from the Directorate of Criminal Investigations (DCI) over the decision to release a Sh10 billion consignment of edible oils into the Kenyan market.
The consignment was impounded in May last year by several State agencies, including Kebs, Kenya Revenue Authority (KRA), DCI and the Anti Counterfeit Authority (ACA).
The Dyanas brand of cooking oil came in 503 shipping containers and is listed under the catalogue of Dubai-based Heran Group of companies that deals in trade and export of various fast-moving consumer goods in Africa.
Already, close to 50 containers have been released into the market and local edible oil manufacturers accuse Munya and Kebs of double standards in waiving the fortification requirement as is the norm with locally made products.
"The released edible oil lacks the required fortification, and we have raised the issue of the storage of the oil at the port for a long period of time, which may have compromised its quality," they said under the aegis of the Kenya Association of Manufacturers in a statement last week.