Business umbrella body to help market Kenya's coffee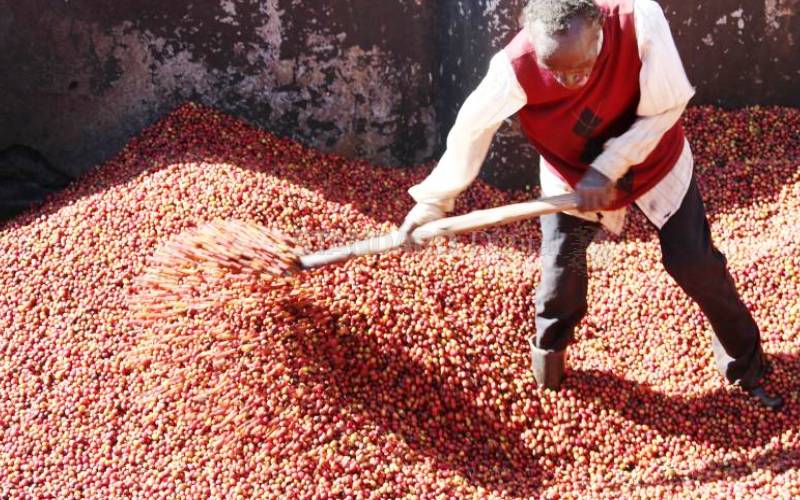 An umbrella body of the private sector in Kenya has started an initiative to help counties brand and market coffee in lucrative export markets.
Kenya National Chamber of Commerce and Industry (KNCCI) President Richard Ngatia said the organisation had entered into pacts with roasters from various countries who are interested in coffee from Kenya.
Mr Ngatia, who spoke when he toured Embu County Coffee Mill at Kavutiri and later addressed the local business community, said the coffee buyers from Asian and Middle East countries had expressed interest in produce from Kenya.
He said the chamber had signed an MoU with the United Arab Emirates (UAE) that would offer several markets for Kenya's agricultural products.
He said in a bid to promote export of the commodity, KNCCI had also requested the European Union to ensure Kenyan coffee is branded.
He said KNCCI also plans to market Kenyan coffee during the Tokyo International Conference on African Development (TICAD) this week.
"I will be representing the country's business community in the TICAD conference. I will introduce the subject and make sure that investors from Japan visit Embu to sample their coffee, macadamia and avocados," said Ngatia, who was hosted by KNCCI Embu branch chairman Mugo Mate.
Ngatia promised to invite investors from countries KNCCI has signed MoUs with, and to also ensure farmers are part of delegations visiting those nations to study new markets.
Experts rate highly the taste and aroma of Kenya's Arabica coffee, thus it is blended with 'inferior taste' varieties from other countries.
However, Kenyan farmers do not reap from the superiority of the coffee as it is sold to multinationals while in semi-processed form.
Embu Governor Martin Wambora welcomed the chamber's branding campaign, saying it would be a boost to his own efforts to have the county process and sell Embu specialty coffee to profitable buyers.
Ngatia also pledged to engage various government agencies to waive the Sh127 million loan that the Embu County Mill owes the Commodities Fund.
The mill chairman John Maruku said farmers were struggling to repay the loan since most societies had defaulted.
Each of the 24 societies that formed the mill were required to pay Sh3.8 million. The loan is a guaranteed by property owned by the societies.
Agriculture Executive Annie Nyaga said the cooperative societies came together in 2008 and decided to form a mill. They actualised it in 2013 and in 2014 obtained Sh90 million loan from Commodities Fund to buy machinery from Brazil. The loan has ballooned to Sh127 million.
The chamber delegation also visited the University of Embu where officials signed a memorandum of understanding for placement of students in internships and employment.
The delegation also toured Privamnuts Macadamia Factory.