Njiraini, taxman who stayed put amid fierce board fights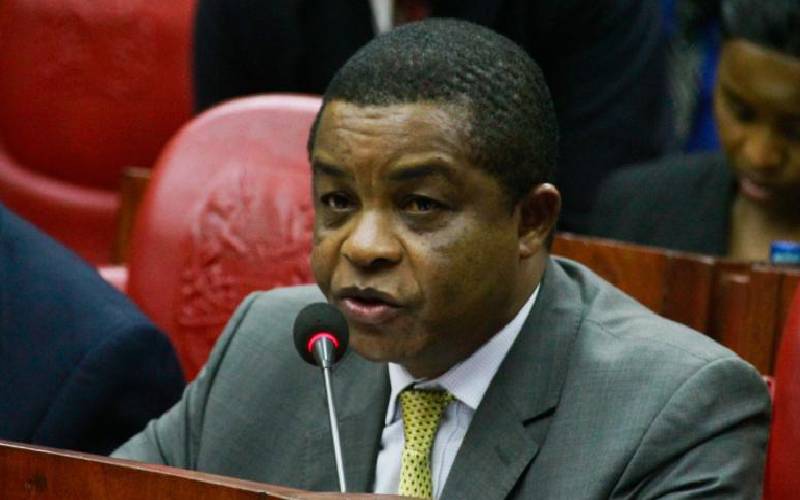 In 2011, John Njiraini (pictured) was embroiled in a war with Members of Parliament as he demanded that they pay their fair share of taxes.
The then Commissioner of Domestic Taxes had taken the MPs head on, at some point threatening them with forced recovery of unpaid taxes, in what could be termed a selfless act and where he had the country's interests at heart.
It was the one fight on which he registered a convincing victory to the extent that his short bio, which is still up on the website of the Kenya Revenue Authority (KRA), only lists this achievement and might lead one to deduce that he sees it as his biggest score.
"He previously served as Commissioner of Domestic Taxes and was pivotal in ensuring Kenyan Members of Parliament were finally looped into the tax paying bracket," reads the profile.
Mr Njiraini could have chosen to include the doubling of tax revenues to Sh1.4 trillion last year from the Sh700 million collected in 2011/12 financial year when he was about to take over the agency as commissioner general.
This is however tainted by the fact that during his two three-year tenures and even after the contract extension, KRA has met the revenue collection targets only twice.
Shortly after winning the fight with the MPs, Njiraini would soon occupy the corner office at Times Tower in 2012. Since then, he has been in many battles and won many, but with some appearing to be for his own gain.
This is particularly so in his last days in office when he tried all tricks to stay in office despite the law saying otherwise.
The commissioner general's calm countenance and deceptively soft voice became strained during his last days in office as he fought to manage his exit from the tax agency.
He faced mutiny from his board and won, fought an incessantly litigious Okiya Omtatah on several occasions and won, and saw his name dragged into claims that he was a tax collector who had attempted to dodge taxes.
But Njiraini showed he had learned hard lessons from his own tumultuous entry into KRA in 2012. No one gets the job easy.
At the time he was appointed to replace Michael Waweru by President Uhuru Kenyatta, who was then minister for Finance, the process was almost halted by the Consumer Federation of Kenya.
In fact, Njiraini was named the boss before the court could determine the case but the suit was eventually thrown out.
Powerful office
He was quick to come in but not so quick to get out. The trappings of his powerful office seem to have transformed the man who would fight tooth and nail to stay as boss and manage how he would be replaced.
The former Institute of Certified Public Accountants of Kenya chief executive rose to the post of Commissioner for Domestic Taxes and Large Taxpayers in 2006.
Before rising to be the chief taxman, Njiraini in 2011 made the cut to become the first Kenyan Controller of Budget where he scored the highest in interviews but failed to get the position.
His first term as commissioner general came to an end in 2015 and the board renewed his contract, giving him another three years that were to end on March 4, 2018.
His retirement date would have come three months after he hit the mandatory age of 60 in December 2017. But he soldiered on, seemingly with blessings of the country's highest office.
He defied the age rule, trounced his own board, fought a nail-biting court battle, brushed shoulders with the Ombudsman over involvement in politics and still managed to keep his job.
Njiraini was accused of directly taking part in politics contrary to the Public Officers Ethics Act when he attended a fundraising party of the Friends of Jubilee, famed for raising Sh15 million in five minutes.
Even Auditor General Edward Ouko said the KRA boss had been in office illegally in his latest audit report on the agency.
Then the intrigues started. The board gave him two months' notice, which would have seen him leave by July 2017 in spite of a one-year extension granted in March.
This attempt fell flat on its face after President Kenyatta intervened and kicked out five members of the KRA board including its chairman Edward Sambili. Others were Evans Kakai, Constance Kandie, Rashid Ali and Abdi Barre Duale.
Activist Omtatah also failed after the courts ruled that Njiraini was on a fixed term contract which is permissible under Section 80(2) of the Public Service Commission Act that was exempt from the age limit.
Njiraini's replacement, James Githii Mburu, might need his predecessor's street smarts to slip through the barbs that lie before him.
Critics say that he got more than counsel as he was the preferred candidate after the intelligence post was created just for him and a series of big tax frauds were hacked and internal crackdown was orchestrated which gave him mileage for the job.