Treasury targets Sh0.8b in M-Akiba bond extension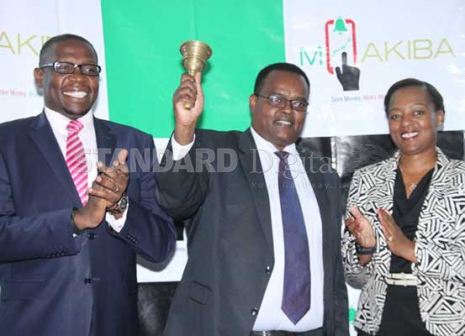 The National Treasury is betting on more advertisement and the post-election period to raise at least Sh859 million from the M-Akiba bond in the next seven weeks.
The new target will require that average daily buys be tripled from the Sh6.12 million registered in the first 23 days to Sh17.5 million. The best performance was last Thursday, when Sh15 million was raised.
According to Director General for Public Debt Management Wohoro Ndohho, the mobile-traded bond will gain traction as more people familiarise themselves with it through publicity.
"We did not meet our target in the sprint since being an innovative product, it was obvious that only early adopters would respond quickly. The government is not good at sprinting but has more muscle for a marathon," he said.
The National Treasury had talks with the market maker, Commercial Bank of Africa (CBA), to make it an underwriter. This means that if the State would not have extended the offer period, CBA would have given it the shortfall (about Sh859 billion) at a fee.
The bond, which was to be initially launched by President Uhuru Kenyatta, was delayed by a week, only to raise about Sh150 million in three weeks.
Mr Ndohho said the timing may have been wrong due to political jitters. He thinks by extending the offer period to September 11, after the August 8 polls, will help attract more investors. "The season is difficult to message anything else apart from the elections. The targeted investor is pre-occupied with politics at the moment."
The marketing of the bond was also problematic. During its launch, Treasury hoped to capitalise on the peaks in revenue cycles of potential investors such as paydays.
Mr Ndohho said delays in adopting the lessons picked from the Sh150 million bond issued in March and the challenges in marketing slowed M-Akiba's take-off. Treasury has since increased publicity agents to 70, drawn from the Nairobi Securities Exchange and the private sector.
Another letdown was PesaLink, which had challenges after its launch. With 26 banks signed up to the switch, only three have made the service available to customers.
However, with eight banks opening up and more in the pipeline, Ndohho is optimistic that higher volumes will be realised. "We enrolled Pesalink to increase capacity uptake. We thought Sh1 billion would be an easy target but being a new innovation, its uptake was dependent on banks," he said.
The success of M-Akiba could see bank customers commit their deposits elsewhere.