Egyptian firm opens Sh2b sports club in Runda, Nairobi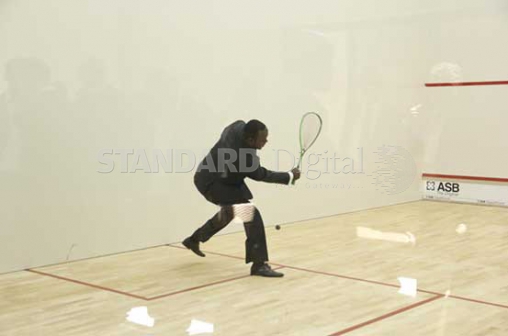 Egyptian firm Wadi Degla Holdings has launched a Sh2 billion sports club in Kiambu County. This is one of the three clubs the firm is investing in at a total cost of Sh10 billion.
The club situated in Runda is a multi-sport facility that is expected to boost Wadi Degla's operations in Kenya and play a part in entrenching professionalism in sports.
Wadi Degla Club Kenya Country Director Joseph Reda said the firm expects to open a second club in Kiambu's Migaa estate, which is currently under construction and a third in Karen's Mamba Village in 2017.
Wadi Degla clubs are membership based. Mr Reda said families pay a one off fee that gives them exclusive access to all other Wadi Degla Clubs in Nairobi and around the world.
"We have partnered with sports academies to help children develop their talents into professional careers, children can be enrolled in the Arsenal Soccer School while those who want to be athletes will be trained by former marathon champion Douglas Wakihuri," he added.
Wadi Degla will also build a 10,000-seater stadium in Migaa worth Sh1.2 billion. The stadium will enable the smooth operation of the Arsenal Academy, which Wadi Degla has partnered with in providing access to world-class facilities for local footballers.
Headquartered in Cairo, Wadi Degla has interests in sports, telecoms, real estate and hospitality. It currently has operations in Egypt, Belgium and Kenya, with planned entry into other African countries including Uganda, Tanzania, Rwanda, Nigeria and Cote d'Ivoire.
During the launch, Kiambu Governor William Kabogo noted that the development would be beneficial to Kenyans.
"We approved this mega project about eight months ago. Even though there are stadiums and small private sports clubs we believe the time is ripe for large clubs such as Wadi Degla. We are pleasantly surprised by the transformation and foresee immense benefits to Kenyans," said Kabogo.
Sports Cabinet Secretary Hassan Wario congratulated Wadi Degla Holding on the completion of their first club in Kenya
"This investment does more than just strengthen long standing relations between Kenya and Egypt. It advances shared aspirations of our people for better standards of living and access to better opportunities," Wario said