Chinese firm confident of beating the 2017 deadline for SGR project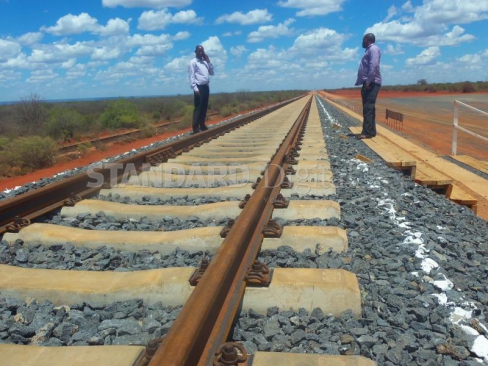 The Chinese contractor for the Standard Gauge Railway (SGR) is confident of beating the June 1, 2017 deadline to complete the multi-billion shilling project.
On Wednesday, China Road and Bridge Corporation (CRBC) said it has cleared 385 kilometres of the railway corridor of 472 kilometres of the entire line. The firm said it has further built 443 kilometres access roads that will facilitate construction of the railway line.
CRBC said it has built 40.24 kilometres of railway subgrade while its subsidiary works have started. Also, 5,948 linear metres of railway bridges have been completed with 875 piles, 154 foundations, 70 bearing platforms and 111 piers and abutments in place. And construction of 266 slab culverts and 2 frame culverts has started.
Two factories for production of railway sleepers and T-beams at Kathekani near Mtito Andei and Emali are operational. The two facilities have so far produced 105,250 sleepers and 148 T-beams, which are key materials in construction of the railway. Each factory has the capacity to produce 1.5 beams a day (three beams are produced every two days) each weighing 120 tonnes and 1000 sleepers a day.
"Since last December when the SGR project officially started, we have made progress on the project and we are on course to complete it on time," said Julius Li, CRBC Manager for External Relations and Cooperation.
Speaking during a media tour to different railway construction sites, Kenya Railways Managing Director Atanas Maina projected that 60 per cent of the subgrade will be finished by end of year with track layering set to begin early next year. "We are ahead of schedule. We are ordering for the locomotives, wagons and coaches, so we are on course to launch the railway in 2017," he said. Maina dismissed claims that the structures already constructed do not meet the required international standards and that some have already developed cracks.
"There has been no structural failure, you may have substances in terms of mixtures not working," he explained. He said there is a team of engineers at every section from both the contractor's side and the supervisor's to make sure at every step there is sufficient monitoring to ensure quality is maintained.
Kenya Railways Project Manager in charge of the SGR project, Eng Maxwell Mengich said high international standards of quality assurance are being applied in the construction. "The bridges and structures have been designed to last up to 100 years while the design of the railway will be reviewed in 2035 with regards to traffic volumes and the country's development," he said.
Work environment
There are fears however that the delay in land acquisition may hinder progress. Eng Mengich said the contractor is yet to secure a 30km stretch near Mombasa and Nairobi but they are hopeful that the National Lands Commission will hasten the land compensation process and finalise it in the next two months.
"We are in process of finalising land acquisition on a 30km stretch from Athi-River to Nairobi (448km-472km) and near Mombasa (0-15km)," said Mengich.
The number of employees for the project now stands at about 10,000 but expected hit 30,000 at the peak of the project. The minimum wage for a worker is Sh411 per day. "We trying to improve on the work environment of the employees. We are continually reviewing the working conditions of the workers," he said.