Violence, street fires as Muthurwa-Marikiti traders clash with police over arrest of officials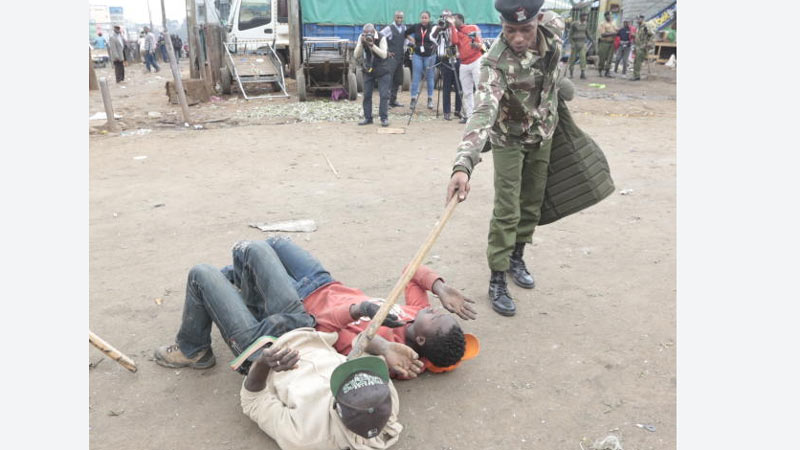 Traders at Wakulima and Marikiti markets battled with anti-riot police, as they protested City Hall askaris' arrest of their six colleagues.
The traders demanded the release of the colleagues they said were the latest victims of arbitrary arrests by City Hall officers, who they claimed had been demanding bribes.
Authorities, however, insisted the five traders and their leader had violated some by-laws.
On Thursday at 6am the traders lit fire on sections of Ladhies Road, prompting the intervention by police officers, who lobbed teargas canisters.
Stones hurled
The rioting traders hurled stones at the officers. The fight later spread to Haile Selassie and Jogoo roads. The chaos caused heavy traffic jam in the morning rush hour.
The traders said they were against the Wednesday evening arrest of their chairman Cyrus Kaguta and five colleagues.
Trouble began on Wednesday evening after City County officers arrested the five at Marikiti market and confiscated goods.
According to Florence Kongwe, a trader at Muthurwa, this triggered verbal exchange between the city authorities and traders, which quickly escalated to violence. "The traders were angered by the arrest of their chairman and they proceeded to beat up one of the county officers and it is only then that the officers fled. Police showed up this (yesterday) morning," she said.
The situation worsened after the traders protested yesterday morning demanding the release of the five and Mr Kaguta.
Operations paralysed
This paralysed operations at OTC, Muthurwa and the busy Landhis and Haile Selassie roads.
Maina Kago, also a trader, said the county officers had been arresting the traders and demanding at least Sh1, 000 bribe.
Central Police OCPD Robinson Thuku said the traders had been arrested for violation of city by-laws. He, however, did not explain what by-laws the traders had violated, saying they were yet to get to the bottom of the matter.