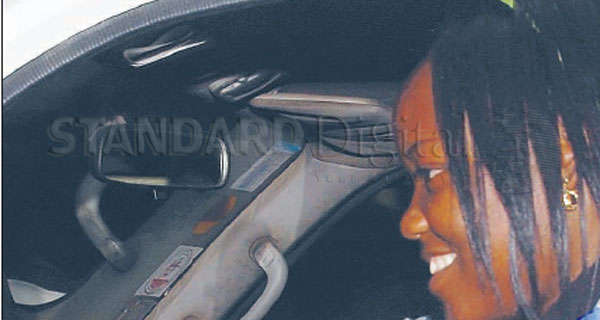 More insurance firms are targeting women to increase their market share. (PHOTO: MOSES OMUSULA/STANDARD]
By LILLIAN KIARIE
Insurance firms are increasingly turning to women to grow their market share.
In the latest move to tap into the women's growing purchasing power, CIC General Insurance has launched CIC Lady's Auto Insurance Policy.
The policy addresses loss of personal property by women motorists and their nuclear families while travelling. They include loss of personal effects such as handbag and its contents, gadgets and miscellaneous items.
Managing Director Kenneth Kimani said the product seeks to reward women who have low risk profiles due to their lack of aggressiveness on the road.
Read More
"Studies have shown that women drivers are less likely to be involved in road fatalities," he said, adding that this insurance policy will cater for such risks and much more.
Under the cover, a woman driver involved in an accident will be provided with a courtesy vehicle for 24 days during which her vehicle is repaired.
She is also entitled to trauma counseling at a fee of Sh20,000 and loss of handbags and contents will see the driver get Sh10,000 and lost car keys Sh5,000.
The cover also offers a free personal accident cover for one domestic employee while traveling in the insured car. There is also a reimbursement of medical expenses incurred by a third party up to a maximum of Sh50,000.
Roadside assistance
Through partnership with Automobile Association of Kenya, the lady driver will benefit from a countrywide 24-hour roadside assistance services.
They include tyre changing, advice on motoring matters, defensive driving and road safety seminars. Policyholders will also enjoy post-accident assistance and subsidised driving school instruction fees for family members.
Another benefit incorporated in this policy is breast cancer check-up at the Karen Hospital
Increased income levels among Kenyan women has seen financial institutions turn to the growing market segment in a bid to cash in on the new opportunities.
Queens Insurance also crafted a special maternity cover for women. It has options for limits of Sh50,000 or Sh100, 000.
The Insurance firm also has another cover that offers women access to consultancy from several top-notch gynecologists and obstetricians around the country.
In February 2009, the Kenya Women Finance Trust, the CIC and the National Health Insurance Fund launched a medical insurance cover, Afya Card, which costs as little as Sh10 a day amounting to Sh3,600 a year.