Lamu Port comes of age: Mega project to start operations in a month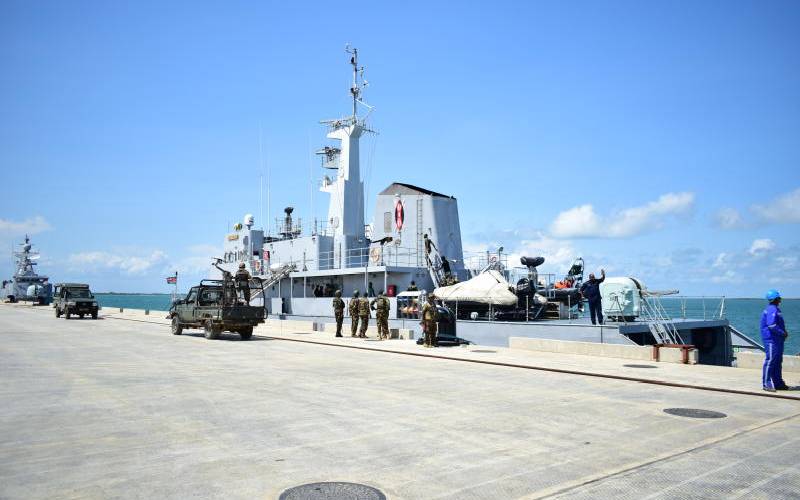 Maersk Shipping Line, the world's largest shipping and logistics company, has expressed its readiness to send the first ship to Lamu Port (pictured) once operations start.
State officials have confirmed that operations will start in June. Yesterday, a source at KPA intimated to Shipping and Logistics that already some 170 key staff who were based at Mombasa Port have been transferred to Lamu.
Those already deployed come mostly from critical departments involved in cargo handling.
These include container operations, marine operations, port security, ICT, support staff, human resource and the finance section.
Kerry Rosser, the Maersk communications regional director said the firm had already identified the specific vessel that was to dock at Lamu Ports.
"Once the terminal has the shore cranes in place, we expect to receive a proposal from KPA on the date we could call a vessel at Lamu," saud Ms Rosser.
Abdulahi Samatar, Lamu Port general manager yesterday told Shipping and Logistics that State agencies have started to lay ground for the full operation of the facility expected to serve Kenya, Ethiopia and South Sudan.
Take a quick survey and help us improve our website!
Take a survey
Commissioning of the port has been postponed at least three times since the first berth was completed more than a year ago.
The first three berths and yards were constructed by the China Communication Construction Company (CCCC) at a cost of Sh40 billion.
The port is part of the Lamu Port and South Sudan Ethiopia Transport Corridor which also includes roads, a 1,500 km railway line, an international airport, oil pipeline, a modern refinery and fibre-optic line.
Treasury Cabinet Secretary Ukur Yatani and his Transport counterpart James Macharia toured the port yesterday.
Samatar said interim operations are set to begin at the first berth on June 15. The berth already has a container yard terminal that will carry out initial logistics.
KPA said plans have been mooted to secure Sh618 million that will enable the port commence operations.
The Lamu Port Operationalisation Secretariat will take charge of operations.
The secretariat is composed of KPA, Kenya Revenue Authority, Kenya Bureau of Standards and Kenya Plant Health Inspectorate Service and Port Health.
"We require Sh5.8 billion by the end of this financial year to ensure that port works for the container yard terminals 2 and 3 are complete," said Samatar.
KPA and LCDA are scheduled to send a strong marketing team to Ethiopia - landlocked country - in order to offer them a better logistics deal has compared to what they are getting from the Port of Djibouti or the Port of Massawa in Eritrea.
"Being a new port, we should create favourable tariffs; incentives that the port needs to compete with regional peers," said Samatar.
KPA have already put in place an extended 30-day storage free period for transshipment and transit cargo, 14 days' storage free period for domestic cargo and a 40 per cent discount for cargo-based charges.
"Light dues, port and harbour dues shall be charged once at the first port of call in the country, at either Lamu or Mombasa with Coasters carrying transshipment cargo from Lamu to Mombasa being offered a 40 per cent discount on the cargo handling charges," a KPA statement reads.
Samatar however admits that even with the interim operationalisation of the port, functions are likely to be restrictive due to the lack of Ship to Shore (STS) Gantry cranes needed to enable unloading of goods from ships.
The KPA official further disclosed that it could cost KPA as much as Sh18 billion to acquire 12 new STSs required for the full operationalisation of the Lamu Port.
The equipment needed includes Rubber-Tyred Gantry cranes (RTGs), terminal tractors, forklifts and reach stackers (for container handling) and pilot boats, tag boats and mooring equipment for handling of vessels.
The authority had in July 2019 called for supply of three-six tonne and two-five tonne forklifts.
KPA is also installing navigation aids at the port.
According to logistics experts, it could take as long as 18 months to procure and install new STS gear, with KPA officials intimating that the ships that will initially dock at the Lamu Port will be those fitted with gantry equipment.
With more than 87 percent of the 135 kilometre Lamu-Garsen road, the main road connecting Lamu to the rest of the coastal region and other parts of Kenya, tarmacked, optimism is high that the Lapsset project is finally taking shape.
Irungu Macharia, the Lamu County commissioner said the government has deployed security resources to Lamu to guard the facility