Sale of Kerosene dips 27pc on less cooking by the poor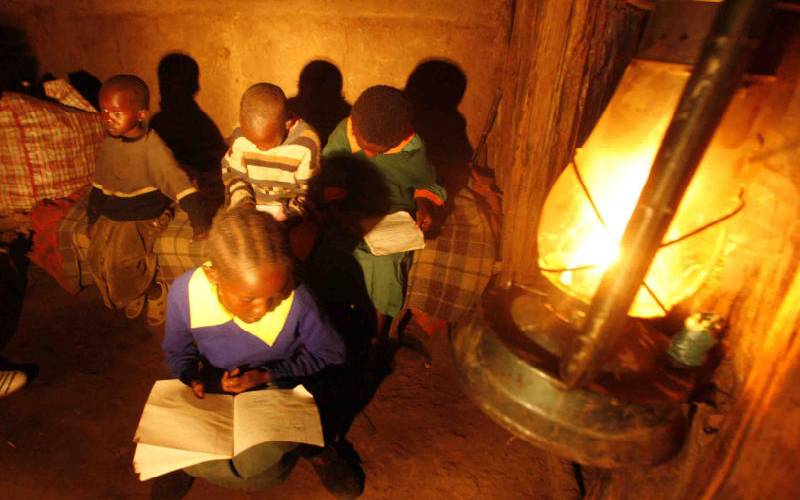 Consumption of kerosene dropped by more than a fifth last year, pointing to erosion of purchasing power by poor households, data from the Kenya National Bureau of Statistics (KNBS) shows.
Kerosene, used for cooking by poor households, particularly in urban areas, saw its consumption decline to 128,580 tonnes in 2020 compared to 168,300 tonnes in the previous period.
However, consumption of petrol and diesel declined by 3 per cent and 2.5 per cent respectively, largely due to restriction of movement after the government implemented Covid-19 containment measures.
Although retail prices for kerosene dropped from Sh101.9 per litre to Sh84.6 per litre, it did not drive up consumption, reflecting reduced income by poor families, who might have cooked less.
Rural households
A World Bank survey done last year found that reducing food consumption was the most common coping mechanism for most households affected by Covid-19.
"Since the Covid-19 outbreak, a large share of urban and rural households had to reduce their food consumption - 40 per cent and 38 per cent respectively," read part of the report.
Take a quick survey and help us improve our website!
Take a survey
Kerosene is largely consumed by urban households, especially in the two large cities of Nairobi and Mombasa, which means that most of them might not have shifted to wood fuel for cooking.
Unlike their urban peers, rural homes use kerosene for lighting.
A census survey done in August 2019 showed that 26 per cent of the households in Nairobi used paraffin. Only liquefied petroleum gas (LPG) had more consumers, with 67.2 per cent of the households saying they used the gas for cooking.
With a drop in the consumption of kerosene, urban households might have shifted to LPG or firewood, but that is not supported by data either.
A plausible theory is that most of the urban families might have moved to their rural homes after losing jobs. There they use firewood more for cooking.
A recent World Bank survey found that Covid-19 increased poverty in Kenya by about four percentage points or two million 'newly' poor Kenyans.
Unlike traditionally, when Kenya's poor was predominantly rural and less educated, pre-Covid-19, the shock of the pandemic created a new group of 'newly' poor Kenyans with different demographic characteristics.
"They tend to be urban with household heads who are younger and more educated," read part of the World Bank report, adding that the newly-poor households are smaller and have a larger share of working-age individuals.
There was less cooking and lighting in poor homes after kerosene consumption dropped by 23 per cent last year, compared to 2019, according to Kenya National Bureau of Statistics data.
Another World Bank survey showed that while Covid-19 might have pushed most middle-class families into clean fuel, affordability and accessibility remain key barriers for lower-income households amid the pandemic.
"Absent external support, Covid-19 will push poorer households further down the energy ladder, forcing them to continue to rely on traditional biomass for cooking and further exacerbating adverse effects on health, gender equity, and the environment."
The report said budgetary support was needed for poorer households - those most affected by the pandemic, but least equipped to recover from it.