Uhuru dashes hopes on tax reliefs to cushion five counties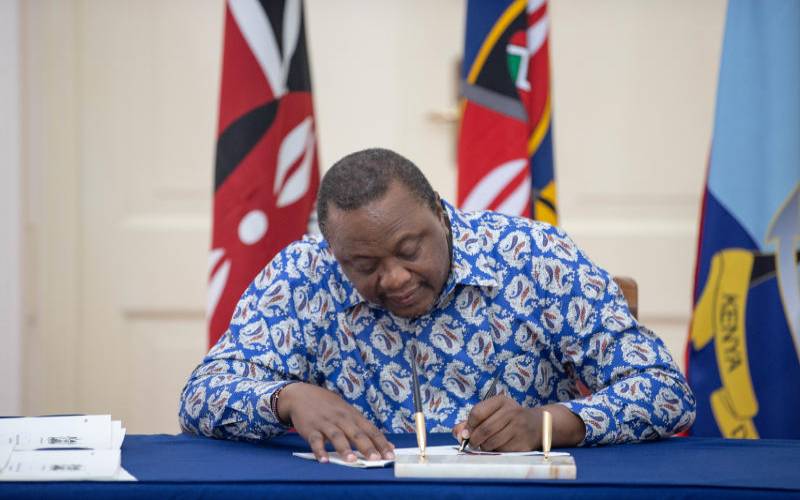 The government will not put in place any measures to cushion Kenyans who have suffered losses after the containment plans announced last week.
President Uhuru Kenyatta (pictured), while explaining why his government would not give relief measures this time around, said only a handful counties reporting high Covid-19 positive cases had been put under those measures.
"We have not locked down the economy; we have only locked down specific areas that have been mentioned by health experts as being the areas of super spreaders like public events and areas where more than 50 people gather like churches," he said.
"The rest of the economy is still going on. We have not closed down markets, which are still functioning within normal operating hours or factories, many of them still operating on double shift," he continued.
The President last Friday announced new measures to contain the spread of Covid-19. They included banning the movement in and out of Nairobi, Kiambu, Machakos, Kajiado and Nakuru counties, described as disease-infected areas. He adjusted curfew in the five counties to between 8pm and 4am as well as directed restaurants to only offer take-away services.
This has hit the hospitality industry that had barely started to recover after the relaxing of measures that the government had put in place last year to stem the spread of Covid-19 when it first hit the country.
Last year, the government announced a number of relief measures that helped individuals and companies cope with the harsh impact that Covid-19 had on the economy. These included lowering corporate tax to 25 per cent from 30 per cent, zero rating tax for individuals earning less than Sh24,000 and reduction of Pay As You Earn (Paye) tax for individuals earning more than 24,000 to 25 per cent from 30 per cent. Value added tax was also lowered to 14 per cent.
Take a quick survey and help us improve our website!
Take a survey
While the national government will not forego any of its revenues, the President urged counties to consider waivers on business licences to enable copping with the harsh times. He said Nakuru had introduced some waivers to cushion business operators within the county.
The President however said the government would consider rescue packages for businesses that have been hit hard.
"We have a problem in the hospitality sector, and possibly in entertainment. We will look and see how we can work together to support them but on a case by case basis," he said.
The president lauded Nakuru County government for coming to the rescue of the business community by waiving various taxes.
Machakos County has also announced similar measures to cushion residents.