Top official 'ordered' to give Kemsa tenders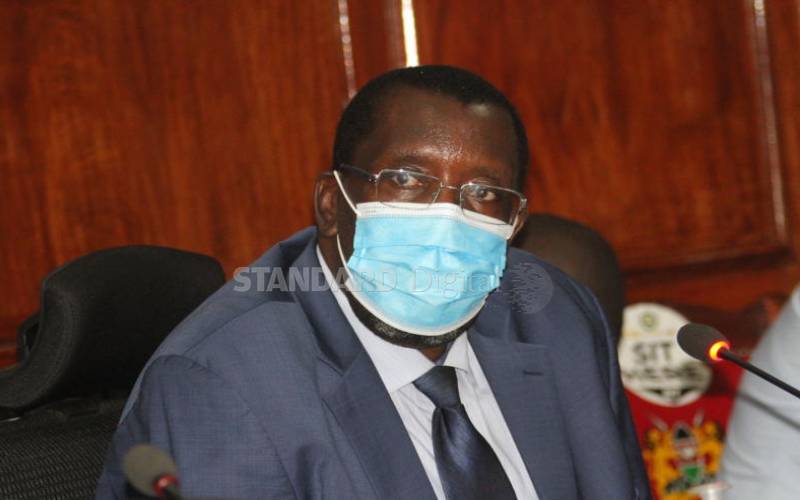 A suspended top official at the Kenya Medical Supplies Authority (Kemsa) says he was under pressure to unlawfully process tenders of firms awarded multi-million-shilling tenders.
Kemsa Procurement Director Charles Juma yesterday appeared before the National Assembly Public Investments Committee (PIC) where he said he had been ordered by Kemsa CEO Jonah Manjari, also suspended, to issue commitment letters – documents with no legal basis in procurement – to various suppliers.
The committee heard that Manjari would order Juma to issue commitment letters to companies, some of which seemed shadowy, "immediately", even without any due diligence done on the firms.
In several instances, Juma divulged, directors of the companies would walk into his office and claim to have been sent by Manjari.
One such case involved Aszure Commercial Services, a company that won an Sh347 million tender to supply Kemsa with facemasks.
Juma told the committee that the company's directors walked into his office and claimed to know the CEO, and handed Juma a phone to speak to someone aware of the deal.
"I spoke to a woman who introduced herself as Dorothy. She told me the two directors were her daughters and the CEO had said that I help them," said Juma (pictured).
He further told the committee that he went to the CEO's office and he confirmed that he had sent them.
Take a quick survey and help us improve our website!
Take a survey
"When I asked whether they had sent in samples of the masks they said they had been sent to the CEO's office," Juma said.
Aszure Commercial Services has been on the spot since its directors, Zubeda Namlondo and Phanice Adhigo, appeared before the PIC last month.
Nyamlondo had mentioned former Ethics and Anti-Corruption Commission CEO Halakhe Waqo as facilitating the deal by standing in as a guarantor for a Sh179 million bank loan they had sought.
Waqo confirmed Nyamlondo's account but denied links with the company when he appeared before the PIC last week.
Juma had last year made claims of threats to the life of Manjari. He said the suspended CEO had confided in him that he was under pressure from higher powers to ensure some companies secured huge tenders.
Manjari, whose name popped up several times, failed to show up before the committee.