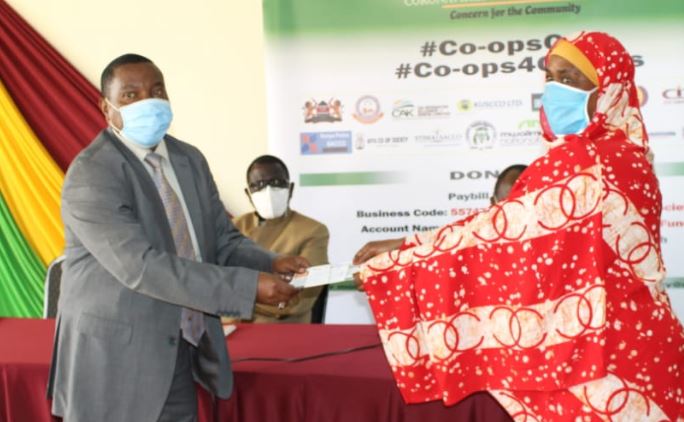 The Kenya Co-operative Coronavirus Response Committee (CCRC) has mobilized Sh13 million towards supporting vulnerable households in Nairobi County against COVID-19 effects, its report shows.
CCRC is an initiative of the cooperative sector established by State Department of Cooperative (SDC), and founded on the Co-operatives 5th Principle (Education, Information and Training) and the 7th Principle (Concern for the Community).
The report shows that since the launch of the initiative in April 2020, CCRC has mobilised Sh13 million and disbursed the same in form of food kits to over 5,000 vulnerable households in Nairobi County.
In terms of beneficiary reach by gender, about 60 per cent female and 40 per cent male have directly benefited from the initiative.
Based on data collected, a significant percentage of families in the informal settlements are headed by single-mothers. This explains why most of the beneficiaries are females. The average household size was about 3.6.
On household composition, 60 per cent of those reached had at least one child under the age of five years and approximately 50 per cent had at least one daughter over the age of 12 years. Additionally, 71 per cent of the beneficiaries reported having at least one person within the household with special needs.
"We have made great progress but we still have a long way to go. We are deeply grateful for all that have supported the initiative and continue to appeal to corporates and Kenyans of goodwill to continue contributing toward this noble cause. We are all in this together," said CCRC Fundraising chair George Ototo.
"We urge the public to see how they can plug in," Mr. Ototo added.
The CCRC initiative is spearheaded by the State Department for Co-operatives; Co-operative Alliance of Kenya (CAK); Co-operative Bank of Kenya; Kenya Union of Savings and Credit Cooperatives (KUSCCO); National Housing Co-operative Union (NACHU); Cooperative University of Kenya (CUK); CIC Group and other development partners like the Kenya Cooperative Development partners - Global Communities and NCBA CLUSA.