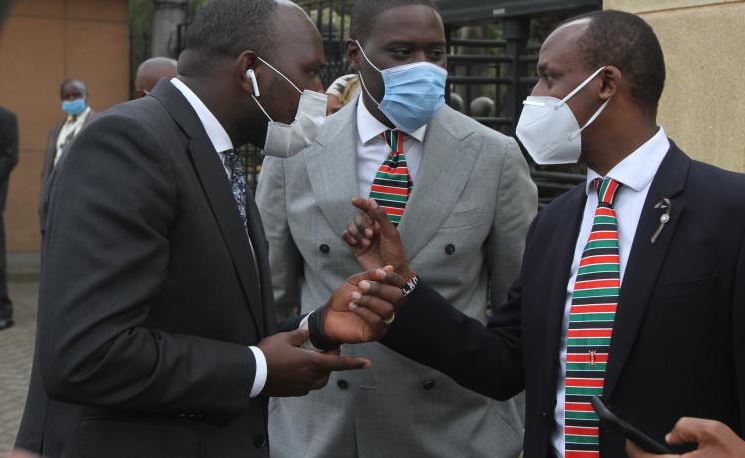 Senators are yet to reach a consensus over the hotly contested revenue sharing formula to Counties.
After reaching consensus, they will vote on whether to reject or support the Finance committee report.
Senators will on Tuesday debate the Nairobi Senator Johnson Sakaja (above) amendments that seeks to have Sh316.5 billion as the baseline of allocation to the 47 devolved units and any amount above to be subjected to the Commission of Revenue Allocation (CRA) parameters.
Senators have already planned a 'Kamkunji' (informal meeting) tomorrow to agree before they take a vote on Tuesday. However, there is still no mediation panel yet.
Read More
The revenue sharing debate has sharply divided the Senate. One faction that has dubbed itself 'Team Kenya' is supporting Meru Senator Mithika Linturi's proposal to amend Sakaja's proposal.
Linturi's amendment proposes that the baseline for revenue sharing among counties be reduced to between Sh250billion and Sh270billion.
This will mean that, out of the Sh316.5billion set as an allocation due to counties, the range between Sh250 billion and Sh270 billion, should be shared equally by all the 47 County governments.
The other faction that supports 'one man, one vote, one shilling' mantra accused the former of failing to second names to a yet-to-be-established mediation committee to be chaired by Deputy Speaker Margaret Kamar (Uasin Gishu).
Kithure Kindiki (Tharaka Nithi) a member of 'Team Kenya' told The Standard on Sunday that they are not opposed to seconding names but have issues with the person to lead the talks.
'Team Kenya' is not comfortable with Prof Kamar being the chair of the mediation committee but instead want Speaker Ken Lusaka or if not two co-chairs.
"We came up with the adjournment motion so that we could reach an amicable consensus. The choice of the chair is highly disputed by our camp.
"We should either have Speaker to chair or have co-chairs each from both teams," said Kindiki.
Kindiki said apart from setting up the committee, terms of references and mandate of the committee had not been disclosed.
The Senators opposed to the revenue allocation formula had refused to submit the names of their representatives to the committee even after Mr Lusaka accepted to lead it.
Senate Majority Leader Samuel Poghisio (West Pokot) said Senate was likely to unlock the impasse by Tuesday because they had agreed to have a team to iron out the technical areas of disagreement.
"We have put together a team of 10 Senators five from each side and we hope they will solve the impasse. The team will have led down Kenyans if they do not agree on the formula," said Poghisio.?
Poghisio and Senate Majority Whip Irungu Kangata (Murang'a) twice attempted to have senators support the Finance committee report with amendments but failed.
Kangata had moved an amendment that the report of the criteria for allocating among the counties of the share of national revenue for financial years 2020/2021 to 2024/2025- shall commence in the Financial Year 2022/2023.
Political scores
Though critical for counties to operate, the allocation of revenue has turned into a tool to settle political scores. It is a litmus test for the Senate leadership to prove to President Uhuru Kenyatta that the team he picked to spearhead his agenda is equal to task.
After a clean-up exercise to weed out Deputy President William Ruto loyalists, President Kenyatta replaced the Senate Deputy Speaker, Majority Leader and Majority Whip to support his agenda.
Political expert Javas Bigambo said the decision and execution of changes of House leadership purely for political muscle-flexing was dictatorship on stilts.
"What is necessary now and from the lessons of the vote, is the need for enhancing lobbying and consensus building on wide issues of public interest within Parliament." Bigambo said.