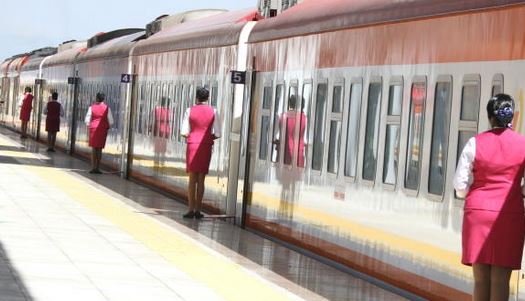 NAIROBI, KENYA: The Madaraka express will resume operations on the Mombasa-Nairobi route on Monday, a week after President Uhuru Kenyatta relaxed measures to contain the CoronaVirus pandemic.
The train is set to leave the Syokimau based station in Nairobi at 8 am to arrive in Mombasa's Miritini terminus at a quarter to one in the afternoon.
Another train is expected to leave Mombasa at 1.25 pm to arrive in Nairobi at 6.40 pm.
In a Tuesday statement, the Kenya Railways urged Kenyans to remain patient as they put up the mechanisms in place to resume the services.
They added that the Ministry of Health guidelines would also be observed to curb the spread of the virus.
In April 2020, the Kenya Railways announced that all SGR passenger services would remain closed until further notice after President Uhuru ordered the cessation of movement in and out of Nairobi Metropolitan Area, Mombasa, Kilifi and Kwale counties.
During his address on Monday, President Uhuru extended the 9 pm to 5 am curfew, but lifted the cessation of movement in Nairobi, Mombasa and Mandera counties.
Speaking on the transport system, which has been greatly affected by the pandemic, Uhuru said that only certified public transport vehicles will be allowed in and out of previously contained areas, provided they follow guidelines by the Ministry of Health.
The president also announced that local air travel shall resume by July 15 and International flights from August 1, under the Ministry of Health and Transport guidelines.
In an interview with Standard on Tuesday, Long-distance bus operators plying the Nairobi-Mombasa route indicated that they will resume operations soon as they comply with new health regulations but warned of a possible hike in ticket prices to cover extra costs coming with the compliance.
Travelling by train from Nairobi to Mombasa normally costs Sh1000 for the economy class and Sh3000 for the VIP. Busses on the other hand do not have fixed prices but price normally ranges between Sh1000 to 1200 during low seasons.
Some of the major bus operators, Coast Bus and Mombasa Raha hinted at hiking fare.
''Our main clientele remain the middle class and business people. We shall have to increase the fares to help us stay afloat as we operate under the new normal environment where buses are not allowed to carry the maximum capacity,'' Mr. Mohamed Ajaz Mirza, chairman of Kenya's oldest long-distance bus company, Coast Bus said on Tuesday.
''Mombasa Raha crew have adhered to the new Health Ministry requirements. We shall be charging sh 2000 one way Mombasa- Nairobi and vice versa,'' Mr. Khamis Said, the Fleet manager said.
Mombasa Raha on Tuesday said it has opened booking offices a