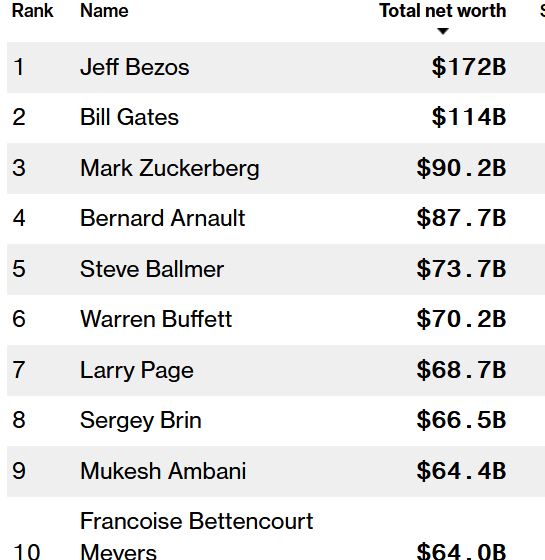 Jeff Bezos's wealth has hit a new high of over Sh18 trillion ($171billion) as Amazon stock soars.
According to the Bloomberg Billionaires Index, shares of the e-commerce site (Amazon) founder surged 4.4 per cent to a record $2,878.70 on Wednesday, boosting his fortune to Sh18 trillion ($171.6 billion). That tops his previous high of Sh17.6trillion ($167.7 billion), set on September 4, 2018.
Bezos is the founder of Amazon, the world's biggest online retailer. The Seattle-based company sells books, household goods, and other products through its flagship website. It also controls the Whole Foods grocery chain and offers cloud computing and video streaming services. Amazon reported revenue of Sh30 trillion ($281 billion) in 2019.
According to DailyMail publication, Bezos, who is the richest man in the world, saw his fortune rise even after he relinquished a quarter of his stake in Amazon as a part of his divorce settlement with ex-wife Mackenzie Bezos last year. She has become the world's, second-richest woman.
Read More
Amazon has only seen its shares skyrocket in the pandemic as stay-at-home orders and lockdowns have pushed consumers to flock to e-commerce shopping instead of brick-and-mortar retail.
Bezos owns 11 percent of Amazon stock, which comprises a bulk of his fortune.
Other tech CEOs have seen their wealth boom even amid the pandemic that has led millions to file for unemployment.
The combined wealth of America's billionaires, including Amazon.com Inc founder Jeff Bezos and Tesla Inc chief Elon Musk, increased nearly 10 per cent during the ongoing COVID-19 pandemic, according to a report published by the Institute for Policy Studies (IPS).
The wealth surge of America's richest men happened during a period that saw as many as 22 million Americans file for unemployment.
Even as the broader economy faced a recession, tech and stay-at-home stocks like Zoom have rallied in recent weeks, due to a surge in usage of video conferencing and remote work technology, thus boosting the net worth of billionaire founders with holdings in those companies.
"This is the tale of two pandemics, with very unequal sacrifice," said Chuck Collins, a co-author of the report.