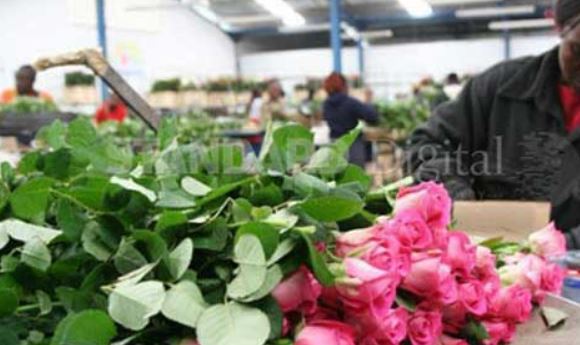 NAIVASHA, KENYA: Kenya's flower exports have risen to 80 per cent from 30 per cent in the last one month after the crisis caused by the Covid-19 pandemic.
According to the CS for Labor Simon Cherugui, the sector was one of the hardest hit by the pandemic but the reopening of the European Union (EU) market has changed the situation.
Cherugui noted that over 339,000 workers were employed directly by flower farms across the country with hundreds of them sent home on unpaid leave during the height of the pandemic.
"We are happy that many countries in Europe are easing their lockdown regulations and this has seen the export of flower increase to 80 percent," he said.
Speaking in Naivasha after visiting farms affected by the pandemic, the CS singled out Van-Den Berg as the only flower farm that had not sacked any of its employees despite the crisis.
"The government has introduced various stimulus packages and released VAT refunds to cushion flower farms affected by the pandemic," he said.
Cherugui added that they were in talks with Kenya Airways on how the cost of cargo flights could be reduced as this was hampering exports of various goods including flowers.
"This pandemic has affected many sectors and we have received notices from various institutions who want to put over 300,000 workers on unpaid leave or declare them redundant," he said.
On his part, the CEO Agricultural Employers Association (AEA) Wesley Siele called on flower farmers not to uproot their crop as there was hope for the sector.
He identified the VAT refunds and the stimulus packages as some of the measures the government had introduced to support the flower farmers.
"We held a meeting with various stakeholders and the issue of redundancy has been suspended in the sector and now struggling farms can be able to pay salaries," he said.
The Human Resources Van-Den Berg farm George Onyango said that despite the pandemic they did not sack any of their employers and currently they were exporting 80 per cent of their flowers.
"The only challenge that affected us was the flooding of our greenhouses due to a rise in water levels in Lake Naivasha and this might force us to send home some of our workers," he said.
Nakuru Deputy Governor Dr. Eric Korir called on the government to support flower farms whose structures had been submerged in water.
"The mainstay of Naivasha town is the flower farms which employs thousands of workers and thus the need to cushion the farmers," he said.