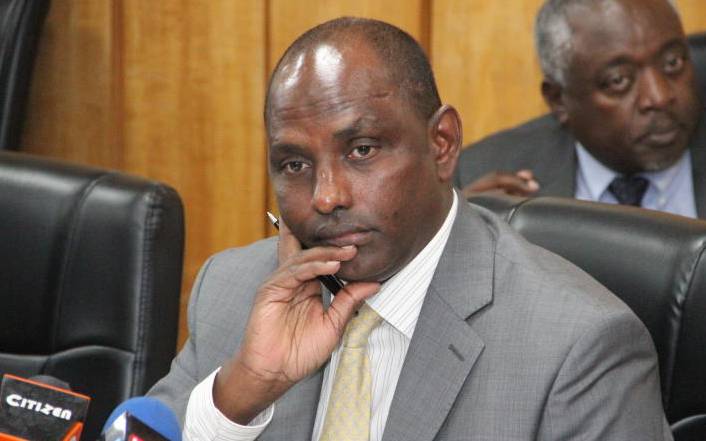 For every Sh100 that the Government paid out from its revenue coffers to settle debt, Sh76 went to service commercial creditors.
This compares to only Sh2 it spent to service commercial loans seven years ago, according to the Annual Public Debt Management report tabled yesterday in Parliament.
The rising debt payment has seen taxpayers go without essential public services as State prioritises its obligation to external creditors to maintain good books.
The expensive commercial loans, mostly tapped from the Eurobond and commercial banks, have since 2012 risen by 100 times under President Uhuru Kenyatta's watch.
Compared to the 2012/13 financial year when former President Mwai Kibaki's men at Treasury paid only Sh2.3 billion to commercial creditors, suspended National Treasury Cabinet Secretary Henry Rotich forked out a massive Sh280 billion to creditors by June this year, according to a new report.
Treasury's appetite for debt financing remains high as shown by another report tabled in Parliament indicating that in the last four months to August 1, the country incurred six new loans valued at Sh305 billion, with two of the loans consisting of expensive commercial loans.
Payments of these loans have pushed the country to a financial cliff with the IMF now warning that Kenya is fast approaching the danger zone of being considered a risky country to lend.
The country's delicate debt position has seen Treasury embrace austerity measures targeting non-essential items to ensure the Government remained in the good books with investors.
Austerity measures
The government has been forced to undertake a painful cost-cutting exercise that will see spending on domestic travel, foreign travel, printing, advertisements and conferences slashed by more than half.
"I want to assure you that we are not only serious, but we have no other option. Because we have to live within our means," said Ukur Yatani, acting Cabinet Secretary for National Treasury.
"We cannot continue borrowing. And the easier route is that we cut down on our expenditure," said Yatani, noting that while they have no leeway on cutting salaries and statutory deductions such as NHIF and NSSF, there were things ministries could do without.
Analysts note that the austerity measures will not only hurt those in Government, but they will also send shock waves in the economy as firms that do business with Government take a hit.
In a new report, Treasury said that in the last five years, it has been difficult for the country to get cheap loans such as those from the World Bank. Even worse is that commercial loans have become even more costly, according to Treasury.
"Over the last five years, the borrowing terms for external loans have hardened following Kenya's upgrade to a lower-middle-income country," said National Treasury in its Annual Debt Management Report.
The Exchequer said the grace period shortened, interest rates on commercial terms went up and the time to maturity of the loans also got shorter.
The Government, sensing danger, is preparing a new debt policy whose main goal will be retiring the expensive loans accumulated in the last seven years, according to Yatani.
Yatani, however, warned that it might take longer for the country to replace these loans.
Of the six new loans that the country incurred between May and August, four of them were cheap multilateral loans which will be used for infrastructure project.
The two commercial loans will be used for budgetary support as well as repaying other maturing debts.
In the last five years, the Government's share of cheap loans has been going down even as expensive ones has gone up. In the last financial year, cheap loans increased by 40 per cent but commercial loans increased even faster by 66 per cent wiping out the benefits the country might have gained.
As of June 2019, commercial loans stood at Sh1 trillion, out of the total debt of Sh5.8 trillion. In June 2013, commercial loans stood at Sh58.9 billion.
Most of the expensive loans the country incurred include Eurobonds which are valued at over Sh400 billion.
Chinese loans, which are not that cheap, has also ballooned to Sh650 billion, the highest in bilateral loans.
Slightly over half, or Sh3 trillion, of Kenya's total debt as at June was external. Most of it, three quarters, was in US Dollars. However, exports, the main source of foreign exchange reserves have largely been stagnant.
The stock of foreign loans increased by Sh462 billion to reach Sh3 trillion while domestic debt went up by Sh307 billion.
With a debt of Sh5.8 trillion, it means debt owed by every Kenyan, also known as debt per capita, has increased three-fold to Sh115,690 in June this year from Sh42,215 when President Uhuru Kenyatta came into power in 2013.
"If something is important you can go even to an expensive source," says Gerrishon Ikiara, an Economics lecturer who notes that that Paris Club, a group of developed countries that have readily given cheap loans, have been uptight.