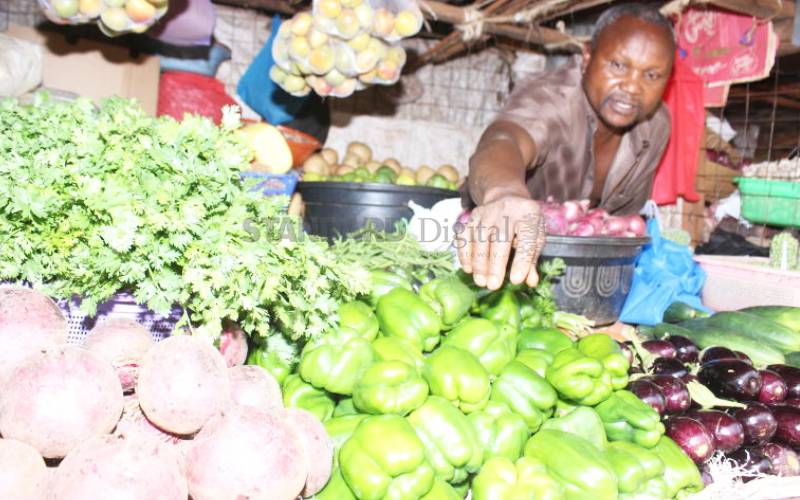 A decrease in the price of basic food commodities and electricity saw inflation figures drop to a 17-month low, easing budgets for millions of Kenyan households. Data released by the Kenya National Bureau of Statistics (KNBS) indicates that the country's inflation rate for the month of September stood at 3.83 per cent, down from five per cent recorded in August. "Between August and September 2019, food and non-alcoholic drinks' index decreased by 0.04 per cent due to decrease in prices of some foodstuffs outweighing increases recorded in others," said KNBS in a statement. Other commodities in the KNBS inflation index however increased, with housing, water, electricity, gas and other fuels' index going up 0.07 per cent mainly attributed to an increase in house rent and cooking fuels.
SEE ALSO: High blood pressure the most common pre-existing condition among Kenyans
"The year-on-year food inflation dropped from 7.13 per cent in August 2019 to 6.31 per cent in September 2019," said KNBS. The price of sugar, for example - which forms part of the daily food basket in most households - registered a 24 per cent drop with a kilogramme retailing at Sh106 last month from Sh140 last year. Irish potatoes, kales and onions similarly recorded significant drops in prices with a kilogramme of each going down by 15, 18 and eight per cent respectively compared to retail prices recorded over a similar period last year. At the same time, the price of loose maize grains, green grams and maize flour registered the highest price increases, with a kilogramme of each going up by 18, 18 and 22 per cent respectively in September this year compared to a similar period last year. In August, the Famine Early Warning Systems Network (FewsNet) warned that the number of people facing starvation in Kenya had increased from the projections released earlier this year.
SEE ALSO: Millions of Kenyans can't pay rent, buy food as virus fever rises, survey reveals
"Smart survey and sentinel data collected in June and July 2019 by the Kenya Food Security Steering Group indicates that food insecurity has significantly worsened since the May mid-season assessment," said FewsNet in a report. According to the drought assessment report, 2.6 million people are currently experiencing crisis or worse outcomes, a 60 per cent increase in the food insecure population from the 1.6 million in May. In an assessment for the month of September, FewsNet has cautioned that the depressed March-May rainfall could cause depressed harvests in the coming weeks, leading to higher food prices. "Long rains maize production outlook is estimated at 20 per cent below the 2018 bumper harvest and 10 per cent below the average 2016 harvest," explained FewsNet. "In agro-pastoral and marginal agricultural areas of central, southeastern and coastal Kenya, long rains maize harvest finished in August and production is estimated at about 50-60 per cent below average, with a near failure of the harvest reported in southeastern areas."
SEE ALSO: Spending Sh1,000: More Kenyans are working for finer things in life