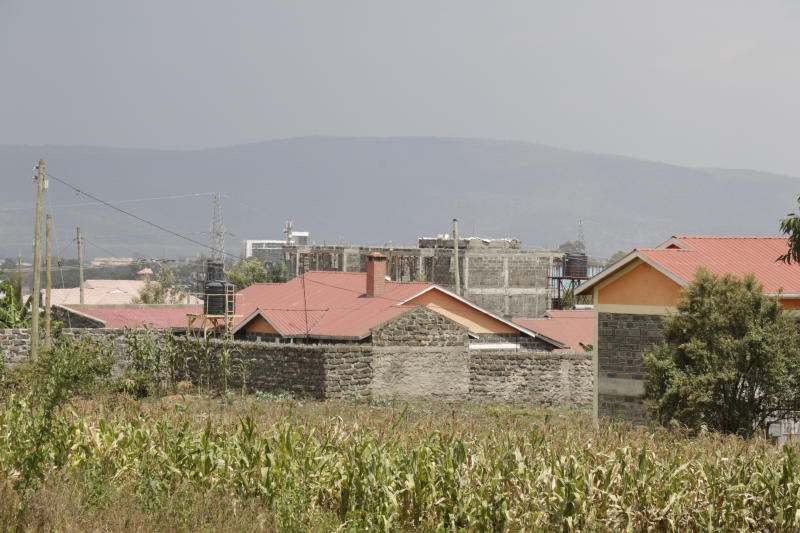 Soilo Estate draws its name from corrupted English for 'soil' and was previously a vast agricultural farm land owned by a few individuals. It lies just three-and-a-half kilometres West of Nakuru's Central Business District. Charles Ondimu, one of the pioneer residents, recalls that in the early 2000s, the land was idle and owners sold it to groups of people who subdivided it. "A group of workers in factories in Industrial Area bought 40 acres. This was followed by a teachers Sacco, which acquired 42 acres. The members subdivided the land among themselves, after which some sold it to third parties," he says. Over the years, Ondimu says, few people developed their parcels.
SEE ALSO: Four dead in Nakuru road accident
Gilbert Kibire, a land expert and real estate developer at Advance Valuers Company, says that by 2008, a plot measuring 50 by 100 feet, an equivalent to an eighth of an acre, was selling at slightly above Sh200,000. He says it was not until 2013 that the demand for housing in the town pushed land owners to start developing the area, pushing land prices up tenfold. "The least we are selling undeveloped plots in the estate is Sh2.5 million. Those closer to the tarmac are selling at Sh3.6 million. Very few people are yet to develop their plots; most of them are building their own homes and rental apartments," says Kibire. The area, which is now a gazetted residential estate, is in the process of being opened up as prices continue to soar with improved infrastructure on roads, water and electricity connection. James Macharia, a resident, says the demand for land in the estate has continued to grow with the ongoing plans to elevate Nakuru town to city status.
SEE ALSO: Nakuru clerics reject age limit for worshipers
"Very few houses are unoccupied. Many people are expressing interest in buying property in the estate, driving the prices higher. This has slowed down the rate at which land was being sold as some hold on anticipating for better prices," says Macharia. Kiamunyi Estate, an estate, that borders Soilo, is set to be part of Nakuru Municipality following a pronouncement by Governor Lee Kinyanjui. The governor said that to allow the town grow into a bigger city, more estates around the town would be categorised under the municipality - and Soilo stands a chance. The growth of the town, however, places the residents at a crossroads; juggling between maintaining their land as agricultural and developing it into commercial and residential properties. "It places matters food security at stake but with the population and economic growth sacrifices have to be made. Many who own huge tracts of land around the town will have no other option," says Zipporah Mwaniki, a land owner.
SEE ALSO: They asked me to choose how I wanted to die: A woman's ordeal
Last year, the county issued a one-year notice against land sub-division, especially in agricultural zones, awaiting the completion and gazettement of a new spatial plan, which is yet to be launched. "We are in the process of zoning different areas according to land use. Last year's notice expired in June and we shall be giving the way forward soon," says Nakuru County Executive Committee Member for Lands Frank Mwangi.
[email protected]