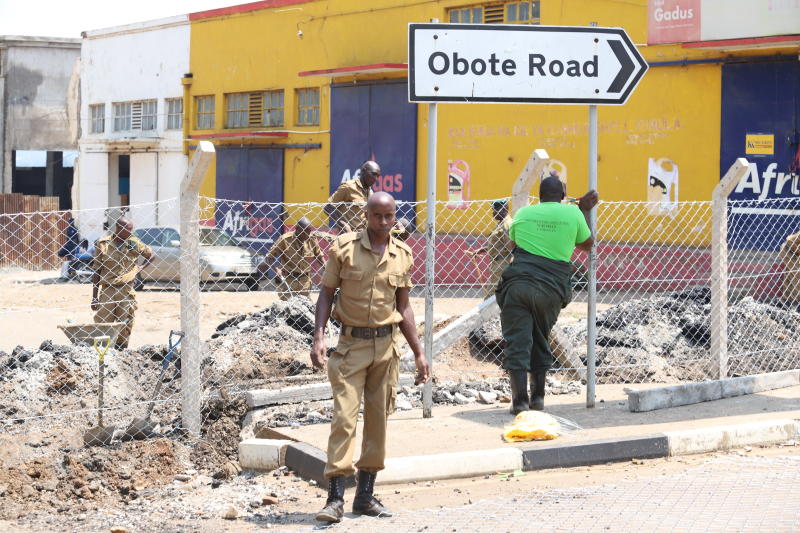 The county government has began negotiations which could see it regain some of the Kenya Railways (KR) land after the recent eviction of traders.
The KR is out to regain control of nearly 300 acres of prime land, most of which it lost to individuals in dubious deals involving some of its senior officials and influential personalities.
KR flattened structures housing investments which employed thousands of people who have now turned to Governor Anyang' Nyong'o for help after being rendered jobless.
According to city manager Doris Ombara, the county government was exploring a possible write-off of over Sh100 million land rates owed by KR in exchange for a portion of repossessed land.
A task force formed by Governor Anyang' Nyong'o is pushing talks involving Kisumu's lakefront development committee, Department of Survey, KR and Kenya Ports Authority (KPA). On Wednesday, Governor Nyong'o led his team in the negotiation.
Among proposals Kisumu is tabling is a sustainable land user tenure in which the negotiating team wants part of the recovered land given back to the devolved unit for structured development.
Yesterday, the governor was expected to sit in a high-level meeting pushing the same quest in Nairobi as his task force negotiates with the port expansion implementation committee at the county. In this committee are heads of KPA, KR, Kenya Pipeline Company and Survey of Kenya.
According Ombara, although the county was initially at the negating table in the hunt for a 23-acre parcel on which to establish a hawkers' market in line with its French Development Agency (AFD) funded reorganisation and beautification, the displacement of traders in the port project had necessitated further talks.
"We have to ask whether it is tenable to give KPA all this land or we can have back the plots and develop them into very good structures in line with our new city plan," Ombara said.
Although the county is building temporary structures to help resettle displaced traders, Ombara explained that they had only planned for hawkers evicted along major streets of Oginga Odinga, Ang'wa and Kenyatta Avenue and about 100 traders displaced at Lwagni beach and Akamba lane.
"The governor has set up a task force concerned with negotiations at the county level as he pushes at a higher level. We expect in the interim to secure a portion of the land within a week and we are already luring the corporates in the region to help us offer relief to the hapless traders," she said.
The port expansion has displaced hundreds of traders, compounding the headache of resettling them.
But even the city's plan, backed by World Bank's Kenya Urban Support Programme, has suffered setback since funds are locked up in the Integrated Financial Management Information System following a budget stalemate pitting the County Assembly against the Executive.
"Works have slowed because are unable to pay contractors due to lack of access to funds caused by the developments in the County Assembly. But once the taps are open, we will move with speed to complete these projects to contain the turbulence caused by the evictions," she said.