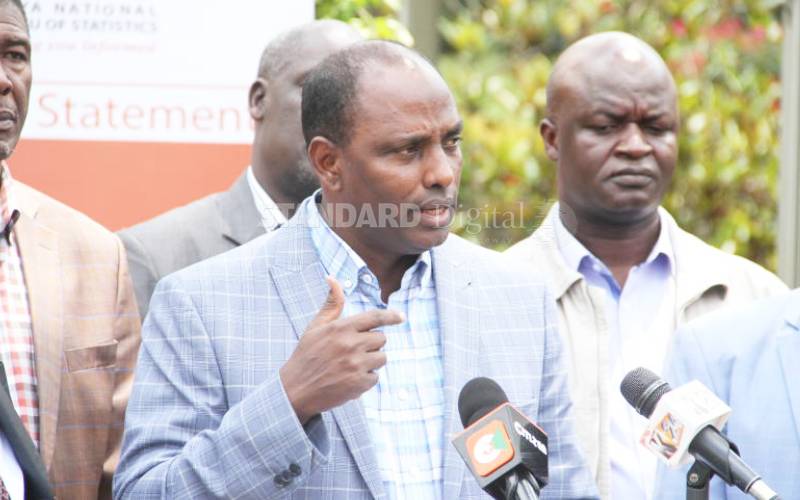 Business
Ukur Yatani told the lawmakers the interest rate cap has had an unintended consequence of cutting credit flow
Treasury has renewed its push to remove caps on interest rates introduced three years ago. In a detailed presentation that lists a number of reasons supported by industry figures, Treasury asked MPs to accept a proposal seeking a repeal of the interest cap law. Acting National Treasury Cabinet Secretary Ukur Yatani told the lawmakers the interest rate cap has had an unintended consequence of cutting credit flow, particularly to the small and medium enterprises. "Credit to the private sector as a percentage of domestic credit and share of broad money has gone down compared to credit and money supply going to the Government," the CS told the National Assembly's Committee on Finance and Planning. According to Treasury, credit to SMEs fell from Sh242.1 billion in 2016 to Sh228.3 billion in 2017 while lending to other sectors of the economy, including households and corporates, increased marginally over the same period.
SEE ALSO: Release SME cash now, Central Bank boss tells Treasury
"Given the adverse impact of the lending rate capping on credit growth, the Finance Bill, 2019 has proposed to amend the Banking (Amendment) Act, 2016 by repealing section 33B. This will enhance access to credit, especially for SMEs and strengthen the effectiveness of the monetary policy," said Mr Yatani told the committee. The presentation is part of a public hearing in which other stakeholders will also make their proposals to the committee before it tables the final findings to the House. Policymakers in the financial sector, including the Central Bank of Kenya (CBK) and industry lobby, the Kenya Bankers Association (KBA), have insisted the interest rate cap introduced by the Banking (Amendments) Act 2016 should be repealed. "The interest rate cap has constrained banks' ability to lend to SMEs because lenders are unable to price their risk within the new regulation and this is why many have lost out on financing," said KBA Chief Executive Habil Olaka in a previous interview.
SEE ALSO: Why CBK wants no more delays in rollout of SMEs credit scheme
According to Treasury, the law has also seen a reduction of corporate tax owing to a decline in banks' profitability. However, the Government acknowledges that banks have turned to other avenues such as State-issued securities to maintain revenues. For instance, commercial banks' interest from government securities went up from Sh89.6 billion in 2016 to Sh102 billion in 2017, while income from fees and commissions went up from Sh65 billion in 2016 to Sh84 billion last year. Treasury also recommended merging of several State parastatals, including the Industrial Commercial Development Corporation (ICDC), IDB Capital and Tourism Finance Corporation (TFC) to establish the Kenya Development Bank (KTB) to assist in providing credit to small businesses.