Business News
Food servings in Kenyan households have shrunk and the number of meals per day have reduced.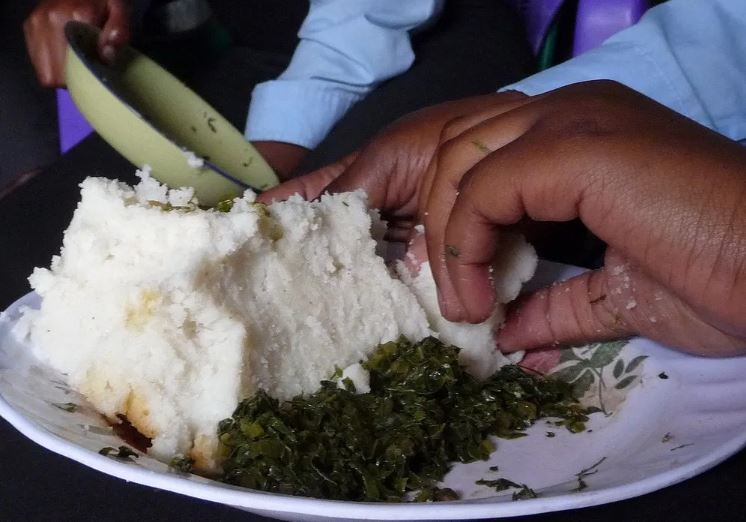 Food servings in Kenyan households have shrunk and the number of meals per day have reduced. This is driven by budget squeeze as new data reveals that the current food prices are at a five year high. Citizens bear with the growing load of cash crunch in the economy. Shopkeepers interviewed in Mt. Kenya region say demand for food stuff has reduced pointing to weakening purchasing power of Kenyans. Families are buying less, or in bulk but in cheaper outlets like supermarkets to caution from near monthly price increases. "Stock is moving slower. Buyers are complaining of high prices but there is nothing we can do because the wholesale price is also going up," said Margery Njeru, a shopkeeper in Embu town.
SEE ALSO: Crime, violence on the rise in slums amid pandemic
Farmers similarly say while the higher prices would have provided a boom for them, it is benefiting the brokers and food processors. For instance, while the cost of maize and milk at the farm gate has declined, the cost of the same in processed form has increased. "We are lucky that we can consume what we eat, but, it is the brokers who have a field day because I hear the cost of a cabbage in Nairobi now is Sh80 while they are buying at farm gate for Sh24," said David Warui, a cabbage farmer at Ol Karou in Nyandarua. Davies Muchunku, a dairy farmer near Makutano in Meru town says he cannot believe it when they are paid milk at Sh27 per litre while at the supermarkets, a half a litre of processed milk is now retailing at Sh52. "There is a deliberate ignorance of the farmer, not only dairy but other crops too and its Kenyans who are paying for this through infl ation of food prices by brokers and processors," he said. Data from the Famine Early Warning Systems Network (FEWSNET) indicates that the wholesale prices of maize in Eldoret, Mombasa, Kisumu and Nairobi is at its highest in the last five years, with a significant increase of Sh1,000 per 90kg bag in July 2019 compared the price recorded in the respective towns in July 2018. This is a five year high.
SEE ALSO: Mother who cooked stones gets help after Radio Maisha airs her plight
The price of rosecoco beans has also significantly increased, from Sh8,000 per 90kg bag in Eldoret in July 2018 to Sh9,000 in July 2019, with Kisumu recording a bigger margin of increase Sh6,500 in July 2018 to Sh10,000 in July 2019, another five-year high. The data shows that while the wholesale price of goats and cattle in Isiolo, Garissa and Turkana has reduced compared to last year, this has not been reflected in the consumer price of meat which has remained at last year's level. Retailers say the rising cost of food is slowing uptake, making them hold stock for longer and therefore affecting their cash flow. Eunice Wangeci, 63, a cereals vendor at Kerugoya market in Kirinyaga County said some commodities have doubled in price. "The price of green grams has increased to almost doubled since January this year with a kilo now going for Sh200," she said.
SEE ALSO: How Africa risks reeling from a health crisis to a food crisis
"We depend on Meru and Mbeere farmers as our major suppliers of the green grams and having produced very little this season due to unfavorable climate, the price has shot up," said Wangeci. Millers have attributed the rise in food prices to shortage of maize in the market, a 90 kg bag of maize is retailing at a high of Sh3,700, a steep from Sh2,200 in January this year. Sylvester Njoroge who operates a maize mill at Wanguru town, Kirinyaga County, said high fuel prices are also aiding the escalating food prices in the country because of the transportation costs. Lewis Kinoti, a salesperson in Magunas Supermarket in Kerugoya, said food prices have increased in the last three months. A 1kg pack of Maize Meal is currently retailing at Sh62 as compared to the previous price of Sh45 while the price of a 2kg pack of wheat flour has increased from the previous Sh112 to the current Sh120. Margery Njeru, who owns a small retail shop in Embu town said they are particularly hit because their prices are slightly higher than those in the supermarkets therefore more consumers are preferring to shop in the big stores.
SEE ALSO: Madagascar president launches coronavirus 'cure'
"Wholesalers have been delivering stock at a cost that keeps on increasing forcing us to increase the price of various products we sell. But supermarkets buy directly from the manufacturers so they have an edge over us. The village duka is under threat," she said. She attributed high price of fresh produce to the shortage, because of low yields, as farmers are unable to afford expensive farm inputs like fertilizers which would have helped increase their production. Nyaga Kanake, a resident of Manyatta area of Embu County said some households are skipping meals to ensure the money they have will take them further. "This is a reality. We need to find a solution to this matter because a nation that is unable to feed itself has a big problem," he said. Grim predictions The situation is expected to get worse as data shows millions of Kenyans face various levels of food shortage, with pastoral areas requiring emergency food assistance as poor rains in most parts of Mt. Kenya region point to poor yields.