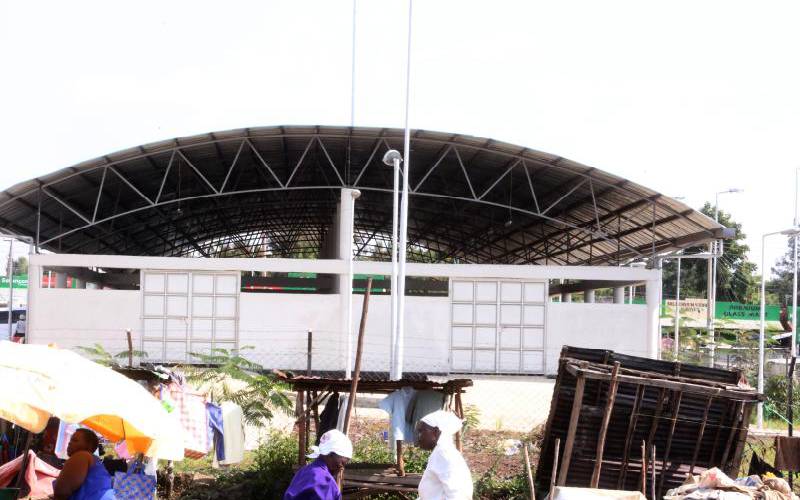 Business News
Residents shun investments that cost millions, with some saying they are not serving their needs.
A number of projects in the county are lying idle even after the Government pumped in millions of shillings into them. Some of the projects - dispensaries, markets, village polytechnics, colleges, toilets and resource centres - have been completed while others have stalled. Their construction dates back to the 2013-2014 financial year. Residents have been complaining that the abandoned projects have turned into hideouts for criminals. In Awasi, Kenya National Highways Authority (KeNHA) built a market in 2014 as part of their Corporate Social Responsibility.
SEE ALSO: Chinese firm to build floating bridge across Likoni Channel
KeNHA had been involved in construction of roads in Awasi. Today, that market lies idle since traders shun it.
Lying idle
Another market in Pap Onditi built by the Kisumu county government at a cost of Sh18 million is also lying idle. When The Standard visited the two markets, traders were selling their products on sheds erected outside. Many of those The Standard interviewed said they shunned the market because they cannot attract customers there.
SEE ALSO: County revenue to drop by Sh500 million, official warns
"The markets are good but most of us prefer selling by the roadside. That is how we can easily attract customers," said Collet Akinyi, who sells outside the market at Pap Onditi. Most of the traders agreed with Ms Akinyi's sentiments. Central Nyakach MCA Philemon Ojuok said the projects had flopped because those who built them did not consider the needs of the residents. "It is a case of misplaced priorities. The State entities that built the markets did not consult the residents to understand their needs before building those structures," said Mr Ojuok. In Kisumu North and West wards, two buildings that were meant to be resource centres are lying idle.
SEE ALSO: Kisumu's guidelines on burials spark controversy
According to Kisumu North MCA Elisha Oraro, the buildings were built by the former Kisumu County administration. He said the former administration erred in their planning. "The buildings have structural problems and that is why no one wants to use them," said Oraro. The projects that have stalled, according to Oraro, were abandoned by contractors who left because of a myriad of challenges, including lack of funds. There is no indication when the work will resume.
SEE ALSO: 76-year-old man in court for bulldozing wall worth Sh2.9 million
In other wards that this writer visited, a number of health facilities have been abandoned; they are empty shells without equipment. These include Dunga Health Centre and Kosawo Health Centre. Kianja Village Polytechnic in Kajulu Ward has turned into a white elephant project. The project whose initial budget stood at Sh6 million, has been abandoned.
Breeds loathing
Residents said the county government is to blame for failing to complete the construction of all the classrooms.
SEE ALSO: KeNHA kicks off road to link four Mt Kenya counties
Others who were interviewed averred that some of the projects take too long to complete which breeds ill feeling among residents. "Sometimes the projects take too long to be completed and as a result people lose interest in them," said Joash Ouko, a Kisumu resident. In Railways Ward, an interesting scenario was witnessed. Authorities from Kenya Railways put up a Sh500,000 toilet for locals to use. When they noticed that months after completion no one was using the toilet, they came back and demolished it. In the same ward, a market that was built by the county government is also not in use. In the current financial year, the Kisumu county government has allocated about Sh3 billion for development expenditure. MCAs have, however, raised concerns that some of the newly planned projects could end up being while elephants.
Snake park
A particular one that has created huge concern is a snake park that is set to be constructed in Nyakach. County Communications Director Aloyce Ager asserted that some of the projects were not lying idle as a result of poor planning. Mr Ager said their "idle state" was as a result of lack of personnel to man them. "In the health sector for example, some of the dispensaries have not been equipped and they cannot operate at full capacity. The government has advertised for new staff," said Ager. It is not Kisumu alone that is being stalked by the spectre of idle projects. Similar scenes have been witnessed in other counties such as Siaya, Homa Bay and Migori. Last month, youth in Siaya protested at what they said were meaningless allocations to "non-priority" projects. They said it was wrong that departments such as health receive little money.