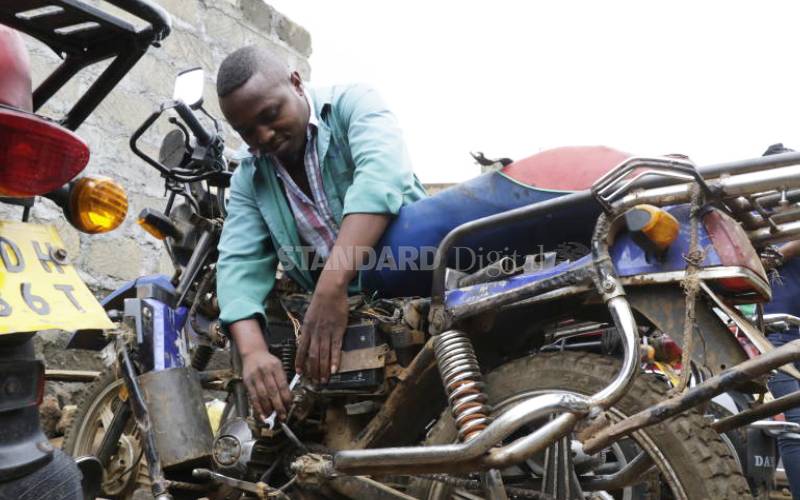 Hustle
There are also clients who pay cash without being financed by banks.
Francis Njoroge developed a passion for automobiles while still a secondary school student, not knowing this would open his door to success. After sitting his final exams, Njoroge joined the boda boda industry as a rider, and to complement his earnings he became the village mechanic before fully venturing into the trade at Subukia town. "I started as a motorbike mechanic after being trained locally. When I perfected my skills I opened my own garage, which also enabled me to buy my first motorbike. I used borrowed tools until I managed to get my own," says the 28-year-old entrepreneur. As the number of boda boda operators grew, demand for mechanic services also soared, providing employment for the local youth.
SEE ALSO: Covid-19 curse for humanity, blessing for Mother Earth
"Many young men got employed as boda boda riders but didn't have the skills to repair the bikes. I started training them at a fee. To date I have trained at least 100, some now working in garages or on their own motorbikes." Njoroge also opened a spare parts shop in the growing town. We used to get spare parts from Nakuru and Nyahururu, which meant an entire day for the rider would be lost waiting for the repairs. This opened an avenue for me to open a spare parts shop, which I run with my wife," he says. Later, he ventured into selling second-hand cars, initially buying and refurbishing old vehicles.
Risk taker
A risk taker, Njoroge sold his only car, a Toyota Probox, which he used to hire out to traders transporting farm produce to various markets.
SEE ALSO: Group rejects order to share 5,186-acre land
"To test the waters, I used the proceeds to import a 'new' car from Japan. I was partly financed by a local financial institution. Weeks later, a tomato trader asked me to sell him the car, which I did with a slim profit." This marked the beginning of his car importation business, and Njoroge became a link to many youth who were catching up with a revolution in Nakuru's transport sector that saw boda boda operators shift to digital cabs. Majority of the cars have low fuel consumption with an engine capacity of 800cc. Njoroge facilitates the youth to acquire the units at Sh450,000 from Japan. "For such a car, the bank requires a Sh150,000 deposit. The bank then gives me the order after which I use my own resources to have the car shipped. The bank pays me on delivery while the new owner pays the balance to the bank in installments" says Njoroge. There are also clients who pay cash without being financed by banks.