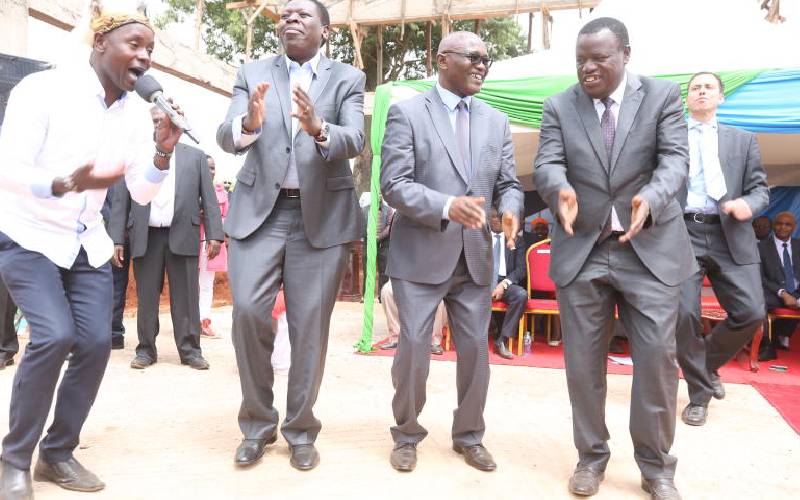 Thousands of banana farmers in Kisii and Nyamira counties have a reason to smile after the county government began construction of a banana processing factory. The Sh170 million factory co-funded by the European Union will offer value addition chain besides giving farmers a ready market for the crop which they have been forced to sell at throwaway prices due to lack of a ready market. The completion of the factory in 2021 will be a boost for Kisii Governor James Ongwae's government which has been keen to help the farmers, with the county being the leading banana producer in Western Kenya.
Groundbreaking ceremony
Speaking during the groundbreaking ceremony for the factory in Kisii Town officiated by Devolution Cabinet Secretary Eugene Wamalwa on Friday, Ongwae said that the factory would enable the processing of the fruit into various products locally. The governor said the construction of the factory will cost Sh170 million and the European Union will provide Sh110 million while the county government will provide Sh60 million and the land for the project. "Our county currently produces 350,000 metric tonnes of bananas annually with most of it being sold outside the county and the construction of the factory would be a major milestone to our present and future generations," said Ongwae. At least 3,000 metric tonnes are sold outside the county per week which translates to around 150,000 metric tonnes with around 200,000 metric tonnes remaining sold locally earning local farmers very little money. Ongwae said that middlemen currently earn 90 per cent of the proceeds of bananas while the farmers getting only 10 per cent of the proceeds with the project set to turn around social economic status of the area residents. He said the factory will process 80 metric tonnes per day which would lead to high demand for bananas. He called on farmers to cultivate more bananas in order to ensure that the factory is running. Ongwae said that once the factory is complete, it will provide a ready market for farmers from Nyamira, Homa Bay, Migori and Bomet counties and urged them to also embrace the farming of the crop to earn an income. He said that the factory will produce banana wine, banana fibre and refined banana fruit among other products which will be sold in the local and international markets earning the county good revenue. Ongwae ordered officers in Agriculture department to be proactive to ensure the Kisii banana value chain is nurtured by 2021 when the factory is officially opened. "Our farmers are going to earn more money from the processing of banana products in Kisii since we will be churning out the finished product unlike now where we sell the raw material which goes for a cheap price," said Ongwae. A representative of the European Union Vincent De Boer said they will continue supporting similar projects in various counties.