Noose tightens on money launderers as currency D-Day nears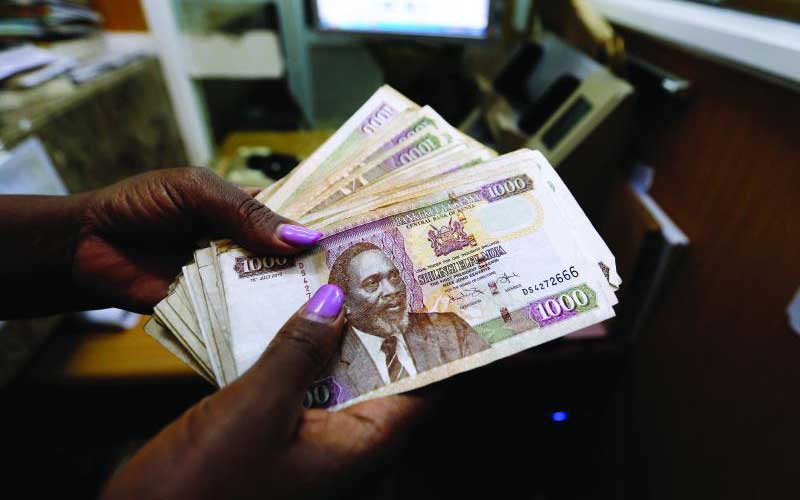 The Government is rushing to seal all the gaps being exploited by money launderers to clean their ill-gotten wealth held in the soon-to-be phased out Sh1,000 banknotes.
Investigators are reported to be focusing on Forex Bureaus with authorities fearing that their lax know-your customer (KYC) guidelines are granting money launderers a field day as the October 1 deadline looms.
Bank executives have also been instructed to intensify their vigil, a situation that will see customers subjected to ultra-vetting while withdrawing or depositing cash.
There are reports that a number of credit-only microfinance institutions have been aggressively offering loans mostly in rural areas and asking borrowers to repay the loans after October.
In other cases, unscrupulous big cash handlers - including big retail firms, are reportedly hoarding the new currency and trading them off.
Challenges being experienced
Adding to the confusion is the secrecy the Central Bank of Kenya (CBK) is employing in phasing out the old currency notes. Addressing a press conference during release of the new currency notes, CBK Governor Patrick Njoroge said he would update the country on the progress of the new currency.
Efforts to reach him through CBK's Communication team to explain any challenges being experienced with the currency were futile. CBK Bank Supervision Department Director Gerald Nyaoma said he was not in a position to comment on the matter.
Take a quick survey and help us improve our website!
Take a survey
"It is only the CBK Governor who can give a comprehensive report on that," Mr Nyaoma said on phone yesterday.
Other sources within the CBK however confirmed that they had not noted any changes in banking patterns over the period. They said there was a possibility that bank officials could be colluding with money launders but not to an extend that would raise suspicion.
Kenya Bankers Association CEO Habil Olaka asked members to be vigilant against money launderers, saying the mopping up of old notes was smooth.
"In two weeks you will begin seeing less of the old notes and more of the new ones," said Mr Olaka.
Weeks after introduction of the new currency notes, the Shilling weakened against the US Dollar, indicating that it was under pressure as people sought more of the American currency.
Most analysts have been at pains to explain why the Shilling dramatically sagged to 103 from 101, ruling out increased demand of the greenback by importers.
And as the speculation continues, the government has resorted to enforcing the rules.
In the past two weeks, Financial Reporting Centre (FRC) has held two high-level meetings with financial players in an effort to crack down on individuals said to be hoarding billions of illicit cash.
Last Wednesday, FRC met bank enforcement officers responsible for monitoring and reporting suspicious transactions at the Kenya School of Monetary Studies.
Last Tuesday, FRC held a similar meeting with owners of forex bureaus across the country at the same venue.
Insider sources at the two meetings said the FRC had impressed on the forex bureaus under the umbrella of Forex owners Association to strictly enforce KYC guidelines.
Just like commercial banks, forex bureaus are required to submit a report to CBK on daily returns of its foreign exchange transactions (inflows and outflows equivalent to or above $10,000 (Sh1 million) including customers who transact repeat transactions in a day amounting to $10,000(Sh1 million).
But the Government is afraid that criminals might be splitting the money and spreading it across forex bureaus.
The sources said FRC complained that the forex bureaus were being used to launder cash even at a time when the Government is cracking down on illicit finance.
The forex bureau operators were also accused of not providing the Government with information on individuals and suspicious transactions.
The meeting resolved that forex bureau operators strictly enforce the KYC and report to the CBK any suspicious transactions. FRC wants forex bureaus to keep a database of individuals seeking foreign currency, their ID and information that will make them identifiable by the Government.
However, FRC fears that although forex bureaus are not allowed to process transactions that are or appear to have been deliberately split into small amounts equivalent to US$10,000 or below to avoid CBK's requirement, those keen to escape the State's dragnet might have found a way of doing just that by either using different bureaus or using several people to carry out the transactions.
Often times, for transactions of $1,000 and below, Forex bureaus do not request for any identification.
But FRC warned that bureaus found to be flouting regulations would face stiff penalties including withdrawal of their licenses, the sources said yesterday.
Yesterday, calls to FRC boss Saitoti Maika for comment on the meeting went un-answered.
Sources within the financial sector claimed that no high profile case of money laundering had been detected either by financial institutions on illicit cash since June 1 when President Uhuru Kenyatta announced major changes including the new currency as a measure to deal with corruption.
Banking Fraud Investigations Unit (BFIU), the DCI unit responsible for dealing with money laundering and suspicious bank transactions said they are yet to receive any complaint since July 1 when the Government announced a crackdown on illicit finance.
BFIU boss Abdalla Komesha said:"We are not investigating any major case arising from the issue you have asked."
The decision by the Government to phase out the old currency and replace with new notes has largely been interpreted as a move to deal with individuals said to be hoarding huge sums of money in their bedrooms.
When CBK Governor during Madaraka Day, unveiled the new banknotes, he said the Sh5 0, Sh100, Sh200 and Sh500 would continue circulating alongside the old currency notes.
"However, we have assessed the grave concern that our large banknotes—particularly the old Sh1,000 series—are being used for illicit financial flows in Kenya and also other countries in the region," said Njoroge.
"To deal conclusively with these concerns, all the old Sh1,000 series shall be withdrawn. By a Gazette Notice dated May 31, all persons have until October 1, to exchange those notes, after which the old Sh1,000 banknotes will cease to be legal tender," he added. But with just two months to go, sleuths say they are yet to see any significant development.