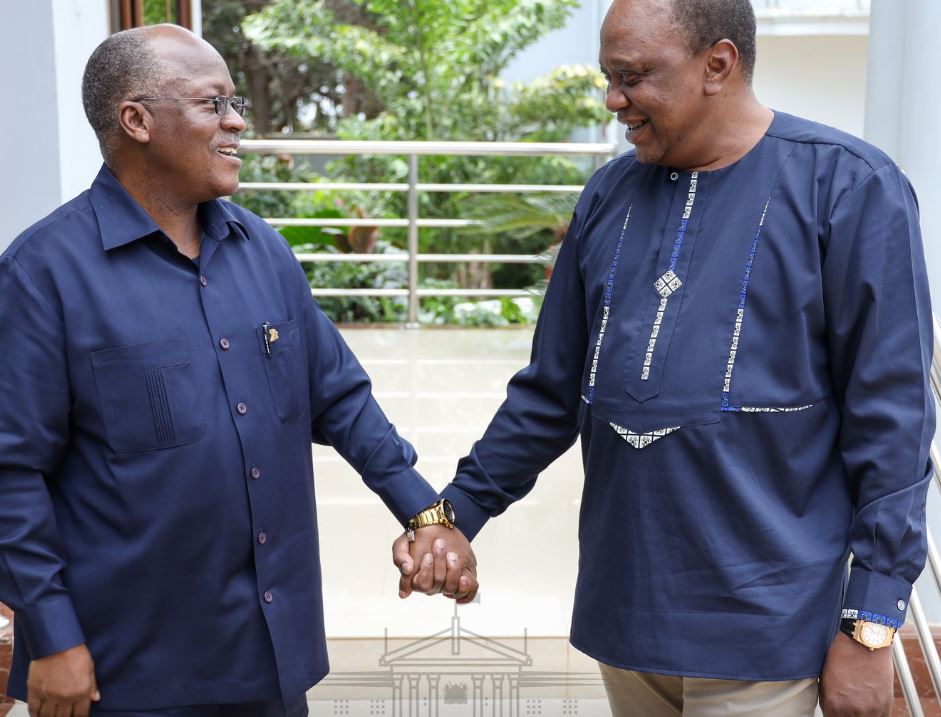 A good neighbour, Arthur Baer, the late American journalist and humorist observed, is a fellow who smiles at you over the back fence, but doesn't climb over it.
This may as well be said of the relationship that exists between Kenya and Tanzania. At the height of Kenya's longest doctor's strike, Tanzania's President Pombe Magufuli assured a Kenyan delegation that his government would allow its doctors to get hired in Kenya.
Then later on, he changed his mind letting Kenya to solve its own health sector mess brought about by 100 days strike.
As captured in the history of these two countries, Tanzania's cold shoulder towards his neighours- Kenya- traces back as far as 1965.
They may never have been at physical war but policy differences have always been at play only getting closer to physical in 1977 when the then president Julius Nyerere closed kenya-Tanzania boarder as EAC collapsed.
Since 1919, Kenya, Uganda and Tanzania had a common currency, the East African Shilling, managed by the East African Currency Board (EACB). Then in June 1965, Tanzania dropped a shocker- it quit the board.
"The CBK will become Kenya's central bank, replacing the Currency Board which has served East Africa since 1919- a move precipitated by Tanzania's sudden decision to withdraw from the regional currency agreement signed in 1965," wrote The East African Standard in 1966.
In September 13 of the same year, President Jomo Kenyatta unveiled new notes to replace the East African shilling, an easy process that took 12 months since one Kenyan shilling equaled one East African shilling.
However, the debate on whose head should go on the notes or whether to mark them with dead heroes or national symbols heated, cooling down only due to the powerful presidency.
That time, Kenya did not even have capable citizens to serve in the Central Bank but instead, expatriates headed by Leon Baranski were handed the main jobs.
That begun the peaceful but suspicious-packed relationship that has persisted into the modern day history.
In the book, Tanzania: A Profile of a Nation by John Ndembwike, the first Governor of the Bank of Tanzania and former member of the currency board, downplays the role of the board in ensuring a strong common currency.
"True, East African currency was a strong currency. But, this was because the partner states' fiscal states then were cautious and non-inflationary and this stance had nothing to do with EACB.
Besides, he adds, the continuation of a common market could not be attributed to the commonness or strength of the currency.
And in 1967 book by Prof Henry Bienen, called Tanzania: Party Transformation and Economic Development, the scholar argues that the common currency had restricted Tanzania's ability to use monetary policy as a development tool.
"Tanzania has withdrawn from EACB, thus eliminating one source of constraints which it could eliminate," wrote Prof Bienen.
The clash of cultures, policies and politics has continued to emerge between Kenya and Tanzania.
The East African Community (EAC) partner states signed the East African Monetary Union (EAMU) Protocol on November 30, 2013 in Kampala, hoping to return to common currency by end of this year.
This was a move to revive initial plan to have it by 2012. Tanzania has not been keen on the idea especially that Kenya's currency is the strongest in the region.
In October last year, it also chose not to be part of the common visa plan for the region, instead leaving it in the hands of Kenya, Uganda and Rwanda- a grouping that is now being called "coalition of the willing."
With the common visa, tourists accessing the three countries pay $100 (Sh10,347) instead of the $150 (Sh15,546) before the deal.
Tourism CS Najib Balala, without direct reference to Tanzania's cold shoulder, complained that problem with the East African region was that countries live with "a fear of the unknown".
The development came just months after Tanzania had declined to sign the Economic Partnership Agreement between EAC and European Union (EU), which left Kenya at risk of exporting to EU countries at higher costs.
Tanzania argued that, with the exit of its core market from the EU during Brexit polls, it had little to gain from the agreement, and that signing up would harm its "national interest".
In May last year, Magufuli declared that Tanzania would cut electricity import from Kenya by 67 per cent and told Tanzanian companies to stop buying from Kenya what is available on his land.
In the same month, despite spirited lobbying by President Uhuru Kenyatta, Tanzania lured Uganda to withdraw its earlier decision to connect its oil pipeline with Kenyan oil fields, instead favouring the Tanzanian route.
Kenya's attempt to rescue the plan ended in diplomatic scuffle as Tanzanian officials seized passports of Kenyan officials even as a delegation from Uganda was allowed to proceed with their tour.
August last year saw Japan dangle infrastructure projects at East African countries during Tokyo International Conference on African Development (Ticad) forum. Even as over 30 heads of state graced the occasion, Magufuli chose to send a representative.
In February this year, Tanzania reportedly joined Uganda, Burundi and Djibouti in denying Kenya's Foreign Affairs CS Amb Amina Mohamed votes that eventually saw her lose chance to be elected chairperson of the African Union Commission.
Then when Dr Magufuli eventually visited Kenya in November 2016, he jovially remarked: "My visit today is to cement the good relations between Tanzania and Kenya."