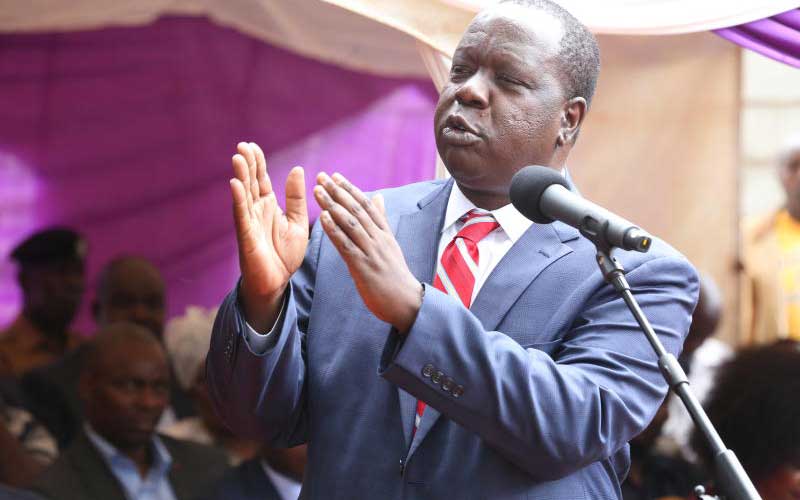 Interior Cabinet Secretary Fred Matiang'i (pictured) has said the government will not renew licences for some betting firms. He did not name the firms being targeted but told Kenyans to expect radical changes in the gambling sub-sector. Speaking at a fundraiser at Mekonge SDA Church in Kitutu Chache North Constituency yesterday, Matiang'i said betting has led to many people failing to concentrate in nation building activities, believing they can make easy money.
SEE ALSO: Church elder held for defiling five girls
"There is no nation on earth that has ever developed simply because its people concentrated in gambling. This one must be discouraged at all costs, so that we can set a good foundation for our future," he said. The Cabinet Secretary said the government is committed to ensuring the Sh450 billion set aside for development this financial year is spent prudently to turn around the lives of Kenyans. Kisii Governor James Ongwae, led Kisii leaders in rallying support for Matiang'i for "high office", saying he had shown he was capable of leading the country in future. "Our brother Matiang'i has done a wonderful job in all government ministries he has served in. The leaders of Kisii and Nyamira counties are ready to support him for high office when the right time comes," said Ongwae. National Assembly Deputy Majority Leader Jimmy Angwenyi told Gusii legislators fighting Dr Matiang'i they were a disgrace to the community which is proud of the CS's performance.
SEE ALSO: Treasury to try re-introducing betting tax by December
Angwenyi said President Uhuru Kenyatta identified the unique talent that Matiang'i had, adding that was the reason he elevated him to be in charge of all government projects. "I don't know what is wrong with some of our leaders, the President has promoted our brother Matiang'i to supervise all government projects yet they are busy fighting him. They should tell us what exactly they want," he said. The Kitutu Chache North MP said Dr Matiang'i might be the surprise presidential candidate that President Uhuru will support in 2022 and it would be unwise for some elected leaders from the Gusii region to be seen to be fighting him. Kitutu Chache South MP Richard Onyonka said he respected Matiang'i when he ended cheating in national examinations.