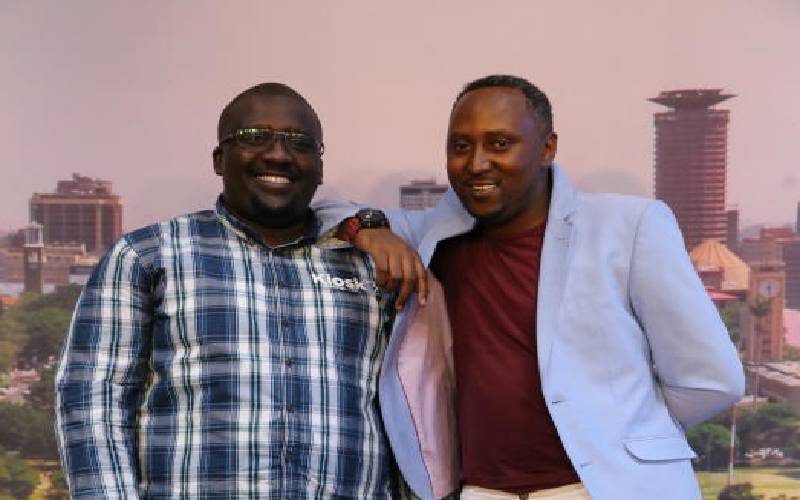 Kiosk Holdings is an innovative retail company that operates under a social entrepreneurship model. The firm helps potential entrepreneurs get into the retail space by owning and running well managed franchise kiosks.
Last year, its founders walked away from KCB Lions' Den with a Sh3.15 million pledge from investors Darshan Chandaria and Kris Senanu. Company directors Geoffrey Kamau and Shadrack Mwangi spoke to Hustle about their plans for the investment, and how scaling their model would change lives countrywide.
What did your experience on KCB Lions' Den teach you about what investors look for before funding a venture?
Investors look for three key things before they part with their money: first, the problem your business is solving; secondly, the solution and how effective is it; and thirdly, the size of the market your solution addresses.
Read More
It is easier to secure funding if you have an idea that solves a problem affecting many people. In our case, we saw a gap in the market and wanted to create more value for customers. We also realised that retail industry penetration in Kenya is at only 18 per cent, which leaves an 82 per cent gap.
What did being on the show mean for Kiosk Holdings?
The investors came with mentorship due to their vast experience in business. The show also gave us the much-needed exposure by generating interest from both the public and other organisations who expressed their interest in working with us. We got new customers calling, and it helped us secure a deal with Kirinyaga County. If any of the investors on the show decide to collaborate with you, it boosts the impression your business makes.
How would you describe your growth so far?
We would say it has been fast enough. In 2017, we had 16 applications for kiosk units; last year, this went up to 476. We started our operations in Nakuru County and our plan for 2019 is to have countrywide expansion. Marketing on social media and customer referrals have helped spread the word about our business. We're planning to have 20 kiosks in every county, which will create at least 10,000 jobs in phase one.
We had the first franchise in Nakuru County and recently entered into an agreement with the county government of Kirinyaga to set up 20 units. Notably, counties can fund the project to engage their youth in meaningful employment and boost trade. Individual traders can also own our units, which come with supplies stocked at wholesale prices, allowing investors to keep the difference between this and retail prices.
What are some of the biggest lessons you've learnt from interacting with investors?
First, patience. Investors require that the businesses they fund operate legally and above board. This means abiding to strict bookkeeping and meeting other legal requirements. Bookkeeping makes it easier for investors to know the financial performance of a business and quantify the value of their investment.
The second lesson is thinking big in terms of expanding the business. Initially, we were focused on Nakuru County alone, but Darshan brought the concept of going countrywide. Working with him and Kris has pushed us out of our comfort zones. The final lesson is that time is important. You should never be late for meetings.
Final words?
You fail when you quit. You need to keep going and find people with the right mentality, people who think like you, and then from that point on, you'll get to the next step. Also, Silicon Valley is a must-watch series for every entrepreneur or aspiring entrepreneur. It's a series on how start-ups work in Silicon Valley and it will help you understand what founders in the US do differently that makes them successful. It also teaches you how ruthless business rivalry can be.